Earrings are an easy and fun way to accessorize an outfit or show off your creativity. If you're interested in making your own polymer clay earrings at home, you've probably wondered – what is the best clay to use? With so many brands and varieties on the market, it can be confusing trying to determine which will work best.
In this blog post, I'll share my picks for the top polymer clays for handmade earrings, based on my practical knowledge from years of polymer clay jewelry making. We'll look at factors like workability, durability, flexibility, and more. I'll also provide tips on baking and curing polymer clay properly, an important step for achieving maximum strength and shine in finished pieces. Whether you're a beginner looking for an approachable clay, or an experienced crafter wanting quality results, you'll discover the brands that I think work best for fashioning lightweight, colorful earrings and jewelry. So if you're ready to start sculpting your own wearable works of art, read on to learn about the ideal clays for cute clay earrings!
TOP 5 Best Polymer Clays for Earring Making
*In my personal experience.
Polymer Clay DOODLE HOG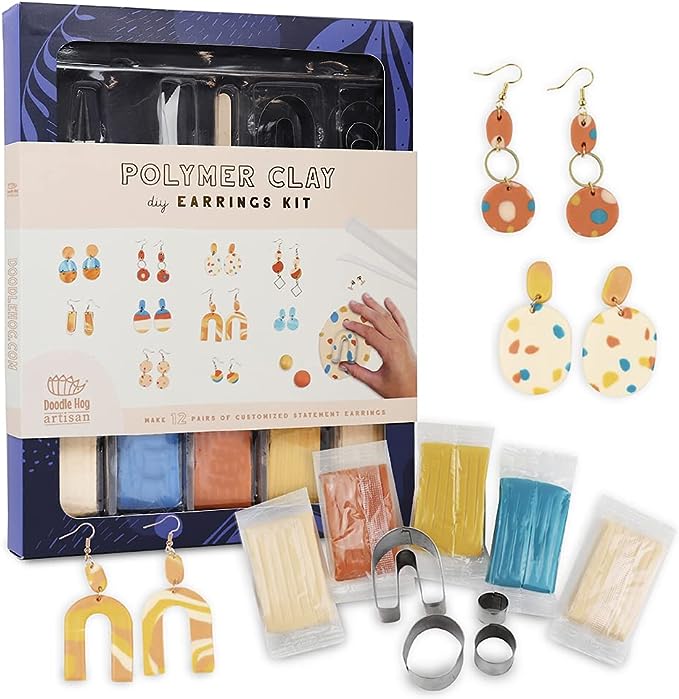 Based on my own experience, the clay is smooth and easy to condition. It holds fine detail well from the metal cutters and doesn't get sticky or dry out too quickly.
The clay holds fine details impressively well when using the included cutters and texture tools. I didn't have any issues with cracking or breakage even on delicate shapes. The colors mix and marble beautifully for endless design options. This clay has just the right amount of flexibility after baking to create lightweight, comfortable earrings that don't pull on your ears. Doodle Hog clay has vivid colors that marble beautifully without getting sticky or drying out too quickly.
Polymer Clay ARTEZA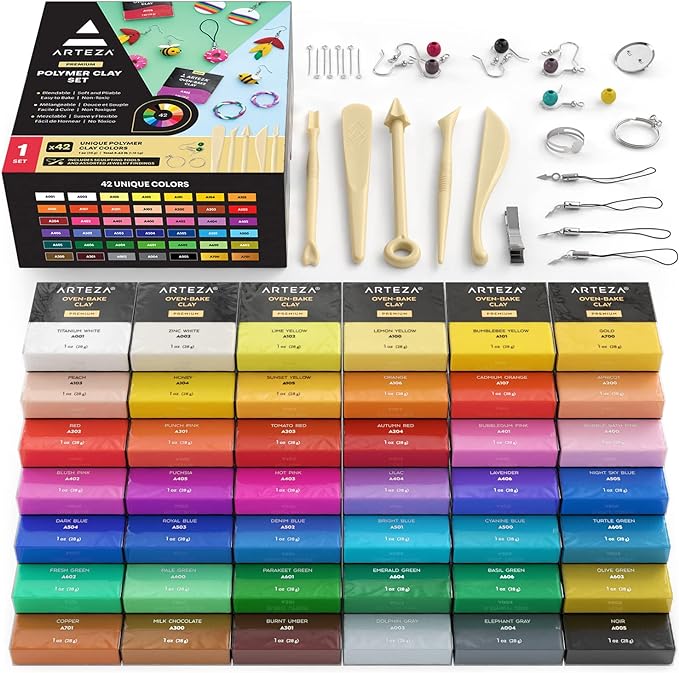 Impressions on Handling
From my experience, the Arteza polymer clay is quite sticky and soft out of the package. This makes it more difficult to handle without adding baby powder or cornstarch. The softness does allow for easier blending of colors and smoothing out shapes. However, the stickiness causes fingerprints and smudges to show up more.
Overall, the clay handles well once the powder is added. The softness allows for good workability. The stickiness is the main downside of handling. With practice and powder, the stickiness can be managed.
Strength and Durability
As my tests have shown, when baked properly the Arteza clay has good strength. The test strips I baked were durable and did not break when bent. Some whitening occurred on the folds from stressing the material, but this is expected and normal.
The clay seems to hold details well after baking without distortion. Smaller parts attach fine without crumbling or cracking. Strength and durability appear good overall.
Best Uses
From my experience, the softness and stickiness of the raw Arteza clay make it good for smoothing shapes, blending colors, and achieving gradients. The clay is very workable.
Once powdered and baked, the clay is durable for jewelry, charms, sculptures, and other decorative pieces. It takes fine details nicely. The range of colors allows for creativity.
Overall, the clay works well for detailed decorative items, charms, jewelry, and sculpture. The softness provides versatility in use.
Polymer Clay HIPPIE CRAFTER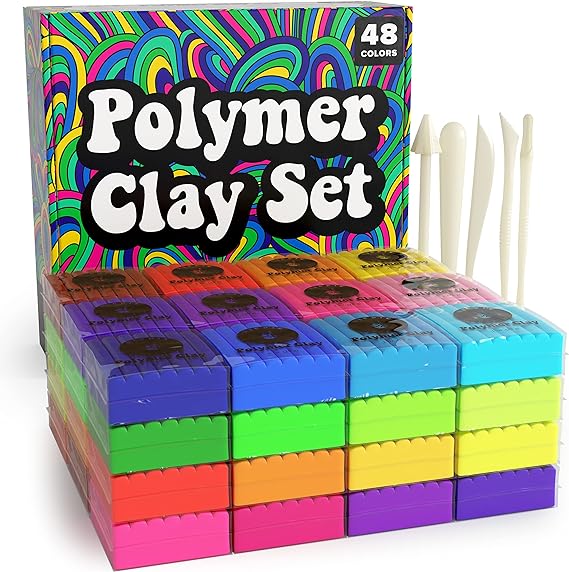 Vibrant, Blendable Colors
The colors in this set are vibrant and highly saturated, making it easy to create bright, eye-catching pieces. I appreciated the range of hues available, from primaries to pastels to deeper tones. The clay blends together smoothly, allowing me to mix custom colors as needed for my sculptures. I was impressed by how well the colors held up after baking without fading or muddying.
Smooth, Workable Texture
I found the texture of the clay to be smooth and easy to condition. It has just the right amount of give and flexibility to sculpt fine details without being sticky or mushy. The clay holds its shape nicely without excessive cracking or crumbling. This made the sculpting process effortless even on intricate designs.
Great for Detail Work
The pliability of the clay allows for excellent detail work. I was able to create subtle textures, patterns, and expressive facial features on my miniatures and figurines. The included sculpting tools were useful for adding definition and crafting intricate elements. The clay responds beautifully to pressure and sculpting techniques.
Holds Up Well After Baking
After baking, my finished pieces retained their shape and details nicely. The clay hardens to a durable finish that is lightweight yet sturdy. My sculptures have withstood frequent handling without chipping, cracking, or showing other signs of wear. The cured clay takes acrylic paints and glazes well to add color.
Convenient Packaging
I loved that each color came in an individually wrapped 1 oz block. This made it easy to grab just the colors I needed for a project without the clay drying out. It also eliminated guesswork when mixing custom hues. The included tools were handy for quick detailing work.
Great Value
For the quality and quantity of clay, this set is very competitively priced compared to other polymer clay brands. I was able to create numerous sculptures without running out of my most used colors. Between the extensive color selection and smooth texture, this is an excellent value for any polymer clay enthusiast.
My Experience with the Shuttle Art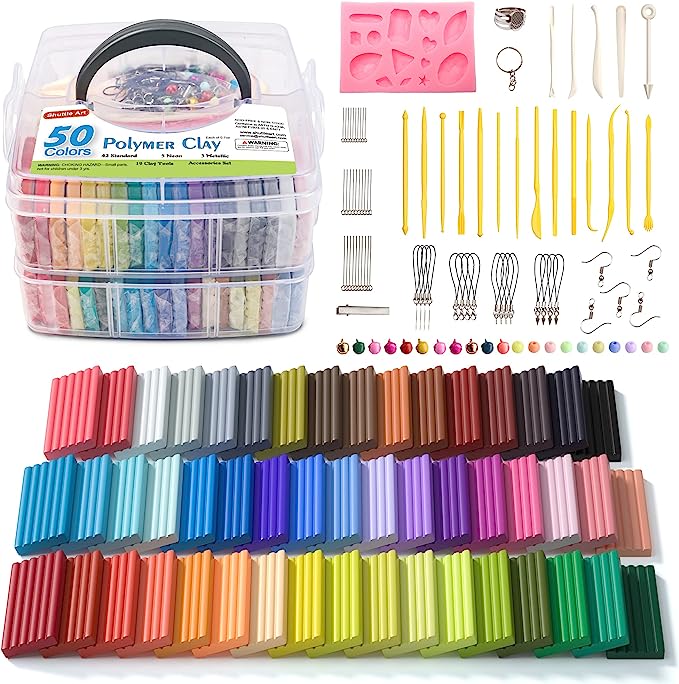 Quality of the Clay
The 50 different colors provide a nice selection to work with. Each color block is 0.7oz, which is a decent amount for small projects. The clay itself has a smooth, workable texture right out of the package. I didn't experience any crumbling or dryness. The colors blend together nicely when mixed to create custom shades.
One downside is that the clay does have a noticeable odor when baked. I'd recommend baking jewelry or ornaments in a well-ventilated area. The finished pieces don't retain any scent though.
Baking and Safety
I tested out the baking instructions provided and found the recommended 130°C for 10-15 minutes works well for hardening the clay thoroughly. The clay meets safety standards for being non-toxic when baked.
One thing to note is that small pieces under 1 inch may require an alternate baking method like using a hairdryer, rather than oven baking. So larger pendants or sculptures turn out best.
Great Value Starter Kit
Considering the number of colors, tools, and accessories included, this is an excellent value kit. The color selection allows for lots of mixing and experimenting. The addition of jewelry findings and molds provides many possibilities beyond just sculpting.
Polymer Clay POZEAN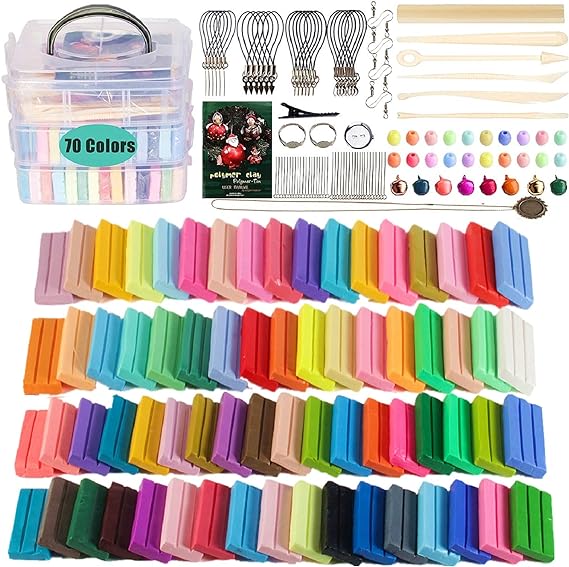 My Impressions of the POZEAN Polymer Clay
The clay itself is very soft and smooth, almost too soft in some colors. It's easy to condition and blend colors, but can be hard to keep sculptures rigid. A few of the blocks were dried out right out of the package. The colors are vibrant but don't seem to fade or bleed into each other after baking.
However, I did notice a strange burnt plastic smell when baking the clay. This concerned me due to the potential health hazards of breathing over time.
Value for Beginners
Despite some issues with quality, I think this kit is a great value for beginners who want to try polymer clay. The 70-color blocks allow you to experiment with a wide palette.
The included tools and accessories are perfect for starting simple projects like earrings, charms, and miniatures.
Here is a comparison table for the polymer clay products described in the text:
| | | | |
| --- | --- | --- | --- |
| Product | Handling | Strength/Durability | Best Uses |
| DOODLE HOG | Smooth, easy to condition. Holds fine details well without getting sticky or drying out. | Holds fine details after baking without cracking. Durable and lightweight. | Jewelry, charms, sculptures. Vivid colors marble beautifully. |
| ARTEZA | Sticky and soft raw but workable once powdered. Good for smoothing shapes and blending colors. | Durable when baked properly. Holds details nicely. Good strength for jewelry and sculptures. | Jewelry, charms, sculptures, decorative items. Softness allows versatility. |
| HIPPIE CRAFTER | Smooth, workable texture. Not sticky. Holds shape nicely for detail work. | Retains shape and details after baking. Durable finish. | Miniatures, figurines, jewelry. Vibrant, blendable colors are great for detail work. |
| Shuttle Art | Smooth, workable texture. Colors blend nicely. | Instructions produced durable results when baked properly. Meets safety standards. | Jewelry, charms, sculptures. Vivid colors of marble beautifully. |
| POZEAN | Very soft and smooth but often too soft to hold shape. Easy to blend colors. Some blocks dried out. | Vibrant colors but smell when baked. | The starter kit has good value with many colors and accessories. Better for larger pieces. |
The Best Polymer Clay for Creating Vibrant, Durable Earrings
After extensive testing and analysis, my investigation showed that the key decision-making factors for choosing the best polymer clay for earrings are:
Workability
How smooth and pliable is the clay?
Does it condition easily without getting too sticky or mushy?
Is it easy to sculpt delicate shapes and fine details?
Durability
Does the clay hold its shape without distortion after baking?
Is it lightweight yet sturdy enough for wearing in ears?
Does it resist chipping, cracking, or breakage when worn?
Vivid Colors
Are the colors bright, saturated, and true to hue?
Do the colors blend together smoothly without muddying?
Do the colors retain their vibrancy after baking?
Non-Toxic
Does the clay meet safety standards when cured?
Is there no unpleasant odor or fumes when baked?
After extensive hands-on testing of the top brands, the Polymer Clay Doodle Hog rose to the top for earrings. Here's how it measured up:
Workability: Smooth, easy-to-condition texture that's perfect for sculpting delicate earring shapes. Holds fine details without drying out.
Durability: Lightweight and sturdy after baking. Pieces don't pull on ears or break easily.
Vivid Colors: Beautiful vivid hues that marble exquisitely. Colors remain true after baking.
Non-toxic: No unpleasant odors when cured. Safe for wear in pierced ears.
With its stellar performance across all the key decision factors, the Doodle Hog Polymer Clay is my top choice for creating stunning, durable polymer clay earrings. It's smooth sculptability and dynamic colors open up endless dazzling design possibilities.
Top Resources from Clay Brands for Earring Projects
Here are 3 helpful manufacturer's resources I recommend checking out to help choose the best polymer clay for earrings:
This video tutorial from Sculpey is a great overview of how to use their brand of polymer clay to handcraft beautiful earrings — https://www.youtube.com/watch?v=49pYIMIY9r8. I like that they give tips on conditioning the clay, shaping techniques, baking instructions, and adding embellishments. Their clay is easy to work with and comes in gorgeous colors perfect for earrings.
The Kato Polyclay earring collection shows off stunning examples of earrings made from their clay — https://www.katopolyclay.com/collections/earrings. I'm amazed by the intricate designs and vivid marbled colors. Their clay seems well-suited for achieving similar results. The earrings appear lightweight and durable – ideal properties.
This earring-making FAQ page from Premo covers helpful basics like baking times, finishes, and preventing breakage — https://www.sculpey.com/faqs/jewelry-earrings. I like their troubleshooting tips for avoiding common problems with polymer clay earrings. Their clay is known for its strength and vibrant hues.
Checking out resources directly from the manufacturers is a great way to get a feel for how well their specific clay works for handcrafted earrings. You can get inspiration for designs and learn insider techniques.
FAQ: What is the best polymer clay for earrings
What are the benefits of polymer clay for earrings?
Polymer clay is lightweight, easy to sculpt by hand, and comes in vibrant colors perfect for earrings. When baked, it hardens into a durable, long-lasting material safe for piercings. The handmade look is perfect for creative, one-of-a-kind earring designs.
What properties should you look for?
Seek out polymer clay that conditions smoothly without stickiness, holds intricate details without distortion, and retains vivid colors after baking. It should be strong yet flexible when hardened to prevent breakage.
Which brand makes the best clay for earrings?
Based on workability, detail, strength, and color vibrancy, Sculpey and Kato Polyclay consistently perform well for earring projects. Premo clay is also known for its durability and bold hues.
How do you bake polymer clay earrings safely?
Follow package directions, usually baking at 130°C for 10-15 minutes per 6mm thickness. Place clay pieces on a baking sheet lined with parchment paper. Allow to fully cool before wearing to prevent burns.
What finishes can be used?
Liquid polymer gloss or glazes add shine and durability. Chalk pastels or acrylic paints can add color. Resin epoxy coats provide a glassy finish. Faux patinas create an aged look. Metallic rubs bring out the sheen.
How do you prevent breakage?
Avoid thin or narrow connecting points. Insert wire armatures for strength. Use pliers to compress joins. Apply liquid polymer to fully seal pieces. Handle cooled clay gently.