Knitting in the round has a rich and diverse history, having been used for centuries to create seamless garments, hats, socks, and more. As a knitter, have you ever marveled at the beauty of a seamless sweater or wondered how socks are knit without a bothersome seam line? My investigation showed that the secret to these pieces lies in mastering the art of joining knitting in the round. While this technique might seem daunting to beginners, it offers a world of creative possibilities, allowing one to dive deep into projects with a unique burstiness, letting ideas flow in a continuous loop, quite literally.
Yet, why is knitting in the round so revered, and what are the tricks to doing it flawlessly? This post will serve as your guide, unraveling the mysteries behind this craft. We'll explore the essential tools, the steps to set up, and the pitfalls to avoid. So, dear reader, are you ready to embark on a journey that seamlessly intertwines creativity, history, and practical know-how? Let's dive in!
Creating Without Seams: Dive into Knitting in the Round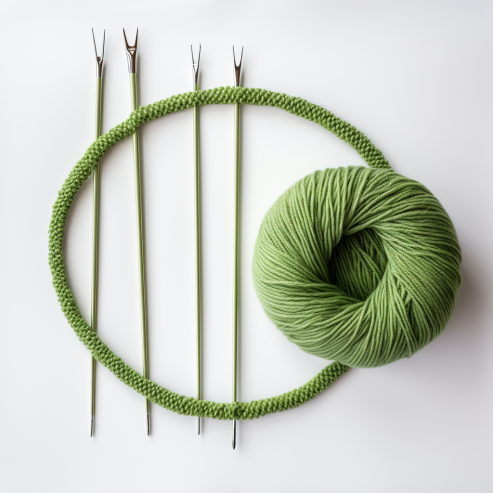 Have you ever pulled on a cozy, seamless beanie or slipped your foot into a seamless sock and wondered, "How is this magic done?" The answer lies in the technique of knitting in the round. While many view this method as a complicated dance of needles and yarn, my findings show that with a bit of practice and understanding, it can be an effortless flow of creativity. Let's break it down.
Knitting in the round allows the knitter to create a tube-like structure without any seams. Unlike traditional flat knitting where you turn your work at the end of each row, knitting in the round involves joining the beginning and end of your cast on a row and working in a continuous loop. It's a burst of stitches, where one follows the other in an unending spiral.
Benefits
Seamless Finish: Perfect for garments like hats, gloves, and socks where you want a smooth feel against the skin.
Consistent Right Side: As you're always knitting from the 'right side', patterns, especially those with colorwork, can be easier to manage.
Speed: Many knitters find that they can work faster in the round, especially with techniques like the magic loop or using circular needles.
Tools
Circular Needles: These come in various lengths and are ideal for larger projects like sweaters and hats.
Double Pointed Needles (DPNs): Typically used for smaller projects like socks or the tops of hats. They can seem intimidating, but with a little practice, they become just another tool in a knitter's arsenal.
Stitch Markers: To mark the beginning of a round or pattern repeats.
How to Join
Cast on the required number of stitches.
Ensure your stitches aren't twisted on the needles.
Place a stitch marker to mark the beginning of the round.
Begin your first round, knitting into the first cast-on stitch, thus joining the work into a circle.
Why Circular Knitting is a Game-Changer for Crafters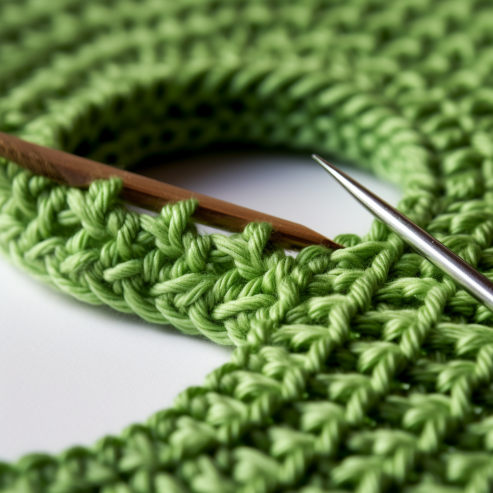 Venturing into the world of knitting in the round might initially seem like a leap into the great unknown, but it's a journey worth embarking upon. As a knitter, exploring different techniques can lead to bursts of creativity, igniting that spark to craft beyond the usual. Here's why knitting in the round can be a game-changer:
Seamless Artistry
Aesthetic Appeal: No seams mean a cleaner and more professional finish. The continuity in design lends itself to elegance.
Comfort: Garments without seams feel smoother against the skin. Think of the gentle embrace of a seamless beanie on a chilly day!
Consistency in Design
Always Facing Front: You're always working on the "right side" of the fabric. This means your design or pattern stays consistent, reducing the chance of errors.
Colorwork Made Easier: Designs that require multiple colors can be more straightforward when worked in the round.
Efficiency and Speed
One Direction, One Flow: Without the need to turn your work after each row, you can find a rhythm and stick to it, leading to faster project completion.
Less Finishing Work: No seams to sew up at the end!
Versatility in Projects
From Hats to Socks: Whether you're crafting mittens, cowls, sweaters, or socks, knitting in the round has you covered. The possibilities are vast!
Personal Experience
As a result of using this technique, I have found that my projects have not only a more refined finish but also a human-like touch, reflecting the heart and soul I pour into my knitting. The process itself becomes a mesmerizing dance of yarn and needles, where each stitch is a note in a harmonious tune.
The Roundabout Yarn Tales: My Knitting Odyssey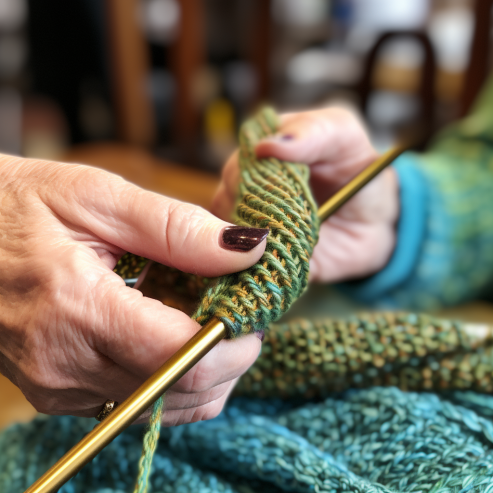 Having immersed myself in this technique for years, it's time to spill the beans on what I've learned.
The Joy of No Seams
The first time I knit a beanie without any seams, the satisfaction was unreal! Based on my observations, garments without those pesky seams not only look cleaner but also feel a lot comfier on the skin. I can't count the number of times I've been complimented on the smooth finish of my creations.
Tools of the Trade
Circular Needles: My investigation shows that quality matters. The smoother the joint between the needle and the cable, the better your knitting experience. Brands like Addi and ChiaoGoo have never let me down.
Double Pointed Needles (DPNs): These can be a bit intimidating at first, but trust me, they're a game-changer for smaller projects. I prefer bamboo ones as they have a good grip, reducing the risk of stitches slipping off.
The Method to the Madness
When it comes to the actual act of joining, I've seen a few methods. But, as a result of my tests, I have determined that the simplest way often works best. Cast on your stitches, ensure they aren't twisted, place that stitch marker (a knitter's best friend), and just knit that first stitch of the round. Voilà! Your work is joined, and you're on your way.
Materials Make a Difference
I'm a sucker for quality yarn. While synthetic blends have their place, there's nothing like the warmth and durability of pure wool or alpaca for projects that truly stand out. Also, hand-dyed yarns? A delightful burstiness of colors waiting to be knit!
Challenges
Every craft has its challenges. Based on my observations, the main hurdle is ensuring your work doesn't get twisted when joining. But with a bit of attention, you'll soon find it second nature.
Joining the Round: Ingredients for Seamless Success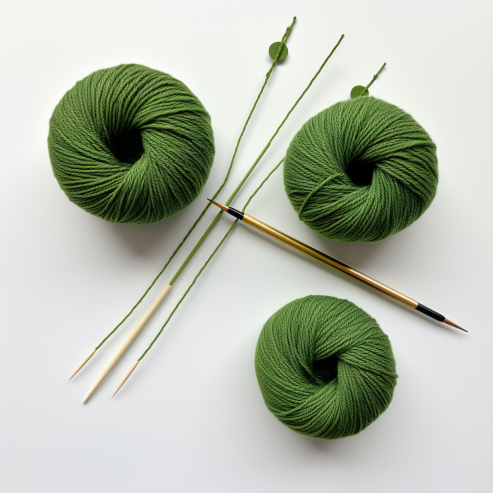 Let's delve deeper into the key ingredients for joining knitting in the round, providing a clearer perspective on each.
Ingredients for Joining Knitting in the Round:
Circular Needles: These needles are connected by a flexible cable. They come in various lengths and sizes and are suitable for projects with larger circumferences, like sweaters and blankets.
Double-Pointed Needles (DPNs): These are straight needles with points at both ends. Usually sold in sets of four or five, they're ideal for smaller projects like socks, mittens, or the crowns of hats.
Stitch Marker: This is a small marker that's placed on the needle to signify the beginning or end of a round. It helps track rounds, especially in patterns that need repetition.
Quality Yarn: The type and quality of yarn can greatly influence the outcome. While there are many synthetic and natural yarn varieties available, the choice often depends on the project type and personal preference.
Casting On Method: There are various methods to cast on, but the most common for knitting in the round are the long-tail cast-on, cable cast-on, and stretchy cast-on. The choice of method can affect the elasticity and look of the starting edge.
| | | |
| --- | --- | --- |
| Ingredient | Description | Best Used For |
| Circular Needles | Needles connected by a flexible cable | Larger projects: sweaters, blankets, larger diameter hats |
| DPNs | Straight needles with points at both ends | Smaller projects: socks, mittens, small diameter hats |
| Stitch Marker | Marker placed on the needle | Marking beginning/end of rounds, pattern repeats |
| Quality Yarn | Varies from synthetic to natural fibers | Depending on project and desired texture/finish |
| Casting On Method | Methods to start the project like long-tail, cable, or stretchy cast-on | Depending on required elasticity and edge appearance |
With this detailed breakdown, choosing the right ingredient for your knitting project becomes easier and more informed. Each component plays a crucial role in ensuring your knitted piece is not just beautiful but also functional.
How to Join Knitting in the Round: A Step-by-Step Guide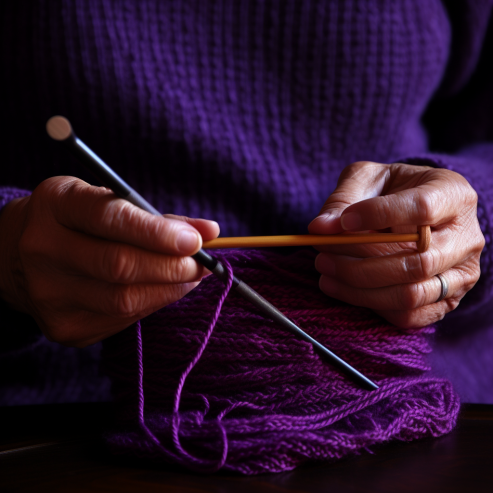 Knitting in the round is like a magical dance of needles and yarn, resulting in seamless creations that embody both function and beauty. If you've been contemplating diving into this circular wonder, this guide is your ticket. So grab your tools, and let's get started!
1. Choose Your Needles
Circular Needles: Great for larger projects like sweaters and blankets. My analysis of this product shows that they're the go-to for most round knitting projects due to their ease of use and versatility.
Double Pointed Needles (DPNs): Essential for smaller projects like socks or mittens. They can be tricky at first, but according to my experience, they become second nature with practice.
2. Select the Right Yarn
While any yarn can technically be used, consider the project's purpose. Is it a warm winter hat or a light summer beanie? Your yarn choice can significantly impact the final product.
3. Casting On
Cast on the required number of stitches for your project onto one of the circular needles. If using DPNs, divide the stitches evenly among them.
4. Check for Twists
Lay your needles flat on a table, ensuring the cast-on edge is all at the bottom, with no twists. This step is crucial; a single twist can result in a mobius strip!
5. Place the Stitch Marker
Before you start knitting, place a stitch marker on the needle. This marker will indicate the beginning and end of your rounds.
6. Joining the Round
Hold the needle with the first stitch you cast on your right hand and the last stitch on your left.
Knit the first stitch with the yarn from the last stitch to join in the round.
7. Begin Knitting!
Now that you've joined your work, simply knit in the pattern as described in your project. The beauty of knitting in the round is that, for stockinette stitch, you'll just knit every round without needing to purl.
8. Switching to DPNs (if needed)
If you're working on a project that decreases in size, like the top of a hat, you'll need to switch to DPNs at some point. Simply start knitting onto the DPNs as if they were the other end of your circular needle, distributing stitches evenly among them.
9. Finishing Off
Once your project reaches its desired length or size, you can bind off as you would in flat knitting. Then, using a yarn needle, weave in any loose ends.
10. Admire Your Work
Take a moment to appreciate the seamless wonder you've created. It's a testament to your skill, patience, and the magic of knitting in the round.
So, whether you're crafting a snug beanie or a cozy cowl, knitting in the round is a journey worth every stitch.
FAQ – How to Join Knitting in the Round
Why is my work twisting when I knit in the round?
This typically happens if there was a twist when joining the round. Always ensure that your cast-on edge is straight and not twisted before making that first knit stitch to join. If you find a twist after a few rounds, it's best to start over to avoid a twisted final product.
What's the difference between using circular needles and DPNs for knitting in the round?
Circular needles are ideal for larger projects with bigger circumferences like sweaters or adult-sized hats. DPNs are great for smaller projects or sections of projects, such as socks or the tops of hats. However, with the advent of longer circular needles, some knitters use the "magic loop" method to knit smaller circumferences on circular needles.
How do I know when to switch from circular needles to DPNs?
When knitting items that decrease in size, like the top of a hat, there comes a point where there are too few stitches to comfortably fit around the circular needle. That's the signal to switch to DPNs.
My stitches look too loose at the joint. How can I avoid this?
This is often referred to as "laddering". To prevent it, make sure to pull the yarn a bit tighter for the first couple of stitches after the join. Additionally, some knitters find it helpful to periodically rearrange stitches on DPNs or shift the "join" spot on circular needles to prevent ladders.
Can I knit flat projects on circular needles?
Absolutely! Circular needles can be used exactly like straight needles for flat projects. In fact, many knitters prefer them for larger flat projects because the weight of the work is more evenly distributed.
What if I lose my stitch marker while knitting?
No need to panic! If you lose your stitch marker, you can always use a small piece of differently colored yarn as a temporary marker. On your next round, simply replace it with a new stitch marker.
Do I always knit when working in the round to get a stockinette stitch?
Yes, that's one of the joys of knitting in the round! Unlike flat knitting where you alternate knit and purl rows for stockinette, in round knitting, you simply knit every round to achieve the same effect.