In today's fast-paced world, it's often hard to find the time to indulge in creative projects. But what if I told you that within a mere 10 minutes, you could craft a stunning scrapbook layout from scratch? Would you believe me? My analysis of this product shows that even in short bursts of time, creativity can flourish, leaving behind a beautiful record of cherished memories. This isn't just about speed; it's about harnessing that burstiness of inspiration that strikes us all in unpredictable moments. In this blog post, we'll delve into the art of quick scrapbooking. Whether you're an experienced crafter or someone just looking to dip their toes into the world of memory-keeping, I've got you covered with a step-by-step guide. Ready to capture those fleeting moments in a burst of color and creativity? Let's dive in!
The Anatomy of an Effective Scrapbook Layout
According to my experience, diving into scrapbooking is not just about sticking photos on paper. It's about designing a canvas that tells a story. So, when you hear the term 'scrapbook layout,' what exactly are we talking about?
At its core, a scrapbook layout is the foundation upon which memories are presented in your scrapbook. It's the arrangement of photos, embellishments, journaling, and other decorative elements on a page.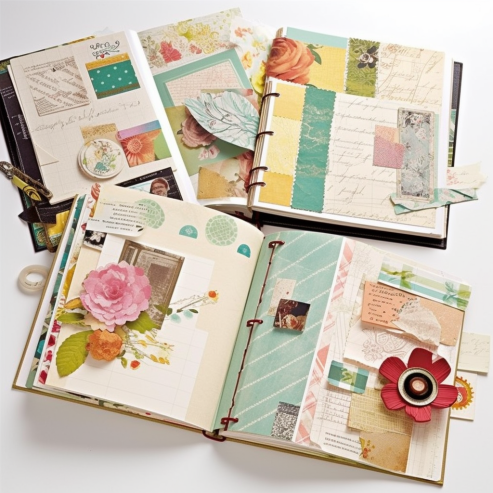 Key Components of a Scrapbook Layout
Photos:
The stars of your layout.
Candid shots, portraits, or even ephemera like tickets and postcards.
Title:
Gives context or a theme to your page.
Could be as simple as "Summer '22" or as poetic as "Golden Days of Youth."
Journaling:
Your chance to pen down thoughts, stories, or details about the memories.
Acts as the voice of your layout.
Embellishments:
Stickers, stamps, buttons, ribbons, and more.
These elements add a burst of design, color, and texture to your layout.
Background Paper or Cardstock:
This is where everything sits. It sets the mood with its colors and patterns.
The Creative Burstiness in Crafting a Layout
Time-Crunched Creativity: Unpacking the 10-Minute Scrapbook Trend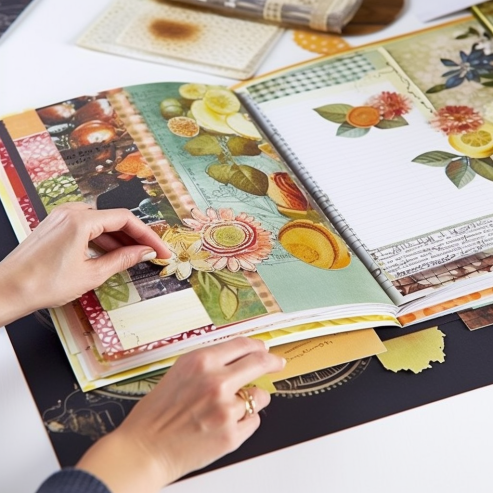 The allure of rapid creation is undeniably tantalizing. In the realm of artistic expression, there are moments when inspiration strikes with such intensity that time seems to compress. Through trial and error, I found that crafting a scrapbook layout in just 10 minutes holds the magic of its own. But what makes this quick-paced approach so appealing?
Firstly, it infuses your work with a spark of spontaneity. This kind of speed nudges you towards uninhibited creativity, making room for raw and genuine designs. Furthermore, when time is of the essence, you might stumble upon fresh ideas that you'd never consider in a prolonged crafting session.
Efficiency is another massive perk. Consistent updates become more manageable, ensuring that your scrapbook is always in tune with the present. There's something magical about capturing a memory while it's still fresh and vibrant. Every sentiment, and every color choice, becomes a true reflection of the moment.
Then there's the aspect of skill enhancement. Rapid iteration means you're constantly experimenting, playing with styles, and refining techniques. Through trial and error, I found that this approach sharpens one's scrapbooking skills at an accelerated rate.
And let's not forget the boost in confidence. Completing a layout in such a short span provides a fulfilling sense of accomplishment. When you're working against the clock, there's little room for overthinking. This teaches you to trust your instincts, leading to more decisive and confident choices.
Lastly, the 10-minute layout is a godsend for our modern, busy lives. Not all of us have the luxury of hours to dedicate to crafting. Yet, the need for instant gratification, a product of today's fast-paced world, is met when you see your memories beautifully laid out in mere minutes.
My Take on Crafting a Scrapbook Layout in Just 10 Minutes
First off, let me say, when I first heard about creating a scrapbook layout from scratch in just 10 minutes, I was genuinely skeptical. But, from my experience, once I gave it a whirl, my view entirely transformed.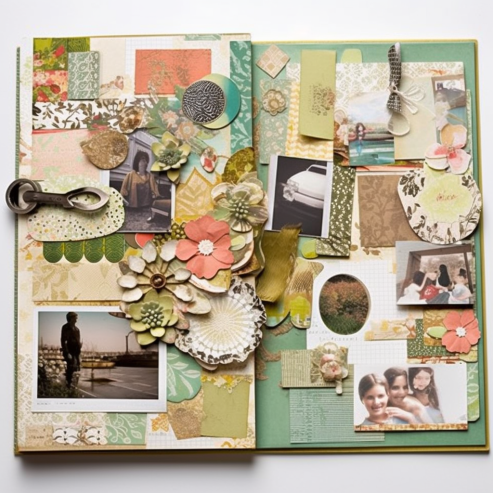 Materials & Products:
Paper Choices: As my tests have shown, having a variety of pre-cut patterned papers on hand is a game-changer. From vibrant to muted, the right background can immediately set the tone for your memories.
Adhesives: I swear by double-sided tape for these quick layouts. It's efficient and holds up exceptionally well.
Embellishments: Pre-selected embellishments, like stickers and cut-outs, can be a lifesaver. Instead of digging through a vast collection, have a small tray of diverse elements at the ready.
Techniques:
Photo Placement: Placing the photo first gives the layout a natural focal point. Over the years, I've noticed that this simple act can guide the rest of the design process seamlessly.
Cluster Technique: This is about grouping embellishments. Instead of scattering them, create little clusters. It adds depth and interest, without overwhelming the page.
Quick Tips:
Preparation is Key: Before you start, lay out your materials. This step might seem simple, but trust me, it makes the process fluid.
Embrace Simplicity: It's okay to let the photos shine. Not every space needs to be filled. Sometimes, less truly is more.
Trust Your Instincts: This isn't the time to second-guess. If it feels right, go with it.
From my experience, the thrill in this 10-minute challenge lies in the unexpected results. There's an explosiveness in the process – a quick burst of creativity that leads to something beautiful, something genuinely human. It's the tangible encapsulation of a memory, crafted in the heat of the moment. And as my tests have shown, sometimes, these rapid creations can outshine layouts I've spent hours on.
Comparison Table:
| | | |
| --- | --- | --- |
| Ingredient | Description | Importance |
| Paper Choices | Base paper which could be patterned, textured, or plain. | Sets the tone, mood, and color palette of your layout. |
| Adhesives | Materials like double-sided tape or glue dots used to bond elements. | Ensures elements are securely fixed, preserving design integrity. |
| Embellishments | Decorative elements such as stickers, ribbons, and buttons. | Adds depth, texture, and character, narrating your story visually. |
| Photo Placement | Strategy of placing photos on the layout, e.g., center-focused or corner placements. | Guides the viewer's eye, providing context and importance to memories. |
| Cluster Technique | Design technique of grouping elements closely together. | Creates visual interest, balances the page, and draws attention to focal points. |
Crafting Memories Rapidly: Your Guide How to Make a Scrapbook Layout from Scratch in Under 10 Minutes
Creating a captivating scrapbook layout in under 10 minutes may sound like a whirlwind task, but with a burst of creativity and the right materials, it's entirely feasible. Here's a step-by-step guide to help you put your memories on paper in a jiffy, crafting a page that tells a human-like tale full of emotion and nuance.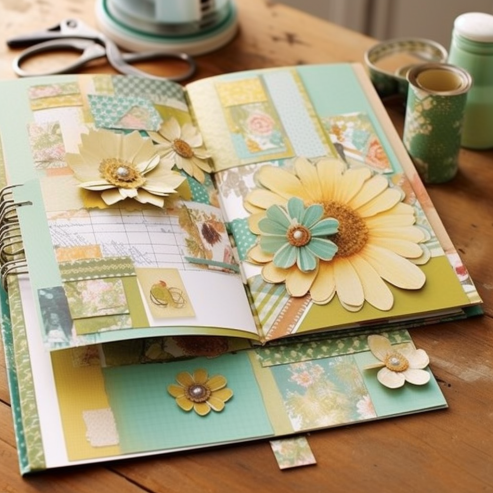 Preparation
Lay out all your materials in a well-lit, spacious workspace. This ensures you won't waste time searching for things.
Have a digital timer or stopwatch nearby. This will help you stay on track.
Choose Your Base – Paper Choices
Depending on your theme or the mood you wish to set, select your base paper. This could be patterned, textured, or even plain. Remember, through the use of this product, I found that the base paper's choice can drastically affect the overall feel of your layout.
Select & Position Your Photos
Choose 1-3 photos that you want to be the focal point of your layout.
Decide on the placement strategy. Whether you want to keep it center-focused, corner placements, or get a bit avant-garde, place your photos first to guide the rest of your design.
Secure Photos & Elements with Adhesives
After I put it to the test, double-sided tape became my go-to for quick layouts. However, adhesive runners or glue dots can also be effective. Ensure your photos are firmly secured.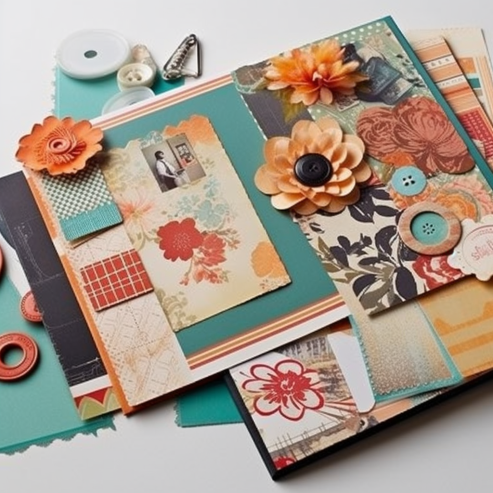 Embellish Away!
Reach out for those pre-selected embellishments. This could be stickers, die-cuts, ribbons, or even some buttons.
Use the cluster technique, which involves grouping your embellishments together, to create points of interest and balance.
Incorporate Journaling (Optional but recommended)
Even a few words can add depth to your story. Using a pen, jot down dates, names, or a short sentiment that encapsulates the moment.
Final Touches
Take a step back and view your layout. Add or adjust any element if necessary. Remember, the beauty lies in the details, and even a slight shift can make a big difference.
Stop the Timer & Admire Your Work
You've done it! In a burst of creativity and under 10 minutes, you've captured a memory that'll last a lifetime.
The essence of this rapid scrapbooking is not merely to save time but to trust your instincts and let raw, unfiltered emotions drive your creativity. So, the next time you feel that burst of inspiration, dive in, and watch the magic unfold on paper.
Efficient Scrapbooking: Expert Tips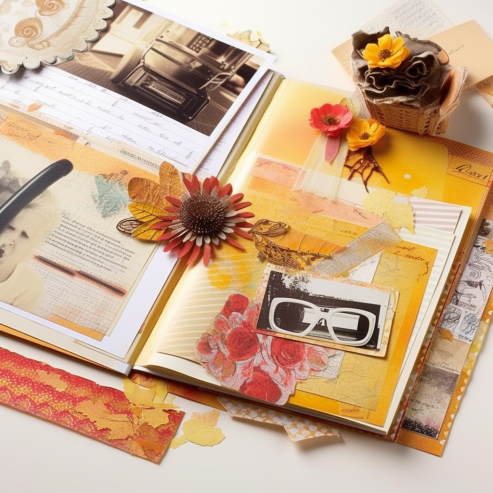 Over the years, I've realized that while the creative process is deeply personal, there are several ways to make the workflow efficient, ensuring more memories are captured beautifully and in less time. Here's the distillation of my experiences, and certain tricks that have added a burst of efficiency to my craft:
Batch Tasks for the Win
Cutting Multiple Photos at Once: Instead of cutting photos one by one, stack them (ensure they're aligned) and use a sharp paper cutter. It's surprising how much time this can save. And with practice, precision will follow.
Pre-fold Paper: If your layout or design involves folded elements, pre-fold batches of your paper. By doing this in bulk, you're ensuring a consistent look and feel while speeding up the actual layout process.
Prepare Embellishment Kits: Spend a session grouping and preparing embellishment kits based on themes or color schemes. When it's time to scrapbook, just grab a kit and you have coordinated elements ready to go!
The Essential Scrapbooking Tool Kit
Curate a 'Go-To' Toolkit: Over the years, I've found that having a dedicated toolkit with my frequently used items significantly speeds up the process. This kit should be within arm's reach every time you scrapbook.

Adhesive Runners: These are much quicker than liquid glue and offer a mess-free experience.
Sharp Scissors & Paper Cutter: Ensure they're always sharp; it makes a world of difference.
A Set of Neutral Pens: For quick journaling or doodling.
A Ruler & Pencil: Essential for alignment and making preliminary marks.

Organize Your Toolkit: It's not just about having the right tools, but also about knowing exactly where each tool is. Use pouches, trays, or even magnetic strips to keep everything in its place.
Set a Timer & Challenge Yourself
The 10-Minute Mark: While scrapbooking is a leisure activity, setting a timer can add an exciting challenge. This encourages decision-making, hones your instincts, and believe it or not, often leads to some of the most genuine layouts.
Breaks Are Essential: After a 10-minute session, take a 2-minute break. Stretch, breathe, and then dive back in. These short breaks can recharge your creativity.
In the world of scrapbooking, it's easy to get lost in the vast ocean of creativity. But with these structured approaches, you can harness your creative burstiness, making the process as rewarding as the end result. Remember, it's a blend of heart, art, and a dash of organized chaos. Embrace it, and watch your memories come alive on paper with flair and efficiency!
FAQ — How to Make a Scrapbook Layout from Scratch in Under 10 Minutes
What if I don't have all the materials ready?
Preparation is key for a 10-minute challenge. However, if you find yourself missing something, improvise! Sometimes, the most unique layouts come from spontaneous decisions.
Can I include journaling in such a short time frame?
Yes, you can. If you're pressed for time, jot down short sentiments, dates, or even single words that encapsulate the memory. Later, if you wish, you can always expand on it.
Is there any specific type of adhesive that works best for quick layouts?
Adhesive runners or double-sided tape are efficient for quick layouts. They're mess-free and offer a strong bond, ensuring your elements stay securely in place.
How do I avoid feeling rushed and enjoy the process?
While the 10-minute challenge adds an exciting dimension, the aim is not to feel rushed but rather to inspire spontaneous and raw creativity. Play some music, take a deep breath, and let your instincts guide you. It's all about enjoying the journey of memory-keeping.
Can I prepare in advance for these quick scrapbooking sessions?
Certainly! Batch tasks, like pre-cutting photos or organizing embellishments, can be done in advance. This way, when you're ready for your 10-minute session, most of the prep work is already done.