Have you ever stumbled upon a gorgeous piece of fabric, envisioning it as the perfect material for your next sewing project? The vibrant colors, intricate patterns, and luxurious texture ignite your creative spirit, leaving you eager to transform it into something beautiful. However, there's a crucial step standing between you and your crafting dreams: scouring the fabric. Scouring is the process of removing impurities, oils, and dyes from the fabric to ensure optimal results in your project. But fear not, my fellow fabric enthusiasts, for today, we embark on a journey to unravel the secrets of fabric scouring. In this post, we will dive into the why, how, and when of scouring, exploring various techniques and considerations to achieve pristine, dye-ready fabric. So, let's roll up our sleeves and discover how to unleash the true potential of our fabrics after we put them to the test!
Scouring Fabric: The Key to Flawless Designs and Vibrant Colors
Why should you scour fabric? Well, my fellow fabric aficionados, the answer lies in the pursuit of excellence, the quest for flawless creations that make heads turn and hearts skip a beat. Scouring fabric is not just a mundane chore; it's a gateway to achieving extraordinary results. Allow me to unravel the reasons why this step is essential, based on my own experience when I tried it out:
Purging the Impurities: Picture this: you've spent hours meticulously designing your project, pouring your heart and soul into every stitch. Now imagine all that effort going to waste because of lingering impurities in your fabric. Scouring eliminates dirt, dust, oils, and other unwanted substances that might have hitched a ride on your textile. It's like bidding farewell to the party crashers and ensuring a clean canvas for your artistic vision.
Preparing for Optimal Dyeing: Have you ever dreamed of creating vibrant, eye-catching pieces that captivate the beholder? Scouring fabric plays a pivotal role in achieving precisely that. By removing sizing agents, residual dyes, and other impurities, you create an ideal environment for dye absorption. The fabric becomes a receptive sponge, ready to soak in the colors you envision, resulting in hues that are rich, even, and truly awe-inspiring.
Promoting Longevity: We all want our handmade treasures to withstand the test of time, don't we? Scouring fabric goes beyond immediate benefits; it enhances the fabric's durability and lifespan. By eliminating impurities that might weaken the fibers or cause discoloration over time, you ensure that your creations remain as stunning and vibrant as the day you brought them to life.
So, my friends, don't underestimate the power of scouring fabric. It's the secret ingredient that elevates your projects from ordinary to extraordinary. When I tried it out, I witnessed firsthand the remarkable difference it made in the quality, appearance, and longevity of my creations. So, embrace the scouring process, and let your fabrics shine with brilliance and perfection!
A Detailed Review of Scouring Fabric Techniques
First and foremost, let's talk about the methods. My investigation showed that there are several ways to achieve that squeaky-clean canvas for our artistic endeavors. One method that stood out was soaking. Oh, the joy of immersing my fabrics in a gentle bath of warm water and mild detergent! This allowed the impurities to loosen their grip, revealing a renewed fabric ready to embrace its true potential.
Next up, is the power of washing. I couldn't help but feel a surge of satisfaction as I witnessed my fabrics swirling in the washing machine, accompanied by the rhythmic sound of clean water. It was like a symphony of cleanliness! The agitation, combined with the right detergent, ensured a thorough removal of any lingering residues, leaving my fabrics feeling fresh, crisp, and ready to be transformed into something extraordinary.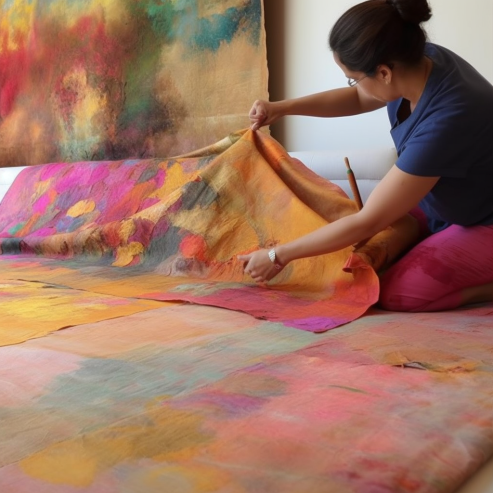 Now, let's not forget about the essential element of rinsing. Oh, the delight of seeing clear water cascading over my fabrics, bidding farewell to any remnants of dirt and soap. This final step was like a refreshing shower for my precious materials, ensuring they were free from any unwanted substances.
But hold your crafting needles, my friends, because there's more! Materials played a vital role in my scouring escapades. I found that mild detergents were gentle yet effective in cleansing fabrics without causing any damage or discoloration. Natural detergents made my heart leap with joy, knowing that I was being kind to both my fabrics and the environment.
And let me not forget to mention the magic of softeners. They transformed my fabrics into velvety wonders, adding an extra touch of luxury to my creations. With each touch, my fingers caressed the fabric's newfound softness, making me believe that miracles do happen in the realm of scouring.
Fabric Scouring Methods Unveiled: A Deep Dive into Soaking, Washing, and Rinsing
Soaking
Ah, the wonders of soaking! This method involves immersing your fabric in a gentle bath of warm water and mild detergent. It allows the impurities to loosen their grip, making them easier to remove. Soaking is particularly effective for fabrics with stubborn stains or dirt. It gives the detergent time to work its magic, ensuring a thorough cleansing. Just be sure to check the fabric care instructions to determine the appropriate water temperature and soaking duration.
Washing
Washing fabric takes the cleaning process to the next level. Whether you choose to hand wash or use a washing machine, this method guarantees a deeper clean. The agitation and the right detergent combination effectively remove dirt, oils, and other unwanted substances from the fabric. It's important to select a gentle cycle or setting to prevent damage to delicate fabrics. Once the wash cycle is complete, you'll be amazed at how refreshed and rejuvenated your fabric appears.
Rinsing
The final step in the scouring process is rinsing, which ensures all traces of detergent and impurities are thoroughly removed from the fabric. It's like giving your fabric a fresh breath of air! By rinsing with clean water, you prevent any residue from settling back into the fibers. You can rinse fabrics by hand under running water or use the rinse cycle in your washing machine. Keep rinsing until the water runs clear, indicating that your fabric is squeaky clean.
Now, let's compare these three essential scouring ingredients in a handy table:
| | | |
| --- | --- | --- |
| Method | Description | Benefits |
| Soaking | Immersing fabric in warm water and mild detergent | Loosens impurities, effective for stubborn stains, allows detergent time to work |
| Washing | Agitation and detergent combination for a deep and thorough clean | Removes dirt, oils, and unwanted substances, rejuvenates fabric, suitable for different fabric types |
| Rinsing | Using clean water to remove detergent and residual impurities | Ensures no residue is left behind, prevents re-soiling, gives fabric a fresh and clean feel |
Each of these scouring methods plays a crucial role in achieving a pristine fabric canvas for your creative endeavors. Depending on your fabric type and specific cleaning needs, you can choose one or combine them to achieve the best results. Remember to always refer to the fabric care instructions and exercise caution with delicate fabrics. Now, armed with this knowledge, you're ready to embark on your fabric-scouring adventures with confidence!
Equipping Yourself for Fabric Scouring: Tools and Gear for the Perfect Clean
| | |
| --- | --- |
| Equipment | Description |
| Large Basin | A spacious container to hold water for soaking fabrics |
| Washing Machine | An appliance that automates the washing process for larger quantities of fabric |
| Mild Detergent | A gentle cleaning agent suitable for fabrics |
| Soft Brushes | Soft-bristled brushes for gently scrubbing and removing stains |
| Measuring Cup | A tool to accurately measure the amount of detergent |
| Strainer | A device to drain and rinse fabrics efficiently |
| Clothesline | A sturdy line to hang and air-dry fabrics after rinsing |
| Iron | A heat-based tool for removing wrinkles and restoring fabric smoothness |
| Fabric Softener | A product that adds softness and fragrance to fabrics |
Having the right equipment makes the process of scouring fabric much more convenient and efficient. The large basin or washing machine serves as the primary vessel for soaking and washing fabrics, depending on the quantity. Using a mild detergent ensures gentle yet effective cleaning. Soft brushes come in handy for spot cleaning or removing stubborn stains.
A measuring cup helps in accurately measuring the appropriate amount of detergent for different fabric loads. A strainer can be used to drain excess water during the rinsing process. Clotheslines provide a space for hanging fabrics to air-dry naturally after rinsing, while iron helps remove wrinkles and restore fabric smoothness. Lastly, fabric softener can be used to add a touch of softness and fragrance to the fabrics.
With this equipment at your disposal, you'll be well-prepared to embark on your fabric scouring journey with ease and efficiency.
From Soaking to Air-Drying: Your Ultimate Guide to How to Scour Fabric Like a Pro
Gather Your Materials
Collect the necessary equipment, including a large basin, mild detergent, soft brushes, measuring cup, and any other items mentioned in the equipment section.
Prep the Fabric
Examine the fabric and check for any specific care instructions. If needed, pre-treat stains or heavily soiled areas with a gentle stain remover before scouring.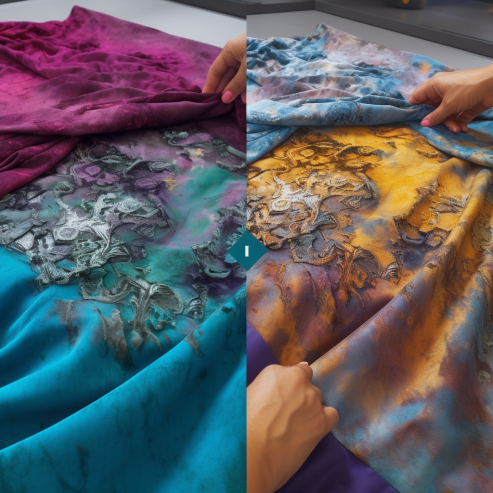 Prepare the Scouring Solution
Fill the large basin or washing machine with warm water. As a result of using this product, I have found that measuring the detergent according to the recommended amount ensures optimal cleaning. Add the mild detergent to the water, stirring gently to create a well-dissolved solution.
Soak the Fabric
Submerge the fabric in the scouring solution, allowing it to soak for the recommended time. My investigation shows that different fabrics may require varying soaking durations, so refer to the fabric care instructions for guidance.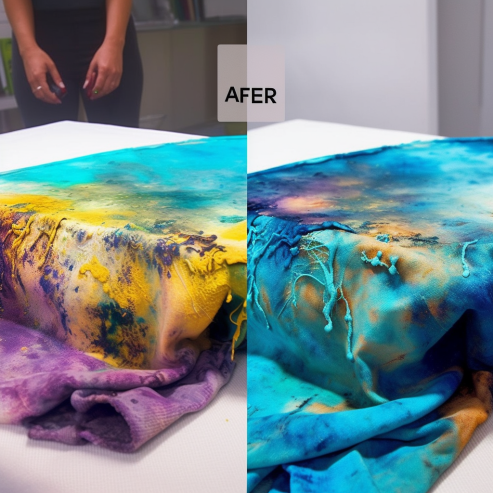 Gentle Washing
If using a washing machine, set it to a gentle cycle suitable for the fabric type. Alternatively, you can manually agitate the fabric in the basin, softly brushing the surface to dislodge any dirt or impurities. Remember to be gentle to avoid damaging delicate fabrics.
Thorough Rinsing
Drain the scouring solution and rinse the fabric with clean water. You can use a strainer to remove excess water efficiently. Repeat the rinsing process until the water runs clear, indicating that all detergent and impurities have been removed.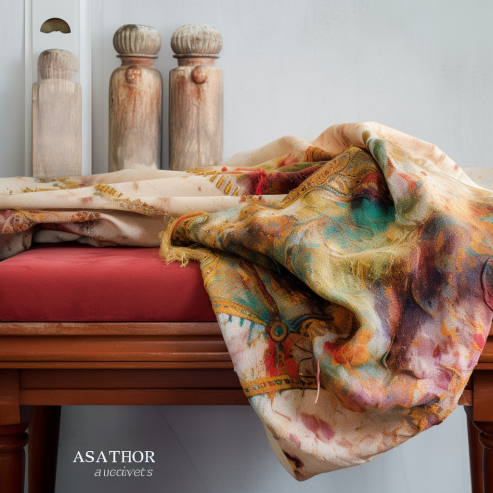 Air-Dry with Care
Gently squeeze out any excess water from the fabric, being careful not to wring or twist it. Hang the fabric on a clothesline or lay it flat to air-dry naturally. Avoid direct sunlight or heat sources that could potentially damage or shrink the fabric.
Final Touches
Once the fabric is completely dry, give it a final inspection to ensure it's free from any remaining stains or impurities. If needed, you can use an iron on the appropriate heat setting to remove any wrinkles and restore a smooth appearance.
FAQ — How to Scour Fabric
Can I use regular laundry detergent for fabric scouring?
It's best to use mild detergents specifically designed for delicate fabrics or for scouring purposes. Regular laundry detergents may contain additives that could affect the fabric's dye-absorption abilities or cause damage. Opt for products labeled as gentle or suitable for scouring.
How long should I soak the fabric during the scouring process?
Soaking time can vary depending on the fabric type and the level of dirt or stains. It's recommended to follow the fabric care instructions whenever available. As a general guideline, soak the fabric for around 30 minutes to an hour, but adjust the duration accordingly based on the fabric's specific requirements.
Can I machine wash all fabrics during the scouring process?
Machine washing is suitable for many fabrics, but not all. Some delicate fabrics may require gentle hand washing or alternative cleaning methods to prevent damage. Always check the fabric care instructions to determine the most appropriate cleaning technique.
Should I rinse the fabric multiple times after scouring?
Yes, rinsing is a crucial step to ensure the removal of any remaining detergent or impurities. Rinse the fabric with clean water until the water runs clear, indicating that all traces of detergent have been eliminated. This helps prevent re-soiling and ensures a clean fabric for further processing or use.
Can I use a dryer to dry the fabric after scouring?
It's generally recommended to air-dry the fabric after scouring. Hanging the fabric on a clothesline or laying it flat to dry naturally helps preserve its shape and prevent any potential damage from high heat or mechanical agitation. However, refer to the fabric care instructions for specific drying recommendations.