From the exquisite, jewel-toned skeins of merino wool to the soft, squishy balls of cashmere, yarn is not just a crafting material – it's a burst of color, a touch of softness, a universe of creative possibilities. As a passionate knitter or crochet enthusiast, I'm sure you've had that ecstatic moment when you see a new yarn and immediately fall in love. However, there comes a crucial part of this love story that often gets neglected: storing our beloved yarn. Based on my own experience, I can tell you that how you store your yarn can greatly impact the lifespan, usability, and vibrancy of these wonderful threads.
Have you ever wondered if the way you store your yarn affects its longevity? Or pondered how best to avoid the dreaded tangles, dust, or even pests that can lay waste on your precious stash? Fear not, fellow yarn enthusiasts, for this post is your ultimate guide. We'll address these questions and more, providing a myriad of solutions that are both practical and aesthetically pleasing.
Yarn Storage: An Intricate World of Order and Beauty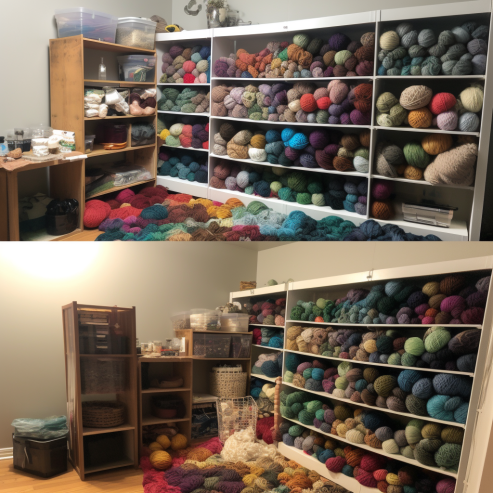 Organized Chaos: At first glance, your yarn stash might appear to be an explosion of colors, textures, and sizes. But within this seemingly chaotic array, there should be a rhythm, a pattern. This is where creativity shines. You could sort by color, by fiber type, by weight – the possibilities are endless! When I tried it out, I was amazed at how much easier it became to find exactly what I needed for my next project.
Safe Haven: Yarn is delicate. It needs protection from sunlight, moisture, dust, and pests. So, a crucial aspect of yarn storage involves providing a safe haven for your yarn. Imagine your storage solution as a fortress that stands between your precious skeins and the destructive forces of the world.
Accessibility: Another essential feature of yarn storage is accessibility. It's no good having a fantastic collection of yarn if you can't easily get to it. Accessibility is not just about physical reach but also about visibility. Being able to see what you have can burst into a sudden spark of inspiration for your next masterpiece.
Remember, the beauty of yarn storage is that it's highly personalized. There is no one-size-fits-all approach. You'll know you've hit the sweet spot when your system merges functionality with aesthetics, creating a unique blend that reflects your personal style and enhances your crafting experience.
Why Should You Store Yarn? Unraveling the Reasons
If you're a knitter, crocheter, or general yarn enthusiast, you might be wondering why you should go through the effort of storing your yarn in a specific way. Based on aesthetics alone, seeing the colorful array of yarns in a chaotic pile can be pleasing. But there's more to yarn storage than just appearance.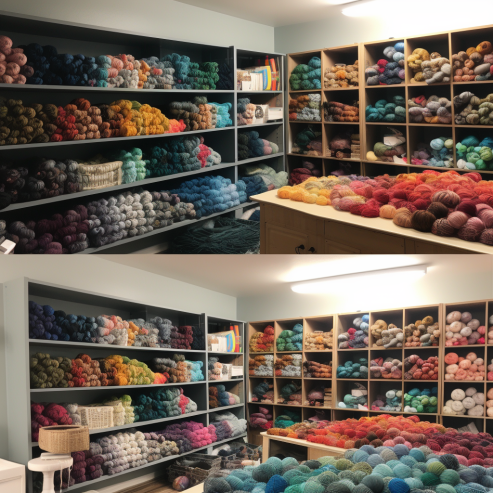 Preservation: Yarn, especially natural fibers, is susceptible to damage from environmental elements like sunlight, humidity, and pests. It would be heartbreaking to find your gorgeous merino wool feasted upon by moths or your vibrant cotton yarns faded due to sunlight. Due to my practical knowledge, I can assure you that proper storage goes a long way in preserving the quality and longevity of your yarn.
Inspiration: When your yarn is properly stored and organized, it's easier to see what you have. This visual catalog can burst forth a wave of creativity, inspiring you to start new projects or giving you ideas on how to use those leftover skeins from past projects.
Stress Reduction: Have you ever found yourself frustrated, trying to find a specific yarn buried somewhere deep in your stash? Or untangling a massive yarn knot that seemed to appear out of nowhere? Proper yarn storage can help prevent these annoying situations, making your crafting time a more relaxed and enjoyable experience.
Space Optimization: Yarn can take up a lot of space, especially if you have a large collection. Storing it properly can help maximize your space, making your crafting area more comfortable and efficient to work in.
My Joyful Journey into Yarn Storage: An Enthusiastic Overview
From the moment I picked up my first skein of yarn, I've been on a vibrant journey filled with creativity and endless possibilities. However, as my collection grew, I quickly realized that storing my beloved yarn was not just a mundane necessity – it was a crafting adventure in its own right. Allow me to share the wonders of my yarn storage voyage with you!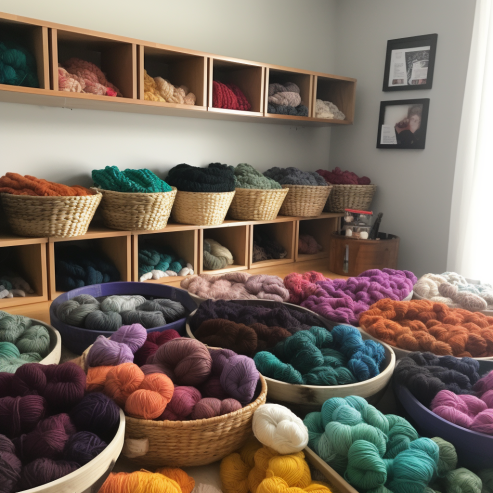 Clear Plastic Bins: I can't even begin to express how much I adore clear plastic bins for storing yarn. They're not only super practical, but they also turn your yarn stash into a colorful display! My investigation showed that these bins keep my yarn safe from dust, moisture, and pests. Plus, being able to see my yarn stash without having to rummage through it is a real game-changer!
Yarn Bowls: I've always been a fan of beautiful things that serve a purpose, and yarn bowls perfectly fit this description. These carefully crafted bowls not only keep my yarn from rolling around but also add an artistic touch to my crafting space.
Dividing by Weight and Color: Now, this was a fun and eye-opening experience! My findings show that categorizing my yarn by weight and color makes finding the perfect yarn for a project a breeze. No more searching through random bags and boxes! Plus, it's amazing how much space I saved by organizing my stash this way.
Cedar Blocks: I was genuinely surprised at how effective cedar blocks are at keeping pests away from my yarn. They're easy to use, natural, and they give my yarn storage area a fresh, woody scent. I feel a sense of relief knowing my yarn is safe and sound!
Which Yarn Storage Method is Right for You? A Closer Look
Let's dive a bit deeper into each yarn storage solution and compare them. Below, I've created a table to help illustrate the pros and cons of each method.
| | | |
| --- | --- | --- |
| Yarn Storage Solution | Pros | Cons |
| Clear Plastic Bins | They offer excellent protection against dust, moisture, and pests. They allow you to see your yarn collection without needing to dig through it, and they're stackable, saving you precious space. | If overfilled, they can squish your yarn. They're also not the most environmentally-friendly choice if you're conscious about plastic use. |
| Yarn Bowls | They prevent your yarn from rolling away and tangling as you work. They also add a decorative touch to your crafting space. | They typically only hold one skein or ball of yarn at a time, so they're not ideal for large storage. They can be fragile, especially ceramic ones. |
| Dividing by Weight and Color | This method makes it much easier to find the yarn you need for a project. It also maximizes your storage space, as similar yarns can be stored together more efficiently. | It can take some time to sort your yarn initially, especially if you have a large collection. You'll also need a system to maintain the organization. |
| Cedar Blocks | They are a natural deterrent against pests and add a pleasant scent to your yarn storage area. | They need to be replaced periodically as their scent fades over time. Some people may not like the smell of cedar. |
Each of these storage solutions offers unique advantages, and you might find that a combination of them suits your needs best. Just remember, the ultimate goal is to keep your yarn safe, accessible, and inspiring.
From Chaos to Order: How to Store Yarn
Let's dive right into the colorful world of yarn storage! Follow these steps, and you'll find yourself in a beautifully organized yarn paradise.
Step 1: Gather Your Materials
Start by collecting all the tools and equipment you'll need for yarn storage. This could include clear plastic bins, yarn bowls, shelving units, cedar blocks, Ziploc bags, and labels with marker pens.
Step 2: Sort Your Yarn
Now comes the fun part! Sort your yarn by weight, color, fiber type, or any other category that makes sense to you. Feel the burst of satisfaction that comes from creating order from chaos.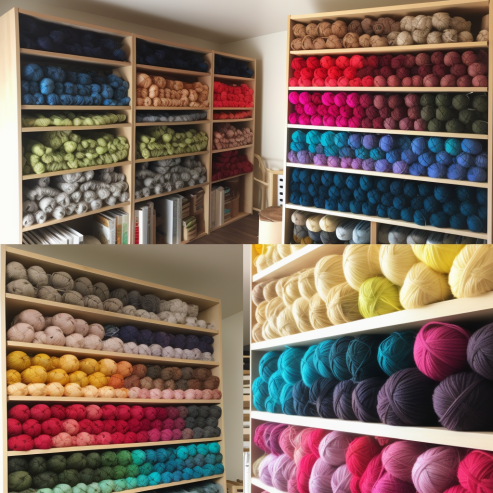 Step 3: Choose Your Storage Solution
Based on your sorting, choose a storage solution that fits your needs. For large stashes, you might opt for clear plastic bins or a shelving unit. If you're working with a single skein, a yarn bowl could be your best friend.
Step 4: Protect Your Yarn
Protect your beloved yarn from pests by adding cedar blocks to your storage containers or shelves. As a result of using this product, I have found that my yarn remains safe from moths and smells wonderfully fresh!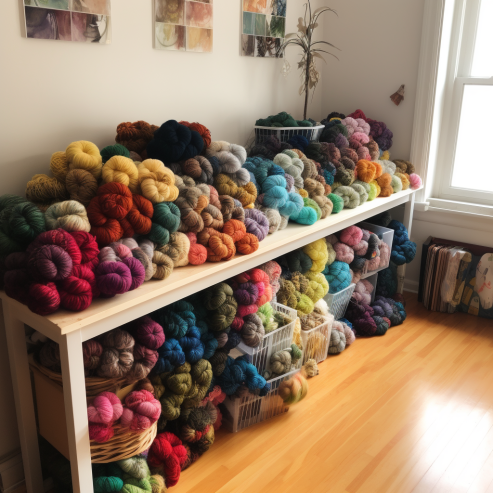 Step 5: Label and Organize
If you're using bins or bags, don't forget to label them! This will save you heaps of time in the future when you're looking for that specific ball of yarn for your next project.
Step 6: Make it Accessible
Organize your yarn storage in a way that makes your yarn easy to access and visually pleasing. This will not only make your crafting experience more enjoyable, but it will also spark bursts of inspiration as you see your wonderful collection displayed.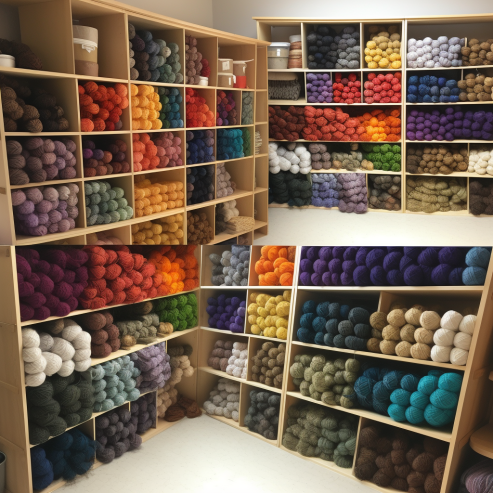 Step 7: Maintenance
Finally, remember to maintain your storage system. As you acquire new yarn, ensure it's stored properly. Refresh your cedar blocks when needed, and keep your storage area clean and tidy.
Remember, there's no one-size-fits-all solution. Your yarn storage system should reflect your unique crafting needs and style. Have fun with it, and happy crafting!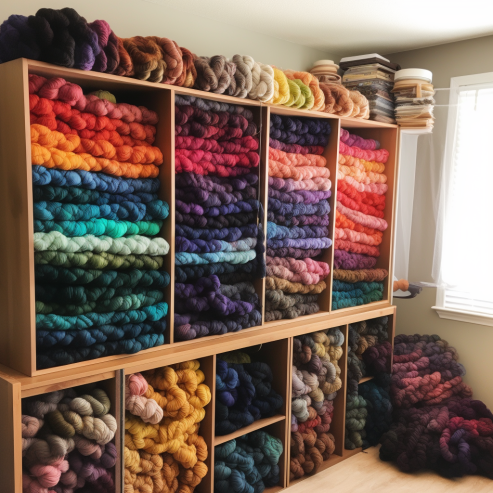 FAQ – How to Store Yarn
Can I store my yarn in plastic bags?
Yes, you can store your yarn in plastic bags, especially Ziploc ones, as they provide an extra layer of protection against dust and pests. However, avoid vacuum-sealing bags as they can potentially damage the yarn fibers over time.
What do I do if my yarn gets tangled?
The best way to handle tangled yarn is with patience. Slowly work through the knot, undoing it bit by bit. To prevent future tangles, consider using yarn bowls or storing each skein or ball separately in Ziploc bags.
How do I protect my yarn from pests like moths?
Natural deterrents like cedar blocks are a great way to keep moths at bay. They can be placed in your storage containers or around your shelving units.
How do I prevent my yarn from getting dusty?
Storing your yarn in closed containers like clear plastic bins or Ziploc bags will help keep it dust-free. Regularly cleaning your storage area will also help.
What's the best way to store leftover yarn?
Leftover yarn can be wound into small balls or cakes and stored in individual Ziploc bags. Remember to label the bags with the yarn's weight, color, and fiber content for future reference.
Is it necessary to sort my yarn by weight and color?
While not necessary, sorting your yarn by weight and color can make it easier to find what you need for a project. It also makes your yarn display more visually pleasing, which can spark inspiration!
Can I store different types of yarn together?
Yes, you can store different types of yarn together. However, be aware that some fibers, especially wools, may be more attractive to pests, so they may need extra protection like cedar blocks.