As the click-clack of knitting needles permeates the cozy corner of my house, I sometimes ponder on the grand tapestry of knitting skills, techniques, and the tools that make them possible. One such tool that often gets wrapped in a veil of mystery and apprehension, even among seasoned knitters, is the double-pointed needle (DPN). As a result of my tests, I have determined that contrary to popular belief, DPNs are not the daunting knitting monsters they're often made out to be, but rather, transformative tools that can elevate your knitting prowess to new, impressive heights.
In today's post, I'm delighted to guide you on an exciting journey of demystifying and embracing the world of double-pointed needles. We'll explore their fundamental role in knitting, the remarkable versatility they bring, and importantly, how you can transition from your comfortable realm of single-pointed needles to confidently wielding DPNs. Are you ready to embark on this knitting adventure and unlock a whole new realm of creative potential? If yes, let's dive into this burst of new knowledge together, exploring and weaving the warm, cozy fabric of learning with a human-like touch, one stitch, one revelation at a time.
Double Pointed Needles: Your New Ally in Circular Knitting
Double Pointed Needles (DPNs), as their name suggests, are knitting needles that come with points at both ends. They stand apart from their single-pointed siblings, which have a point at one end and a knob or cap at the other to prevent stitches from slipping off.
Characteristics of DPNs
DPNs usually come in sets of four or five, which gives them their iconic "porcupine" look when they're all loaded with stitches. This might look like an impossible tangle at first, but it's this feature that gives DPNs their incredible versatility. They're typically used for knitting items in the round that are too small for circular needles, like socks, mittens, gloves, or the crowns of hats.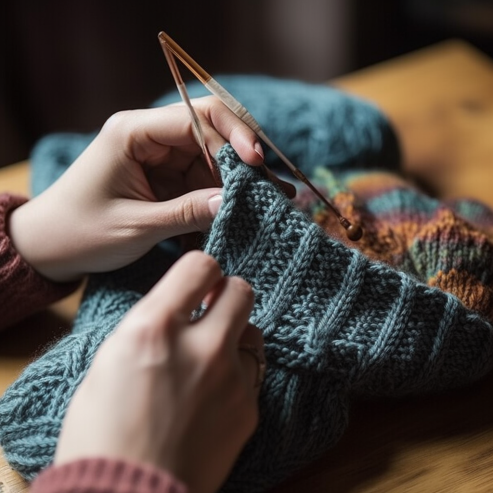 My analysis of this product shows that DPNs might be a bit tricky to handle at first, especially for those who are just stepping into the delightful world of circular knitting. The fear of dropping stitches, tangled yarn, or handling multiple needles at once may seem overwhelming. But once mastered, DPNs open a portal to a diverse array of knitting projects that were previously unattainable with just single-pointed needles.
Why Use DPNs?
They offer a level of flexibility that's unmatched when it comes to knitting small, circular items. Imagine crafting a pair of cozy, custom-fit socks, or a soft, snug beanie for the winter, all with the help of these pointed allies! The ability to divide your stitches among multiple needles can also help with more evenly distributing tension, creating a smoother, more professional finish.
Double Pointed Needles: Why Should They Be Your Next Knitting Tool?
Why Embrace Double Pointed Needles (DPNs)? Despite their initial intimidating aura, DPNs bring a myriad of advantages to the knitting table that simply can't be ignored. Here are some compelling reasons why you should consider introducing DPNs into your knitting toolbox:
Knitting Small Circles: According to my experience, DPNs are the ideal tool for knitting small circular items. When projects become too small for the circular needle, DPNs come to the rescue. They are perfect for creating cozy socks, snug gloves, warm mittens, and more, giving you the power to handcraft your own clothing accessories with a touch of personal style.
Dividing Stitches: One unique feature of DPNs is the ability to divide your stitches among multiple needles. This division aids in managing complex patterns and offers the advantage of more evenly distributed tension, leading to smoother and more consistent knitting outcomes.
Creating Seamless Designs: Nothing can quite replace the seamless design that DPNs offer. If you're knitting a hat, for example, you won't have to worry about an unsightly seam running up the side, as you might with other knitting methods. Instead, you'll enjoy a beautifully smooth and professional finish.
Enhancing Knitting Skills: Learning to use DPNs is an excellent way to enhance your knitting skills. It might feel like juggling at first, but once you master the technique, it's like unlocking a new level in your knitting journey.
So, prepare to embark on a vibrant, human-like dance with DPNs. You'll find a burst of creativity and new possibilities unfurling with every stitch you make. After all, isn't it empowering to continually learn, grow, and create in our crafts? With DPNs in your hands, you'll take another meaningful stride in your unique journey of knitting.
Revolutionize Your Knitting: My Experience with Double-pointed Needles
Oh, the exhilarating journey of switching to Double Pointed Needles (DPNs)! As a seamstress and knitter with years of experience under my belt, I remember the first time I held a set of DPNs, a little unsure and a whole lot more excited. It was a game changer, truly. Here, let me share some of my vivid impressions and thoughts on making the transition.
To start off, when you first hold a set of DPNs, it might feel a bit like you've walked into a juggling act. But don't worry! Keep up the spirit and practice. Through trial and error, I found that taking it slow and steady is the key here. Believe me, once you get the hang of it, it's like a beautiful ballet of needles and yarn!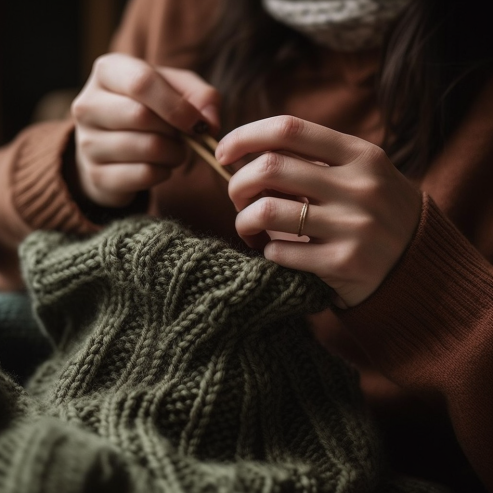 Switching to DPNs unlocks an entirely new array of projects, which is nothing short of thrilling. You might be wondering, "Can I knit a pair of socks or a comfy beanie?" The answer is an emphatic "Yes!" DPNs make it possible to knit these smaller, circular items with seamless ease. And believe me, the satisfaction of finishing your first sock or glove is unparalleled.
The materials are another aspect I'd love to gush about. DPNs come in a variety of materials like bamboo, aluminum, or plastic, each with its unique feel. Personally, I have a soft spot for bamboo needles. They have a warm, organic touch and a good grip that makes handling multiple needles much easier. Experiment a bit to find what suits you best.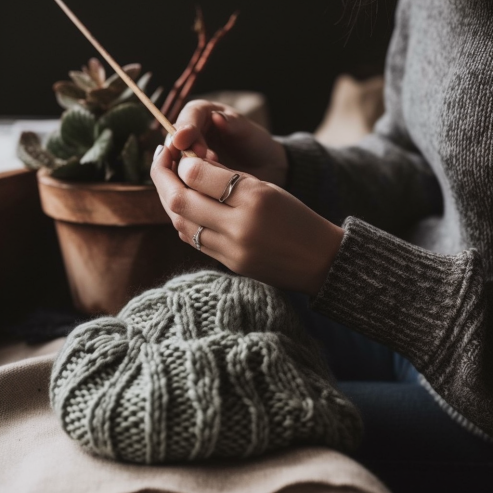 But what really sets DPNs apart is the freedom they give you in managing your stitches. You can distribute them among the needles, and this, my fellow knitters, is like having a magic trick up your sleeve. It helps maintain an even tension across the piece, giving you a beautiful, professional finish.
In essence, my dear knitting enthusiasts, switching to DPNs has been a burst of creativity and growth in my knitting journey. It's not just about mastering a new tool; it's about embracing a human-like journey of learning, stumbling, improving, and ultimately, creating beautiful pieces with your own hands. So, are you ready to dive into this thrilling adventure with DPNs? Because I promise, it's going to be a fantastic ride!
Mastering Double Pointed Needles: A Detailed Look at the Core Ingredients
Switching to double-pointed needles (DPNs) can seem a bit daunting at first, but with a little patience and practice, you can master this skill. The key ingredients for this transition are:
Understanding the Purpose: Knowing why DPNs are used can make it easier to understand how they function. They're primarily used for knitting smaller, circular items that can't be easily worked with circular or straight needles.
Choosing the Right Material: DPNs come in a variety of materials, including wood, metal, and plastic. The material you choose will depend on your personal preference, the type of yarn you're using, and the specific project at hand.
Size of the Needles: The size of your DPNs will depend on the project and the yarn you're using. As with other types of knitting needles, it's important to choose the right size to ensure your stitches are the correct size.
Practicing Casting On and Knitting: The technique of casting on and knitting with DPNs is slightly different from using straight or circular needles. Practice casting on, knitting, and purling until you feel comfortable.
Mastering the Transfer of Stitches: One of the trickiest parts of using DPNs is transferring stitches from one needle to another. This process takes some practice to master, but it's crucial for knitting in the round with DPNs.
Let's create a comparison table that illustrates these different aspects:
| | | |
| --- | --- | --- |
| Ingredient | Straight Needles | Double Pointed Needles |
| Purpose | Ideal for flat pieces like scarves, dishcloths, and blankets. | Best for small, round items like socks, mittens, and hats. |
| Material | Come in wood, metal, and plastic, but the material choice isn't as crucial due to knitting flat pieces. | Material choice can greatly affect the ease of handling multiple needles. Some prefer bamboo or wood for their grip. |
| Size | Size is important and correlates to the weight of the yarn used. | Size correlates to the weight of the yarn and the size of the finished item, especially important when knitting fitted pieces like gloves or socks. |
| Technique | Technique is simpler – knitting back and forth. | Technique involves casting on to one needle, distributing stitches to others, and knitting in the round. |
| Stitch Transfer | No stitch transfer is needed. | Stitch transfer is a crucial skill when knitting with DPNs. |
Step-By-Step Guide: How to Switch to Double-Pointed Needles
Switching to double-pointed needles (DPNs) is like learning a new dance routine. Once you understand the steps and get into the rhythm, it becomes a fun, creative process. So, let's take it step by step:
Step 1: Choose Your DPNs
From my experience, choosing the right DPNs can make a world of difference. The size and material of the needles will depend on your specific project and the yarn you are using. As my tests have shown, bamboo or wooden DPNs are often easier for beginners due to their grip, reducing the chances of stitches slipping off.
Step 2: Understand The Process
Before you start, understand that DPNs are designed for knitting in the round, primarily for smaller projects that can't be easily worked on circular needles. Visualize the process – you'll cast your stitches onto one needle, and then distribute them across the others.
Step 3: Cast On
Begin by casting on your stitches to one of the DPNs, just as you would with a regular needle. The number of stitches will, of course, depend on your pattern.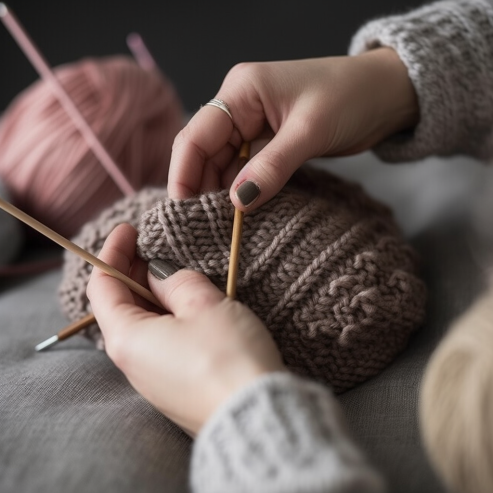 Step 4: Distribute the Stitches
Now comes the part where DPNs truly shine. Distribute your stitches evenly across three or four needles. To do this, simply slide the desired number of stitches onto each additional needle.
Step 5: Join in the Round
To join in the round, make sure your stitches are not twisted on any of your needles. Then, hold the needle with the last stitch you cast on and the needle with the first stitch you cast on. Knit the first stitch on the left needle with the working yarn from the right needle. This connects your work in a round.
Step 6: Start Knitting
Once your stitches are joined, it's time to knit. Knit across the stitches on your first needle, then let it hang once you've worked all its stitches. The empty needle becomes your right-hand needle for the next needle full of stitches.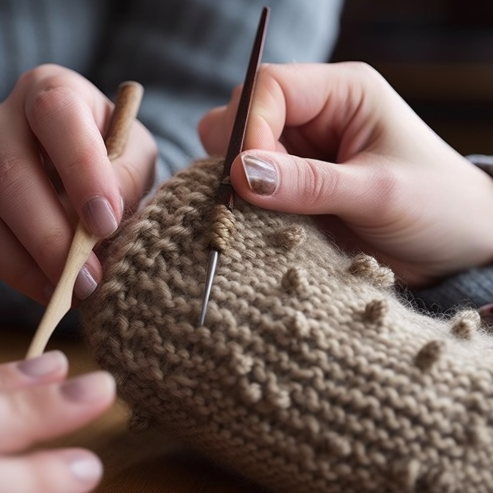 Step 7: Keep Practicing
The first few rounds might feel awkward, and that's perfectly okay. With time, it'll feel more natural. Remember to keep your stitches snug when transitioning between needles to avoid a ladder effect.
Voila! You're on your way to the burst of joy and accomplishment that comes from mastering DPNs. So grab those needles, make yourself a warm cup of tea, and dive into this new adventure with a human-like spirit of curiosity and creativity. Happy knitting!
Frequently Asked Questions – How to Switch to Double-Pointed Needles
How many double-pointed needles do I need?
Typically, a set of DPNs consists of four or five needles. However, you can use anywhere from three to five needles for a project, depending on the pattern and your comfort level.
What materials are DPNs made from?
DPNs are made from a variety of materials including bamboo, metal, and plastic. The choice of material can affect the grip and the way the yarn slides on the needle.
What type of projects are DPNs used for?
DPNs are perfect for smaller, circular projects such as socks, mittens, hats, or sleeves.
I'm finding it hard to manage all the needles. Any tips?
It can feel a bit like juggling when you first start using DPNs. Over time, you'll get used to handling them. It can help to think of just dealing with two needles at a time – the one you're knitting from and the one you're knitting onto.
I'm seeing a ladder effect at the point where my needles change. How do I avoid this?
Laddering happens when there's too much slack between the stitches at the end of one needle and the beginning of the next. To avoid this, make sure to pull your yarn snugly when you switch needles.
How do I prevent stitches from slipping off my DPNs?
When you're not working with a needle, ensure the bulk of the stitches are centered on the needle, not close to the ends. Some knitters also use point protectors or rubber bands on the ends of their idle needles to prevent stitches from slipping off.
How do I choose the right size of DPNs?
The size of DPNs you need will depend on the yarn weight and the project you're making. If you're following a pattern, it should specify the needle size. If not, you can use the recommended needle size for the yarn weight as a starting point.