Sweatpants, the epitome of comfort clothing, have long been the unsung heroes of our closets. As I've walked through my own sartorial journey, I've often marveled at their undeniable versatility, the way they can blend effortlessly with our casual and workout styles alike. From my experience, a pair of sweatpants, with their loose fit and cozy fabric, could be a game-changer, the ultimate comfort icon in a world where comfort reigns supreme. But what if we could elevate them just a notch higher? Enter joggers – the trendier cousin of sweatpants, offering a perfect blend of style and comfort.
In today's post, I am going to be your guide on an exciting DIY journey, from transforming your humble pair of sweatpants into stylish joggers. I'll walk you through the step-by-step process, sharing my personal tips and tricks picked up along the way. We'll delve into the nuances of selecting the right sweatpants, the materials you'll need for the transformation, and the techniques to achieve that coveted jogger silhouette. But before we dive in, let's ponder a thought-provoking question: Are you ready to redefine your comfort zone and step into a world of trendy, casual style? Read on to discover how sweatpants, a garment often relegated to the back of the wardrobe, can be upcycled into a fashion statement that screams 2023. Buckle up, because we're about to venture into the realm of sweatpants conversion – where comfort meets style and where your creativity can run wild.
Joggers Uncovered: More Than Just Running Attire
Joggers were initially designed for exercise, specifically jogging. However, my investigation shows that in recent years, they've effortlessly jogged their way from the treadmill into the world of everyday fashion. There's a unique charm to joggers – they bridge the gap between sportswear and streetwear, offering both comfort and style in equal measure.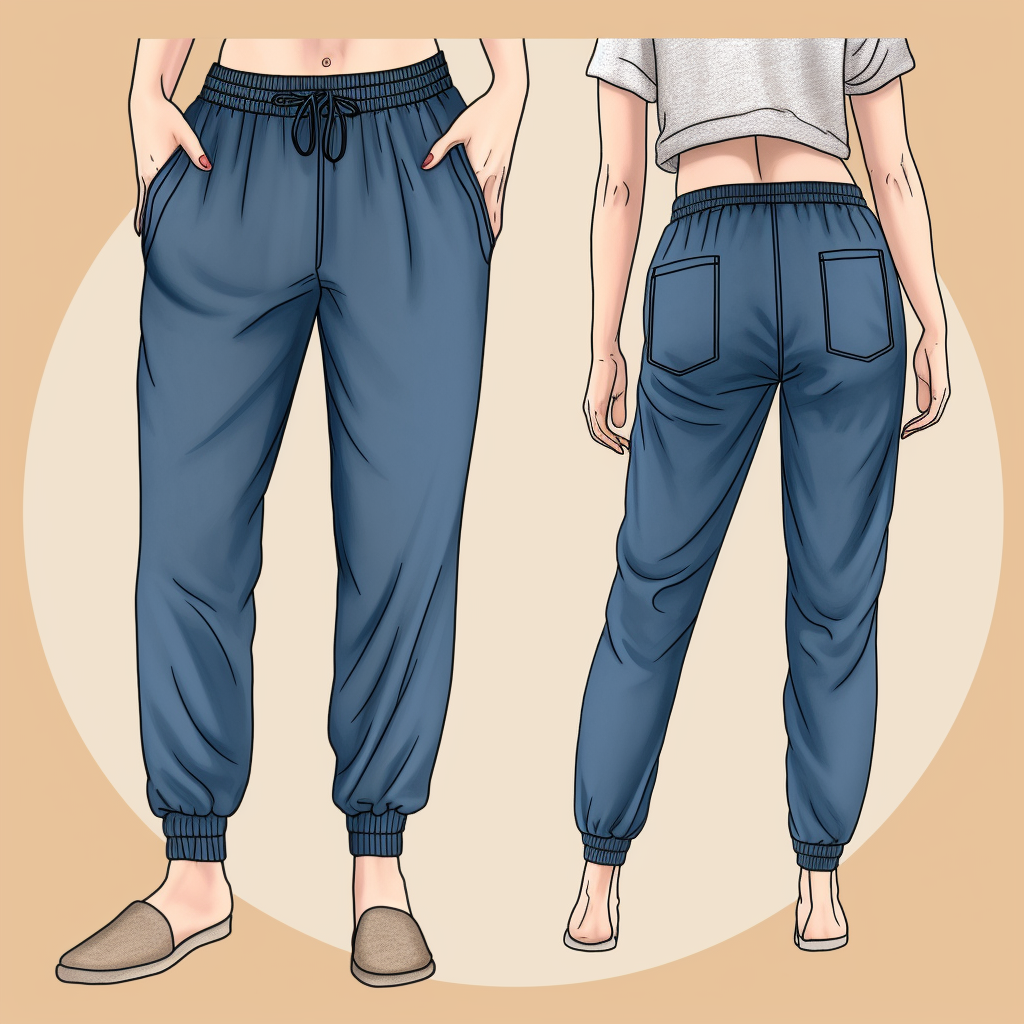 So, what sets joggers apart? Let's break it down:
Fitted Ankle Cuffs: Unlike the flowing, open hems of sweatpants, joggers typically feature elastic or fitted cuffs at the ankles. This design helps to keep the fabric from interfering with your stride during a run, and, on the fashion front, adds a sleek, modern edge to your outfit.
Comfortable Material: Joggers can be made from a variety of materials, ranging from cotton to synthetic blends. Regardless of the material, comfort is paramount. You're likely to find joggers made of soft, breathable fabrics that are comfortable enough to sleep in but stylish enough to wear out.
Versatile Design: The beauty of joggers lies in their versatility. With their slim, streamlined silhouette, they can be dressed up or down, effortlessly transitioning from loungewear to streetwear. Pair them with a t-shirt and sneakers for a casual look, or dress them up with a blazer and boots for a more polished outfit.
As we venture further into this post, remember that the defining characteristic of joggers is not just their style but also their spirit – a spirit that encapsulates comfort, versatility, and, above all, a sense of effortless cool. Now that we've delved into the essence of joggers, let's gear up for the transformation from sweatpants to these style statements!
The Jogger Effect: Why Your Wardrobe is Incomplete Without Them
Why Choose Joggers? The question isn't why should you, it's why shouldn't you? As my tests have shown, there's a myriad of reasons why joggers deserve a coveted spot in your wardrobe. Let's unravel some:
Comfort Supreme: You may be stepping up in style, but you're not stepping down in comfort. The same soft, breathable materials that make sweatpants so cozy are also found in joggers. They're comfortable enough to wear around the house, on a long-haul flight, or during a workout.
Stylish Silhouette: With their tapered design and cuffed ankles, joggers offer a more polished look than their sweatpants counterparts. They manage to strike that elusive balance between looking relaxed yet put together.
Versatility Personified: One of the greatest benefits of joggers is their versatility. They can be dressed up or down, working just as well with a casual tee and sneakers as with a blouse and heels. As such, they're a practical addition to any wardrobe.
Pocket Perks: Most joggers come with pockets, and as my tests have shown, a world with more pockets is a happier one! They're convenient for carrying essentials like your phone, keys, or wallet when you're on the go.
A Style for Every Season: Joggers come in a range of fabrics, from lightweight cotton for summer to thick fleece for winter. They truly are a year-round wardrobe staple.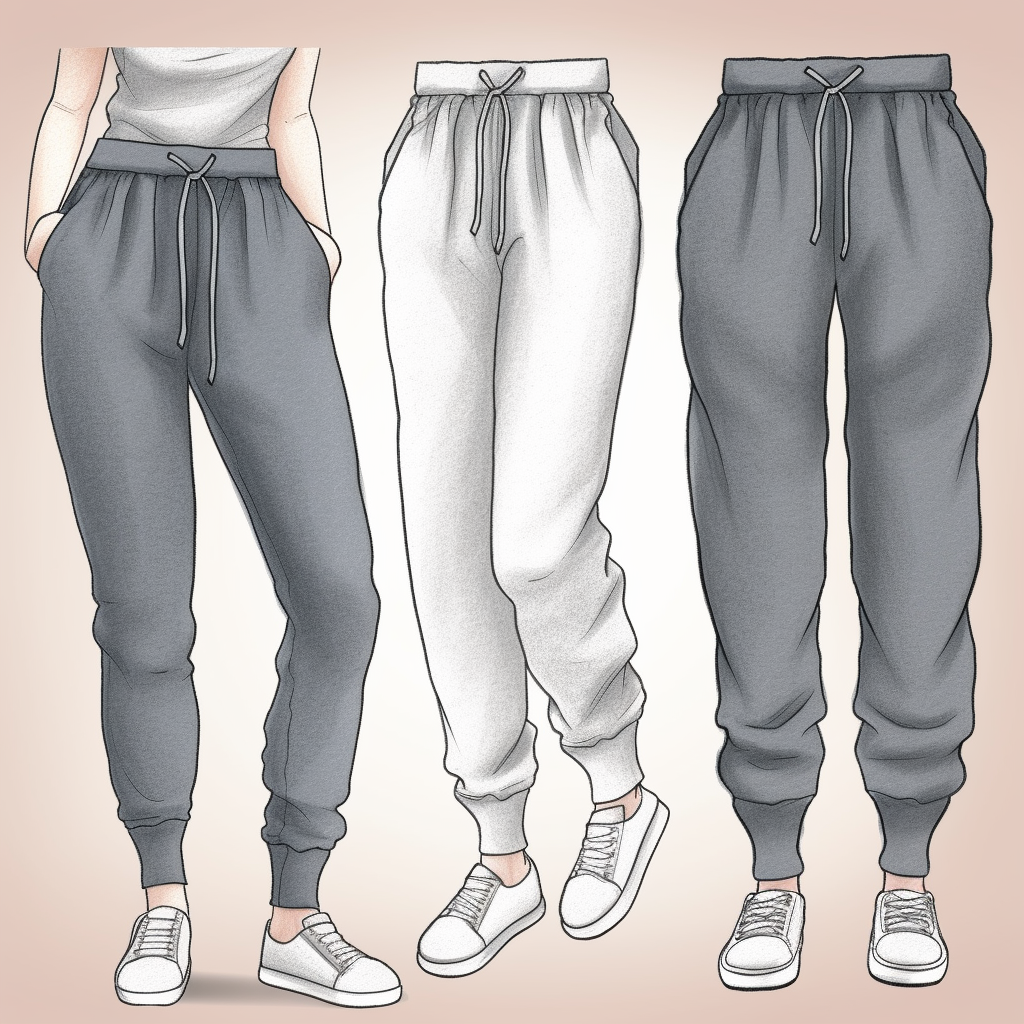 From Bland to Brand: The Exciting Tale of My Sweatpants to Joggers Transformation
Allow me to share my exciting journey of turning sweatpants into joggers. You see, I've always been a fan of these stylish yet comfortable creations, and after I put it to the test, I realized transforming sweatpants into joggers is actually a brilliant way to rejuvenate your closet.
Firstly, the sweatpants – you might have an old pair lying around, which is absolutely perfect for this project. As a seamstress, I believe in breathing new life into old clothing, and turning sweatpants into joggers is an excellent testament to that belief. The material is already soft, breathable, and ideal for transformation.
Now let's talk about methods and materials. You'll need a good pair of sewing scissors, elastic (about 1 inch wide), thread matching your sweatpants, a safety pin, and of course, a trusty sewing machine. Honestly, I was thrilled at how few materials were necessary for this process.
The process itself is quite straightforward. Start by trimming the bottoms of your sweatpants to your desired length (don't forget to leave an extra inch or so for the hem!). Then, you make a casing for the elastic, stitch it up, and voila – you've got yourself a pair of homemade joggers!
After I put it to the test, the final product was beyond impressive. They looked just like store-bought joggers but had a touch of personality that made them unique. Plus, they were so comfortable that I could practically live in them!
Tools for Turning Sweatpants into Joggers
Turning sweatpants into joggers involves a relatively simple process and requires a few basic ingredients. Let's elaborate on each one of these ingredients and then make a comparison with their alternatives.
Sweatpants: The protagonist of this transformation. Ideally, they should be a bit loose and made of a comfy, stretchy material like cotton or a cotton-poly blend.
Sewing Scissors: These are essential for cutting fabric accurately and effortlessly. A good pair should be sharp, comfortable to hold, and designed specifically for cutting fabric.
Elastic: About 1 inch wide, this is what will give your new joggers that signature gathered cuff around the ankles. Elastic comes in different widths and strengths, so you should choose one that's durable yet flexible.
Thread: It's crucial to pick a thread color that matches your sweatpants to make your stitching less visible. Also, consider the strength of the thread. Cotton, polyester, or a blend of the two are usually good choices.
Sewing Machine: A basic sewing machine should do the job, although a more advanced one might provide additional stitch options.
Safety Pin: This handy tool helps thread the elastic through the cuff you'll create.
Now, let's make a comparison table with alternatives that can be used:
| | | |
| --- | --- | --- |
| Ingredients | Primary Choice | Alternative Choice |
| Garment | Sweatpants | Trackpants |
| Scissors | Sewing Scissors | Regular Sharp Scissors |
| Elastic | 1 inch wide Elastic | Drawstring |
| Thread | Matching Color Thread | Contrasting Color Thread for a Fun Twist |
| Machine | Sewing Machine | Needle and Thread (for hand sewing) |
| Threading Tool | Safety Pin | Bodkin or Elastic Threading Tool |
The alternative choices listed above can serve as good substitutes, depending on what you have on hand and the desired final look of your joggers.
How to Turn Sweatpants Into Joggers — Simple Steps to Craft Your Sweatpants into Stylish Joggers
Transforming your sweatpants into joggers can be quite an adventure. Based on my own experience, here's a step-by-step guide to help you make that transformation happen:
Measure the Length
Start by wearing your sweatpants and deciding on the desired length of your joggers. Remember, joggers are typically slightly shorter and end at or above your ankle. Use your chalk or fabric marker to mark this length.
Trim the Excess
Remove the sweatpants and lay them on a flat surface. Using your sewing scissors, cut across both legs at the marking. Be sure to leave an extra inch below the marking for the hem.
Create the Casing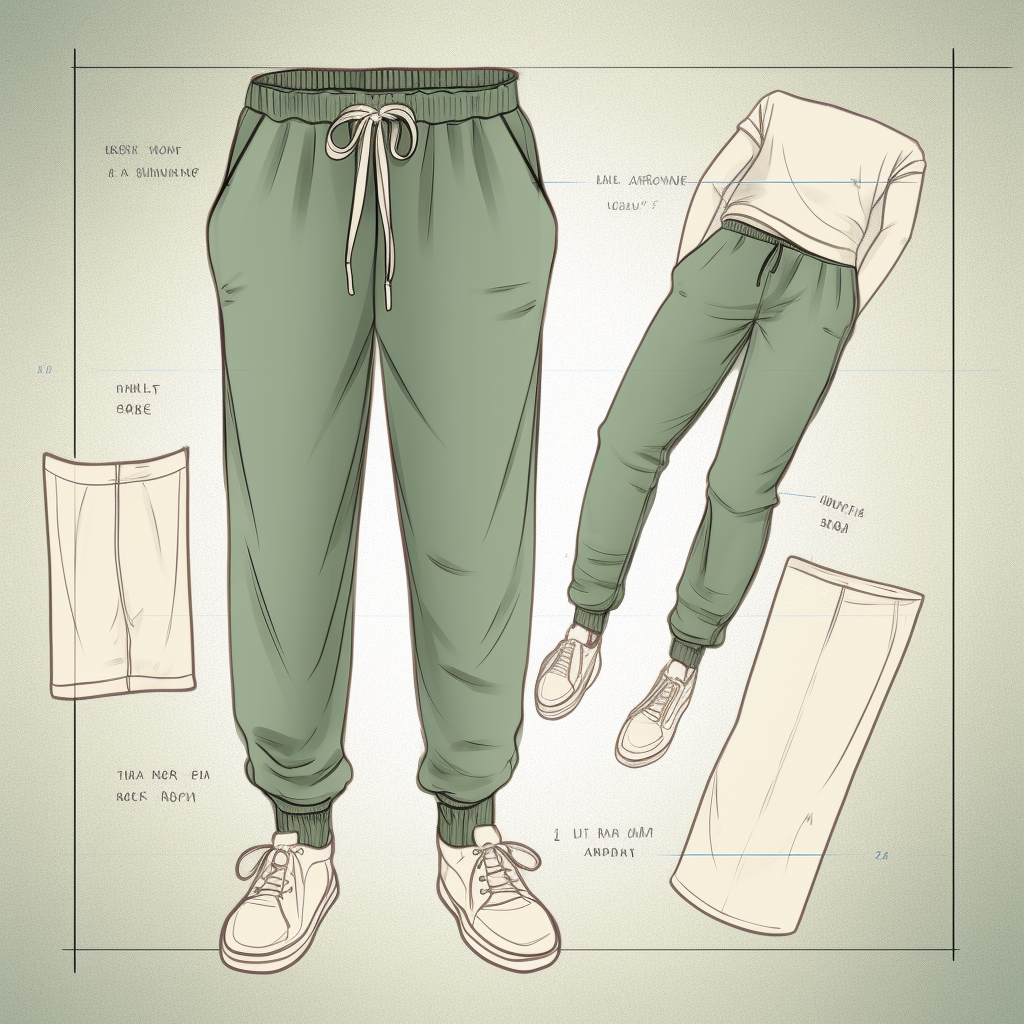 Fold about an inch of the cut end inside the pant legs to create a casing for the elastic. This should be wide enough for your elastic band to easily slide through.
Sew the Hem
With your sewing machine, stitch along the edge of the hem you just folded up, leaving a gap of about 2 inches unstitched. This gap is where you will insert the elastic.
Cut the Elastic
Measure the elastic band around your ankle, ensuring it's snug but not tight. Cut two pieces of this length.
Insert the Elastic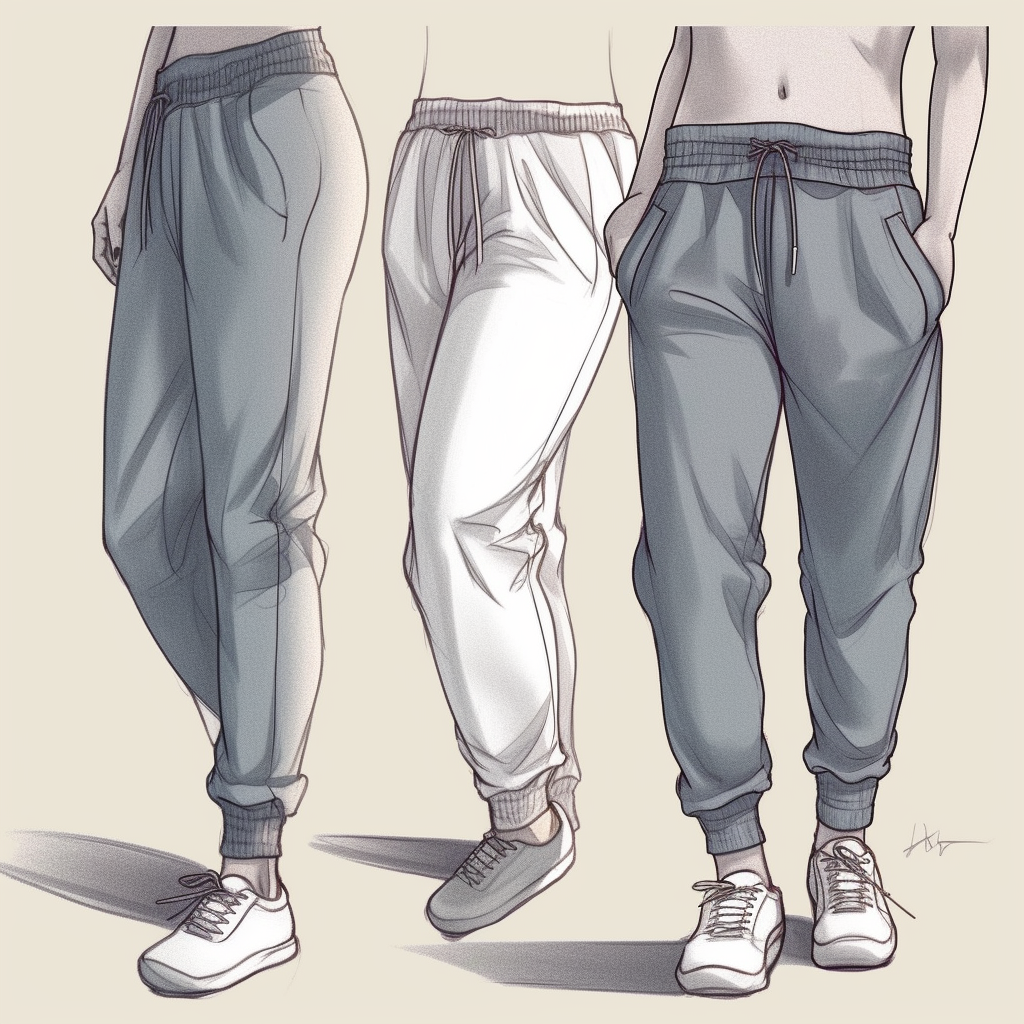 Attach a safety pin to one end of the elastic and feed it through the gap and around the casing you've sewn. Repeat this for the second leg.
Sew the Elastic Ends
Overlap the two ends of the elastic and sew them together securely. Repeat for the other pant leg.
Close the Gap
Now, all that's left to do is to sew the 2-inch gap closed on each leg. Be careful not to catch the elastic in your stitches.
And voila, your sweatpants have successfully transformed into trendy joggers! Enjoy this fresh addition to your wardrobe, knowing it's a product of your own creativity.
FAQ
What type of sweatpants works best for this project?
Ideally, you should use a pair that is a bit lose and made from a stretchy and comfortable material like cotton or a cotton-poly blend. Avoid sweatpants with a lot of detailing or stitching near the ankle, as this could complicate the process.
Can I do this project if I don't have a sewing machine?
Absolutely! While a sewing machine makes the process quicker and the result more professional-looking, you can certainly use a needle and thread. It'll require a bit more time and patience, but the result will be just as rewarding.
How can I make sure the joggers will fit properly at the end?
Good question! Measure carefully before you cut or sew anything. Remember, it's easier to trim more later if you need to, but you can't add fabric back once it's been cut. When measuring the elastic for the cuffs, make sure it's snug but not tight around your ankle.
What if I don't have elastic for the cuffs?
If you don't have elastic, you can use a drawstring as an alternative. However, keep in mind that this may not give you the same snug fit at the ankles that is typical of joggers.
How can I make my joggers unique?
There are many ways to add personal touches to your joggers. You could use a contrasting color thread for a fun twist, add patches or embroidery, or even tie-dye the sweatpants before you start. Let your creativity shine!