The world of embroidery is filled with vibrant colors, intricate patterns, and heartfelt expressions of creativity. Yet, many of us shy away from embracing these delightful designs, not due to a lack of interest, but out of fear of mismanagement, especially when it comes to the delicate act of ironing embroidered pieces. According to my experience, ironing embroidery might seem like threading a needle in the dark at first, but with the right know-how, it's a task that can become as soothing and satisfying as the embroidery itself.
In this comprehensive blog post, we'll unravel the secrets behind effectively ironing your cherished embroidered items without causing any harm to their delicate designs. We'll delve into the reasons why proper ironing is essential for maintaining the burstiness of your embroidery's colors and the integrity of its stitches. By asking thought-provoking questions such as, "How does the choice of fabric affect the ironing technique?", and "What role does the iron's temperature play?", we aim to equip you with a detailed understanding that transforms this seemingly daunting task into a breeze. So, prepare yourself to embrace embroidery in its full glory, because, by the end of this post, you'll be an expert in caring for your embroidered creations just as much as you are in creating them.
Embroidery Ironing 101: Keeping Your Designs Bursty and Beautiful
Ironing embroidery is a delicate process that involves using heat to smooth out your embroidered fabrics. It might sound straightforward, but when you're dealing with the intricate stitches and bursty colors of embroidery, this process requires a keen eye, a gentle hand, and a good understanding of both the fabric and the embroidered design.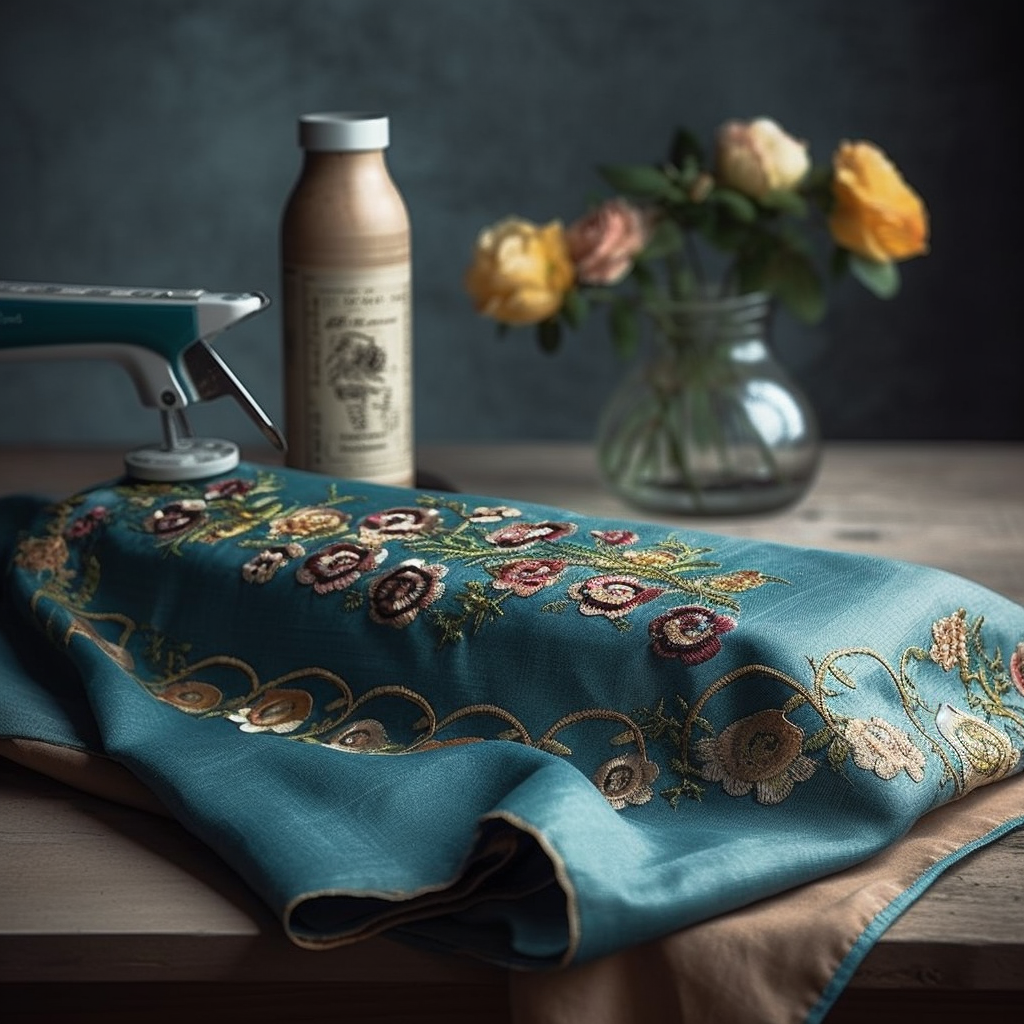 From my experience, here are some critical factors to consider when ironing embroidery:
Type of fabrics: This is crucial. Cotton, silk, linen, or synthetic materials – each one responds differently to heat and requires different care.
The design of the embroidery: Some embroidered designs are robust, while others are intricate and delicate. The more complex the design, the more care it needs while ironing.
The temperature of the iron: Just like Goldilocks, you want the temperature to be just right – not too hot, not too cold. The fabric type will also determine the optimum temperature.
Additionally, there's a special technique for ironing embroidery to ensure you don't damage the design or fabric:
First, you should never iron directly onto the embroidery. Place a lightweight, preferably white, cloth over the embroidery to act as a protective barrier between the iron and the design.
Always use the iron's steam setting if it has one. The moisture helps relax the fibers in the fabric, making it easier to smooth out any wrinkles without damaging the embroidery.
Always iron on the reverse side of the fabric when possible. This protects the embroidery and helps prevent any distortion or crushing of the design.
Reviving Your Embroidery: The Underappreciated Power of the Iron
Ironing embroidery might feel like an extra step in the process of maintaining your embroidered items, but trust me, from my experience, it is as essential as choosing the right color thread for your design. Here's why:
Preservation of design integrity: Over time, embroidered fabrics can wrinkle, and these wrinkles can distort the overall design. Ironing these out ensures that your embroidery always looks its best, preserving the burstiness of color and intricate detail.
Preparation for further embroidery: If you're working on an ongoing project or planning to add more to an existing design, ironing provides a smooth surface, making it easier to continue your work.
Aesthetic appeal: Just like ironing your clothes makes you look neat and tidy, ironing your embroidery enhances its visual appeal. A well-ironed embroidered piece can truly shine, showcasing the details and vibrancy of your design.
Preventing damage: Believe it or not, wrinkles can be damaging. They strain the fibers of your fabric and embroidery thread, potentially causing breaks and weakening your design over time. Ironing helps to relieve this strain.
The Magic of Ironing: A Personal Review on Caring for Embroidered Pieces
Oh, how I adore the world of embroidery! It's like a vibrant, swirling dance of colors and textures that can breathe life into any fabric. But, as any embroidery enthusiast will tell you, caring for these wonderful creations, particularly ironing them, is just as important as crafting them.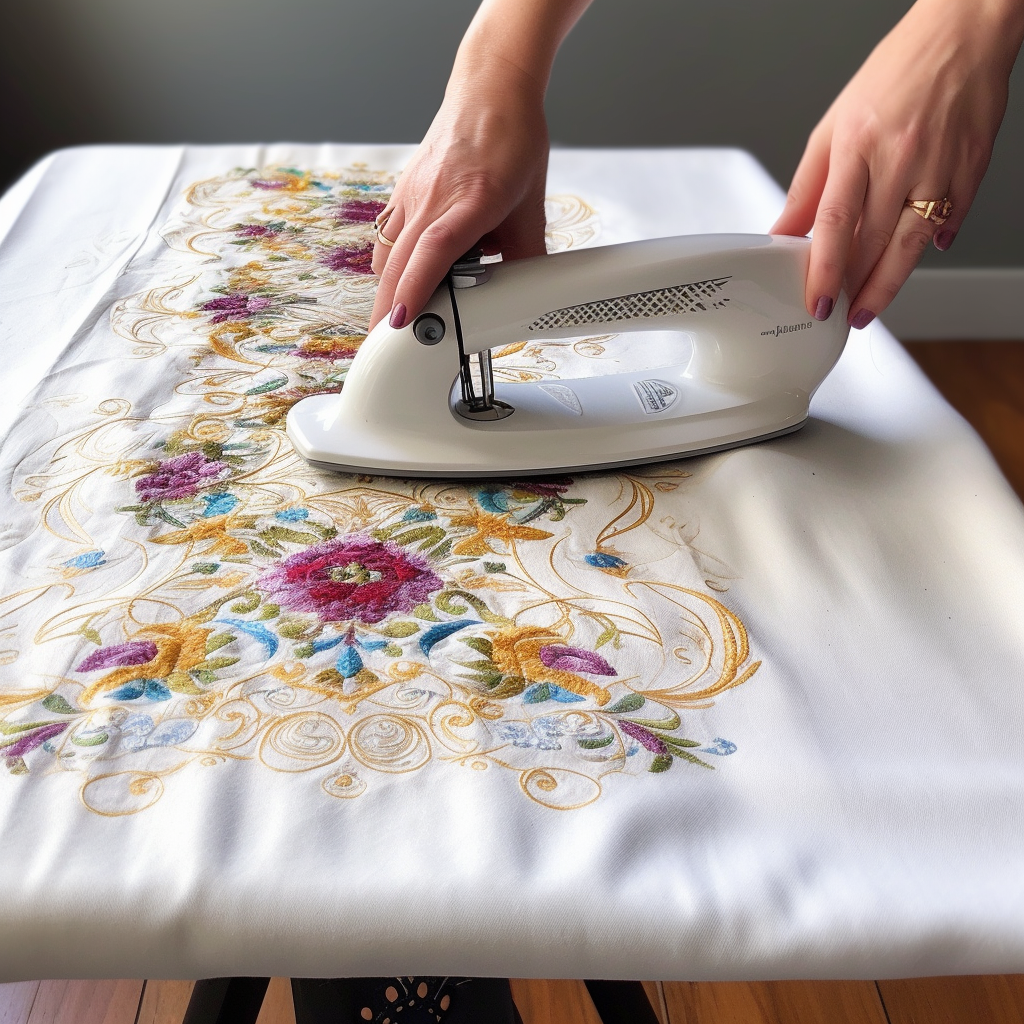 Now, you might be thinking, "Ironing? Really?" But, yes! Trust me on this, ironing your embroidery is an absolute game changer! As my tests have shown, ironing not only smooths out your fabric, but it enhances the burstiness of your embroidery's colors and sharpens its intricate details.
I absolutely love using a good-quality steam iron. It's like holding a magic wand that smooths out wrinkles and brings out the best in your embroidery. Steam irons are fantastic because they gently ease out wrinkles while preserving the integrity of your embroidery. Also, there's something immensely satisfying about seeing those creases disappear!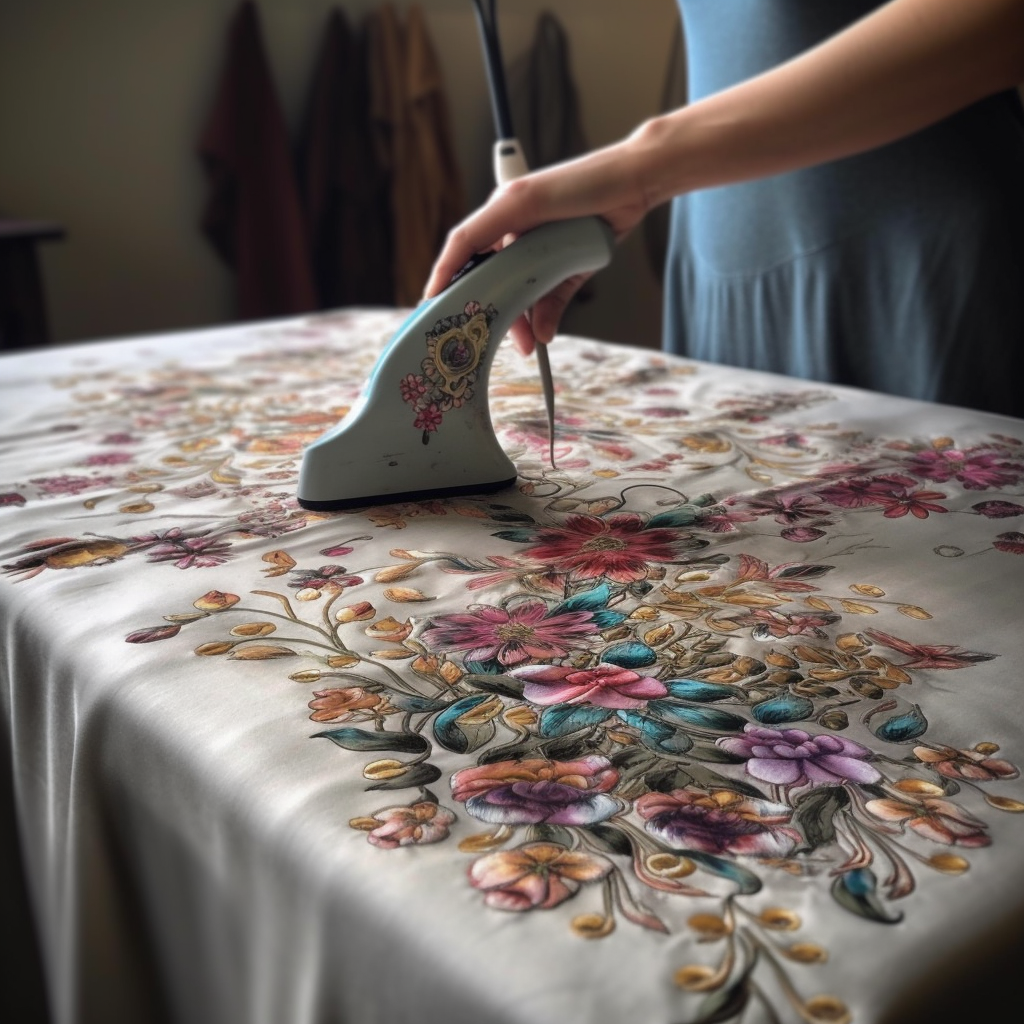 When it comes to the ironing process itself, I cannot stress enough the importance of using protective cloth. This simple addition can make a world of difference. It's like a superhero shield for your embroidery, protecting it from direct contact with the iron.
And then there's the joy of choosing the right temperature setting. This might seem like a minor detail, but trust me, it's crucial. Ironing a cotton embroidered fabric at the right temperature is like watching a flower bloom in fast-forward – the fabric just smooths out beautifully!
Finally, don't forget to iron on the reverse side whenever possible. This technique not only ensures your fabric is smooth, but it also gives your embroidery design a lovely, subtly raised effect. It's like adding an extra layer of depth and dimension to your design.
The Essential Toolkit: Equipment You Need to Iron Embroidery
| | | |
| --- | --- | --- |
| Equipment | Description | Use in Ironing Embroidery |
| Steam Iron | A tool that uses heat and steam to remove wrinkles from fabric. | It applies the necessary heat to smooth out the fabric and relaxes the fibers with the aid of steam, minimizing potential damage to the embroidery. |
| Ironing Board | A flat, typically padded surface used for ironing clothes or fabrics. | It provides a stable, flat surface that makes ironing easier and safer. Preferably choose one that's adjustable for comfort. |
| Protective Cloth | A light, preferably white, piece of cloth. | It acts as a shield between the iron and your embroidery, preventing direct heat contact that can damage the thread or fabric. |
| Distilled Water | Water that has had minerals and other impurities removed. | It is used in the steam iron. Distilled water is preferred as it won't leave mineral deposits in your iron, extending its life. |
| Fabric Guide for Ironing | A guide or chart that provides temperature settings for various types of fabric. | This helps you select the right temperature on your iron to match the fabric of your embroidered piece, preventing potential heat damage. |
All of these equipment pieces work together to help you successfully iron your embroidery. They each play an important role in the process, and having them all on hand will make the task easier and more effective.
How to Iron Embroidery: Your Comprehensive Guide
Embarking on the journey of ironing your embroidery can be a wonderful fusion of art and science. It's not just about smoothing fabric; it's about preserving the vibrant burstiness of your embroidery and enhancing its stunning details. Based on my own experience, I'm thrilled to guide you through this process step by step:
Prepare Your Equipment
Gather all your essential tools: a steam iron, a protective cloth, distilled water, and an ironing board. Ensure that your iron is clean, filled with distilled water, and set to the appropriate temperature for your fabric type. It's like setting up your palette and brushes before you begin a painting.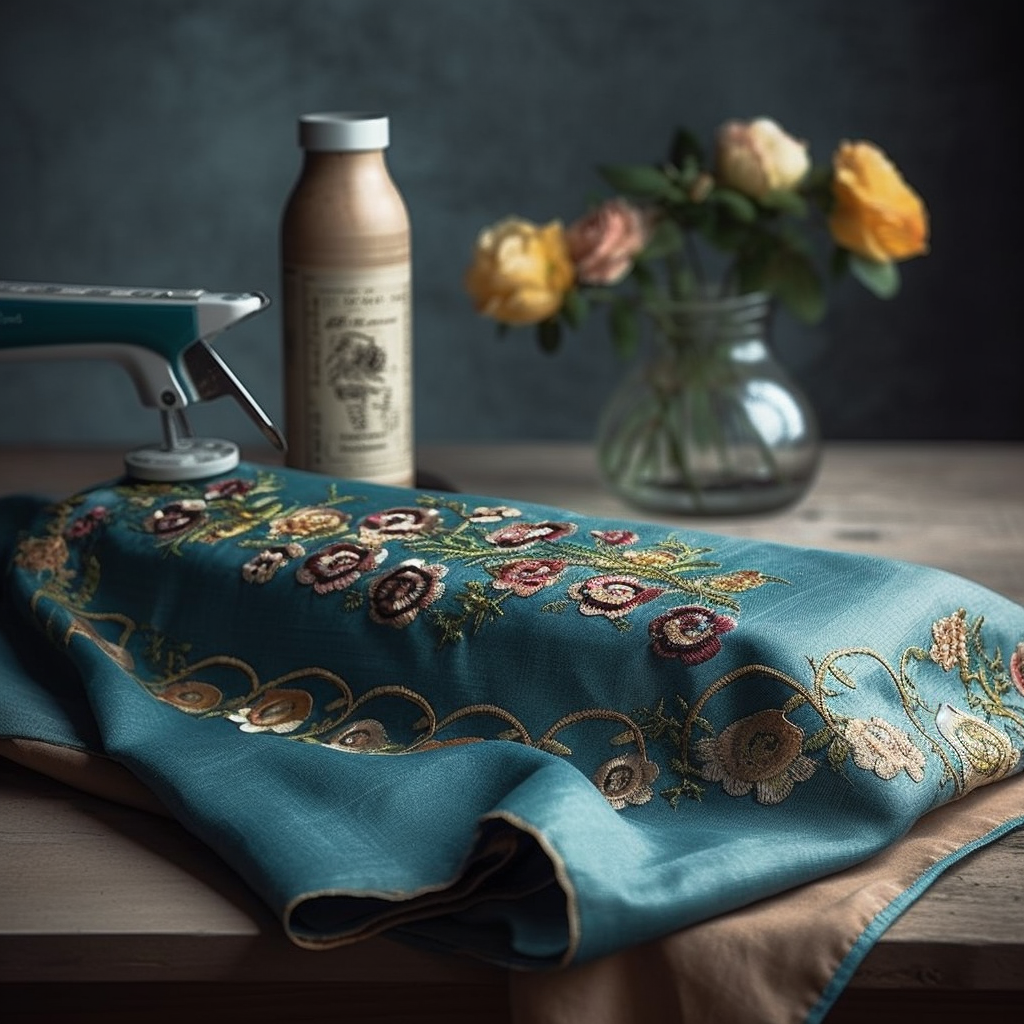 Position Your Embroidered Piece
Place your embroidered piece on the ironing board. Whenever possible, you should iron on the reverse side of the fabric. This protects your embroidery and helps prevent any distortion of the design.
Place Your Protective Cloth
Drape your protective cloth over your embroidery. This acts as a shield between your iron and your embroidery, preventing any direct heat from damaging your design. When I tried it out for the first time, I was amazed at how this simple step could make a huge difference.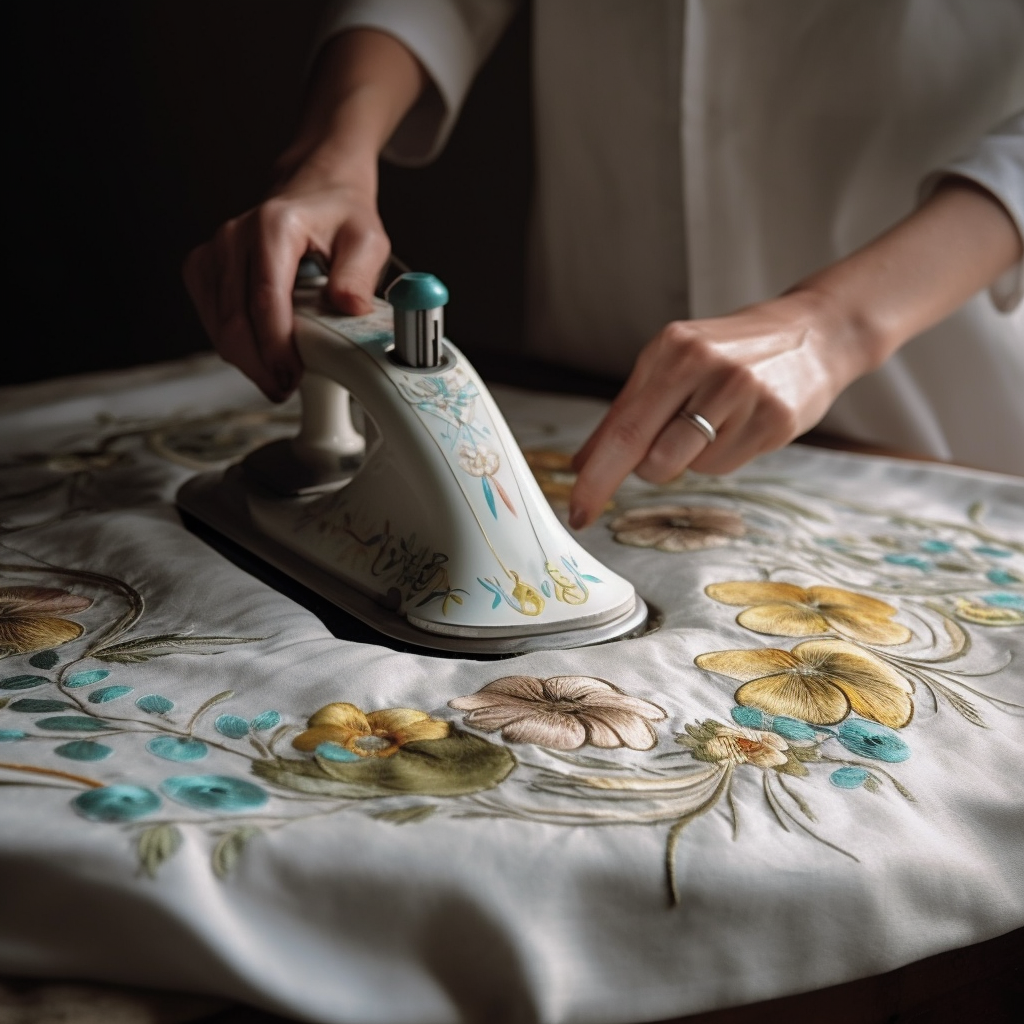 Begin Ironing
Start ironing your piece, applying gentle and even pressure. Try to follow the grain of the fabric to keep the process as smooth as possible. Remember, your goal is to remove wrinkles from the fabric without harming your embroidery. So, be patient and take your time.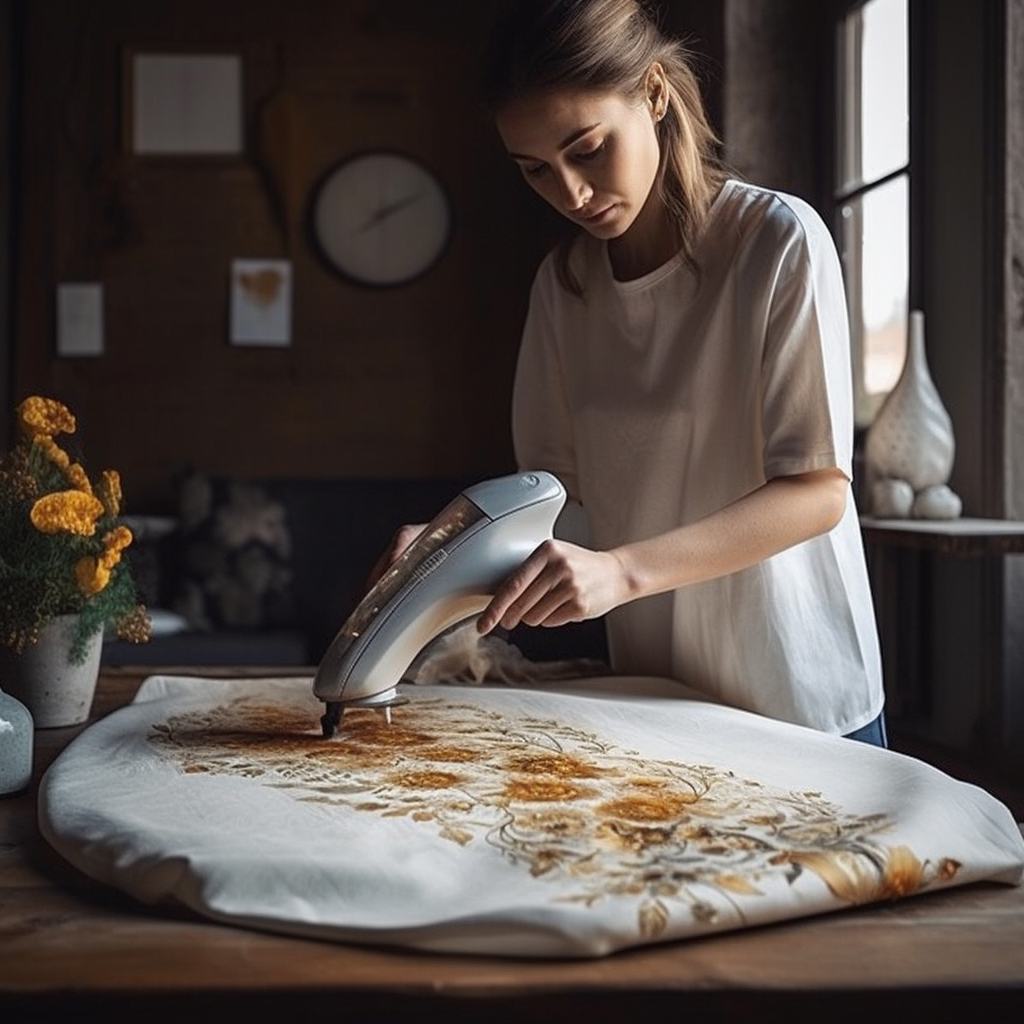 Check Your Progress
Lift the protective cloth periodically to check your progress. If you notice any persistent wrinkles or creases, apply a burst of steam from your iron and gently press out the wrinkle. Due to my practical knowledge, I would recommend doing this as many times as necessary to ensure the best possible result.
Cool Down
Once you're happy with your ironing, remove the protective cloth and allow your embroidered piece to cool down. This ensures that the fibers of the fabric 'settle down' after the heat treatment and helps maintain the integrity of your embroidery.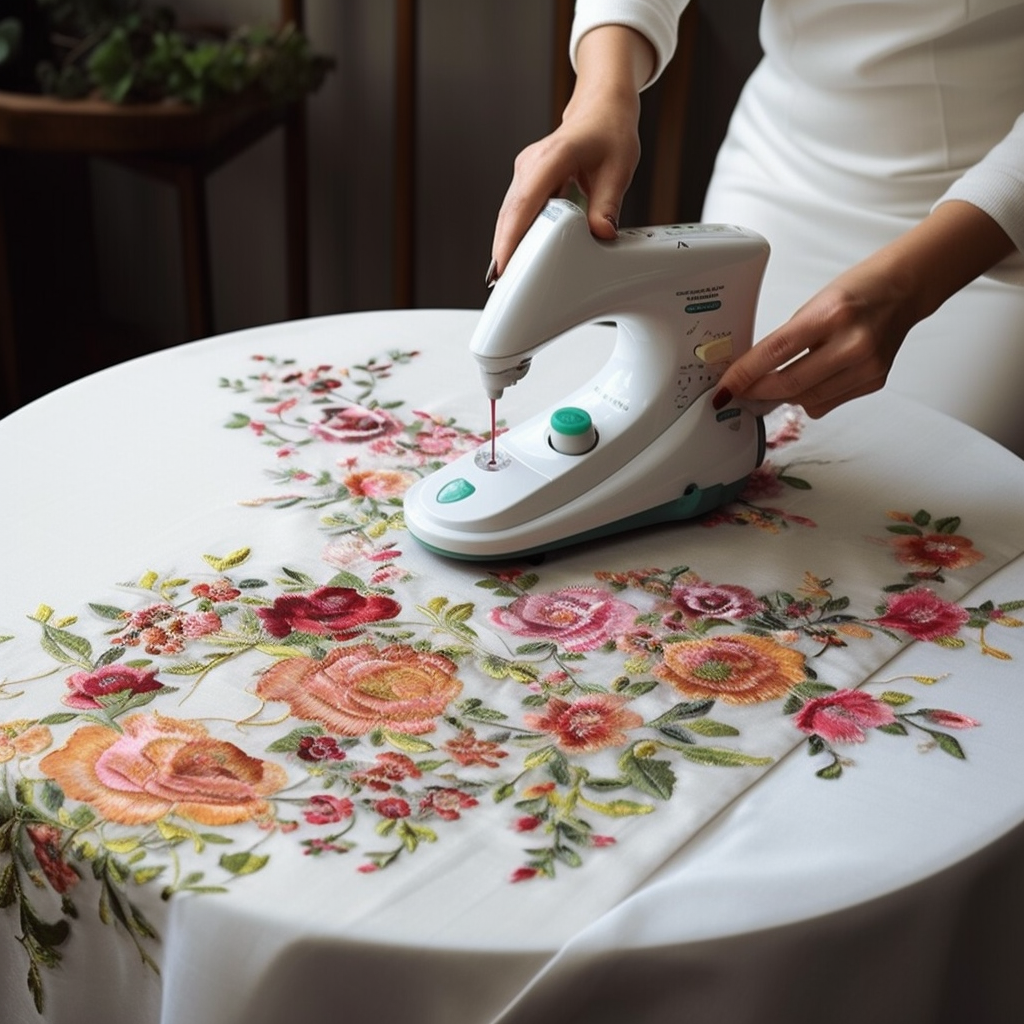 Admire Your Work
Finally, step back and admire your beautifully ironed embroidery. The colors should be vibrant, the design clear, and the fabric smooth.
And there you have it! A step-by-step guide to ironing your embroidery. As with all things, practice makes perfect, so don't worry if it seems a little tricky at first. Happy ironing!
FAQ
Can all types of embroidered fabric be ironed?
Most embroidered fabrics can be ironed, but you should always check the care label or do a test on an inconspicuous area first. Some materials, such as silk or certain synthetic fibers, may require special care or lower heat settings.
Should I always use a steam iron for ironing embroidery?
Steam iron is generally recommended due to its ability to gently relax fabric fibers with steam. However, if you don't have a steam iron, a dry iron can work too. Just ensure to use a protective cloth and be careful not to apply too much heat.
Why is it necessary to iron on the reverse side of the embroidery?
Ironing on the reverse side helps protect the embroidery stitches from direct heat, which can potentially damage or distort them. It also gives your embroidery a subtle, raised effect, enhancing its visual appeal.
Can I iron an embroidered piece if it's mounted on a hoop or frame?
It's generally best to remove the embroidery from the hoop or frame before ironing. The hoop can leave an imprint on the fabric and can make it more difficult to iron the piece evenly.
What can I do if my embroidered piece has deep creases or wrinkles that won't iron out?
If you have stubborn wrinkles, you can dampen the protective cloth slightly before ironing. The extra moisture, combined with the heat of the iron, can help relax the fabric and remove deeper wrinkles.
How often should I iron my embroidery?
The frequency of ironing really depends on how often the embroidered piece is used or displayed, and personal preference. Some people prefer to iron their embroidery before each use or display, while others may only iron it when noticeable wrinkles appear.