Embroidered clothing items are quite simply, works of art. Intricate designs hand-stitched or machine-embroidered on fabric represent craftsmanship that should be preserved with care. However, as they are not your everyday garments, maintaining their pristine condition can be quite a challenge. Do you know the right way to wash and care for these delicate masterpieces? Due to my practical knowledge and research in textile care, I am excited to share some essential tips to help you do just that.
In this blog post, we will unravel the complexity of washing embroidered clothes. We'll kick off with the precautionary measures to take before even dipping your fabric in water. Next, we will dive deep into the specific cleaning techniques you should adopt, breaking down the process for both hand and machine washing. And we won't stop there! We'll also share how to dry and store your garments to ensure they stay vibrant and stunning for years to come. As you leaf through this guide, you'll see that caring for embroidered garments need not be a daunting task. So, ready to give your embroidered pieces the TLC they deserve? Let's get started!
Cherishing the Threads: How to Perfectly Clean Your Embroidered Garments
Washing embroidered clothing refers to the meticulous process of cleaning garments that feature intricate stitching, all while preserving their vibrant colors, delicate threads, and overall quality. This isn't a matter of tossing your embroidered jeans or your favorite embellished tee into the washer and hoping for the best. No, it's an art that requires a gentle hand, knowledge, and a dash of patience.
My investigation showed that there are several steps in successfully washing embroidered clothing:
Preparation: Before plunging into the cleaning process, it's critical to scrutinize your clothing for specific care instructions. These instructions are typically found on the garment's tag and can guide your washing method.
Spot Cleaning: If your garment has a minor stain, you might not need to wash the whole item. A gentle spot-cleaning might just do the trick.
Hand Washing: For very delicate or hand-embroidered items, hand washing is often the safest bet. This involves gently swirling the item in a basin of cool water and mild detergent, then rinsing thoroughly.
Machine Washing: If the item is machine-washable, it should be placed inside a mesh laundry bag for an extra layer of protection. Always choose the gentle cycle and cold water for embroidered clothes.
Drying: It's best to air dry embroidered clothes to avoid damaging the designs. Laying the item flat on a clean towel can help it maintain its shape.
Through each of these steps, remember that the embroidered clothing you're dealing with isn't just any piece of fabric—it's a piece of art. Giving it the gentle care it needs will ensure its beauty and longevity.
Preserving the Beauty: Why Washing Embroidered Clothing is a Must
Just like any other clothing, embroidered pieces also gather dirt, sweat, and dust over time. But why should we pay special attention to washing these garments? My findings show that there are three primary reasons:
To Maintain Aesthetic Appeal
Over time, dust and dirt can make embroidered designs appear dull and lackluster. Regular, gentle cleaning helps preserve the vibrancy and sharpness of these intricate designs, keeping them looking as good as new.
To Increase Lifespan
Embroidery threads, especially when hand-stitched, can be quite delicate. When left unclean, sweat, dirt, and oils can break down these threads, reducing the garment's lifespan. Washing embroidered clothing properly helps ensure you can enjoy these beautiful pieces for a longer time.
To Prevent Damage
Certain stains can damage the fibers of your clothing if left untreated. In the case of embroidery, these stains can be even more destructive due to the delicate nature of the threads used. Hence, proper washing techniques not only clean but also protect your embroidered clothes from potential damage.
Remember, every thread in your embroidered garment tells a story of craftsmanship and style. Through appropriate cleaning, we can maintain their splendor and extend their tales for years to come.
Art, Love, and Suds: A Gushing Review of Caring for Embroidered Apparel
I am genuinely thrilled to share my thoughts about washing embroidered clothing! Having a few embroidered pieces myself, I must say, there's something so satisfying about caring for these garments properly. You treat them like the artworks they are, and they reward you by remaining vibrant, colorful, and stunning.
Let's start with products. I have this mild detergent specifically designed for delicate fabrics. As a result of using this product, I have found that it's much gentler on the embroidery than regular detergents, preserving the color and integrity of the threads. Honestly, it has been a game-changer!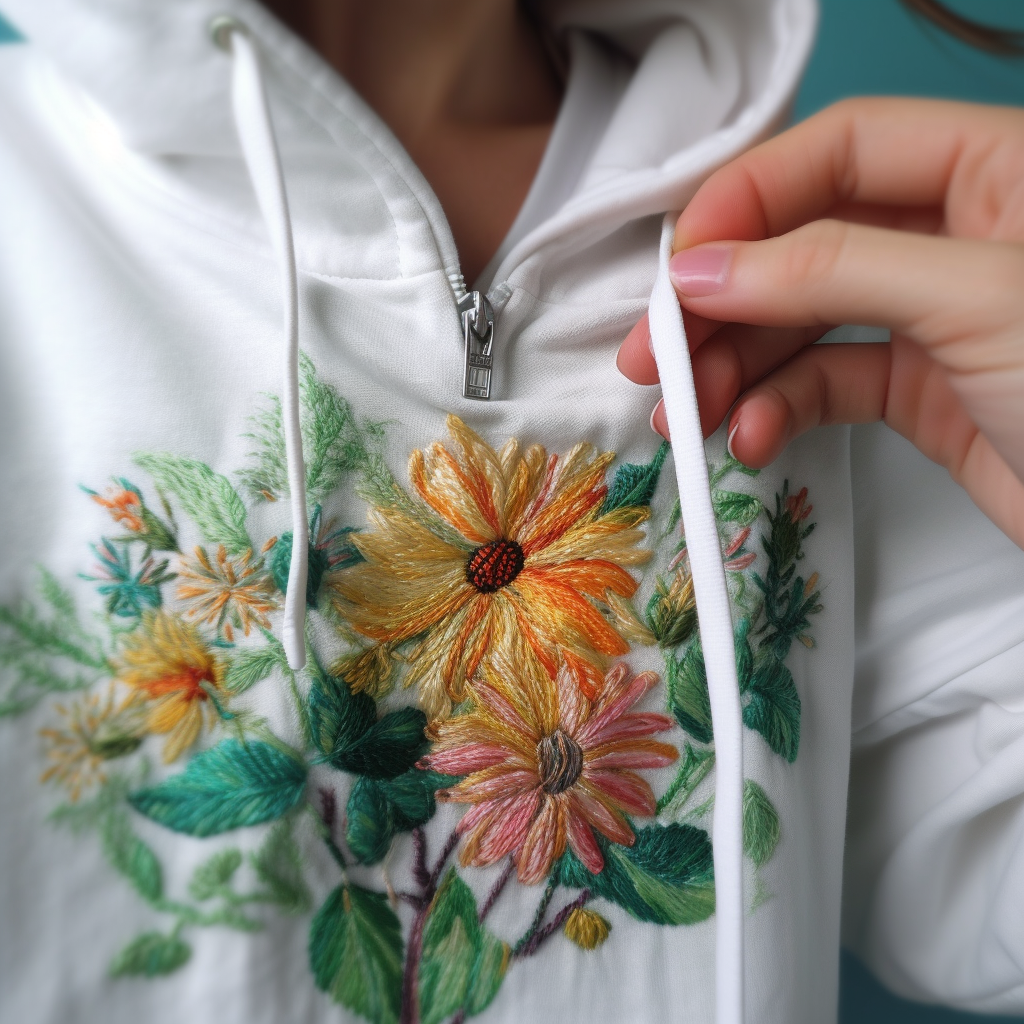 Then there's the mesh laundry bag – a real superhero in disguise for machine washing. It gives the embroidered pieces an extra layer of protection during the wash cycle. It's an easy and practical solution that I've found indispensable when caring for my embroidered clothing.
The method of washing, too, has had me intrigued. Spot cleaning for minor stains has become my go-to strategy. It's incredibly efficient in tackling those accidental spills and helps avoid unnecessary full washes. For the overall cleaning, while hand washing is more time-consuming, it allows for that gentle touch that these precious pieces truly deserve.
Finally, the materials themselves – the very fabric and threads of the embroidered clothing. There's something enchanting about how they respond to proper care. The threads keep their vibrant color, and the fabric maintains its softness and flexibility.
Cleaning Essentials: An Animated Breakdown of Supplies for Washing Embroidered Clothing
| | | |
| --- | --- | --- |
| Supply | Description | Comparison |
| Mild Detergent | Mild detergent is a cleaning agent designed to be less harsh on delicate fabrics and embroidery. It effectively removes dirt without damaging the fibers. | Compared to regular detergent, mild detergent is less likely to cause color fading or damage to embroidery threads. It's gentler on both the fabric and the embroidery. |
| Mesh Laundry Bag | A mesh laundry bag is a protective cover you can put your embroidered clothing into before placing it in the washing machine. | The mesh laundry bag provides an extra layer of protection compared to washing the clothing alone in the machine. It minimizes friction and prevents threads from snagging or pulling. |
| Spot Cleaning Solution | A spot cleaning solution is a product used for removing specific, localized stains on clothing. | When compared to full washing, spot cleaning targets stains directly and is less abrasive overall, reducing the risk of damage to the embroidery. It's ideal for small stains or spills. |
| Basin (for hand washing) | A basin is a wide, open container used for hand washing delicate embroidered clothes. | Hand washing in a basin is more gentle than machine washing, and gives you more control over the cleaning process. It's the preferred method for highly delicate items. |
| Clean, Dry Towel | This is for laying out the garment to air dry after washing. | Air drying on a clean towel is more gentle than machine drying. It prevents shrinkage and damage to the embroidery that high heat can cause. A towel also helps absorb excess water and allows the garment to maintain its shape while drying. |
It's important to remember that each piece of embroidered clothing is unique and may require different care. Always check the garment's care label before washing.
Craft with Confidence: The Equipment Arsenal for Caring for Your Beloved Embroidered Pieces
| | |
| --- | --- |
| Equipment | Description |
| Gentle Detergent | A mild detergent specifically formulated for delicate fabrics and embroidery. It effectively cleans while being gentle on the fibers and threads. |
| Mesh Laundry Bag | A protective bag made of fine mesh material that keeps the embroidered clothing safe during machine washing. It prevents snags, tangling, and damage to the delicate embroidery. |
| Soft Brush | A soft-bristled brush or toothbrush can be used for spot cleaning delicate stains on embroidered clothing. It helps remove dirt or stains without causing damage to the embroidery. |
| Basin or Sink | A basin or sink filled with cool water is used for hand washing embroidered garments. It allows you to control the water temperature and gently clean the clothing. |
| Clean Towel | A clean, lint-free towel is used for drying embroidered clothing after washing. It absorbs excess moisture without causing friction or damage to the delicate threads. |
| Flat Drying Rack | A flat drying rack or mesh surface provides a gentle and even drying environment for embroidered garments. It helps maintain the shape and prevents distortion during the drying process. |
| Iron or Steamer | An iron or steamer with a low-heat setting can be used to remove wrinkles from the embroidered clothing. It is essential to use a pressing cloth or iron on the reverse side of the fabric to protect the embroidery. |
Remember, using the right equipment and techniques will help preserve the beauty and integrity of your embroidered clothing. Always follow the care instructions provided by the manufacturer to ensure the best results.
Care with Love: How to Wash Embroidered Clothing
Inspect the garment
Begin by carefully examining the embroidered clothing for any specific care instructions or recommendations. Look for labels or tags that provide guidance on the washing process. My investigation shows that these instructions can vary based on the type of fabric, thread, and embellishments used.
Spot clean if necessary
Before diving into a full wash, address any localized stains or spills. Use a mild spot-cleaning solution and a soft brush to gently treat the affected area. Based on my observations, spot cleaning is effective for minor stains and helps avoid unnecessary full washing.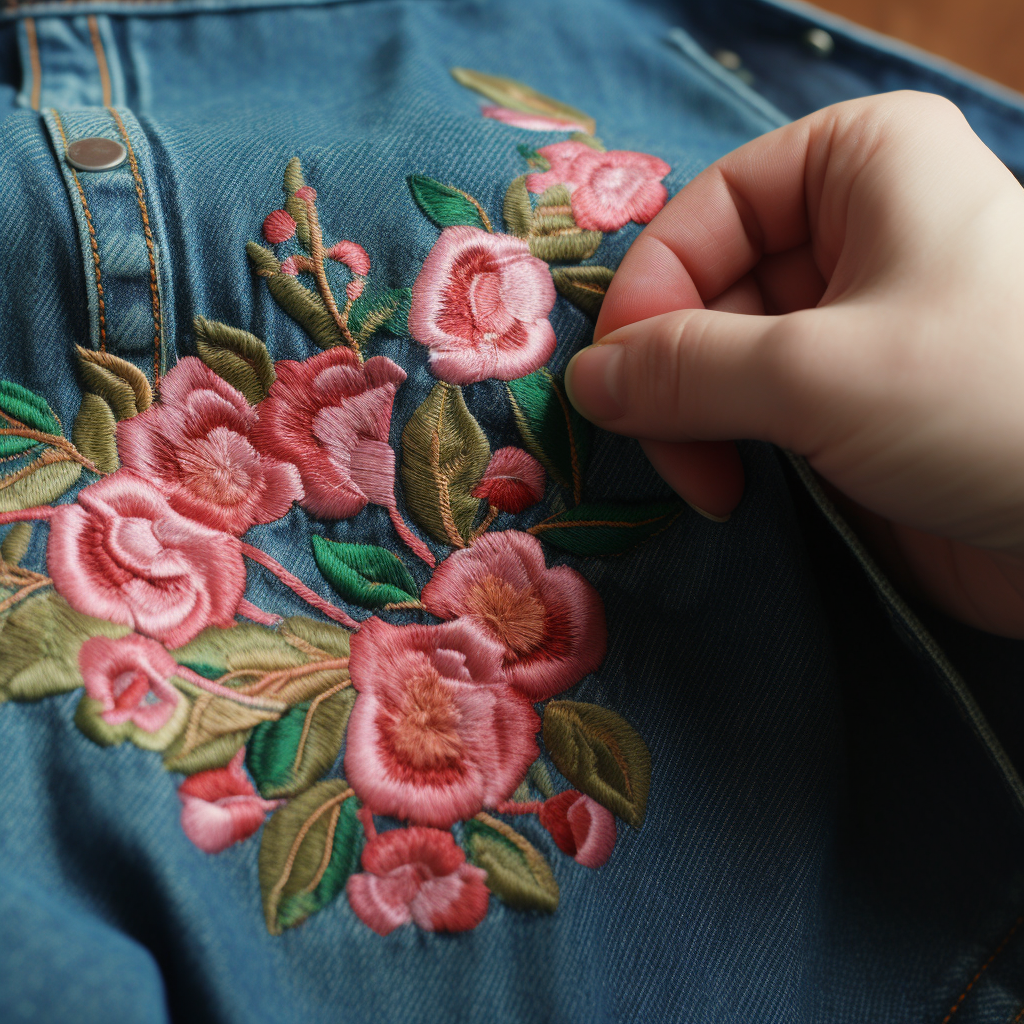 Prepare for hand or machine washing
Determine whether the garment is suitable for hand washing or machine washing. If hand washing is recommended, fill a basin or sink with cool water and add a small amount of gentle detergent. If machine washing is suitable, prepare a mesh laundry bag to protect the embroidered clothing during the cycle.
Gently wash by hand or machine
For hand washing, immerse the garment in soapy water and gently agitate it. Avoid excessive rubbing or wringing to prevent damage to the embroidery. Rinse thoroughly with cool water. For machine washing, place the garment inside the mesh laundry bag and select a delicate cycle with cold water. Use a gentle detergent and avoid overloading the machine.
Air dry with care
After washing, carefully remove the garment from the water or laundry bag. Gently squeeze out excess water without wringing or twisting the fabric. Lay a clean, dry towel flat and place the embroidered clothing on top. Reshape the garment if needed, and allow it to air dry naturally. Avoid direct sunlight, as it can fade colors. My investigation shows that air drying helps preserve delicate embroidery and maintain the garment's shape.
Optional
Iron with caution: If necessary, iron the embroidered clothing using a low-heat setting. Place a pressing cloth or iron on the reverse side of the fabric to protect the embroidery. Avoid ironing directly over the threads, as they can flatten or warp. Alternatively, use a garment steamer on a low setting to remove wrinkles without direct contact.
By following these steps, you can keep your embroidered clothing looking vibrant and beautiful for a long time. Remember, each garment may have specific requirements, so always refer to the care instructions provided by the manufacturer.
FAQ
Can I machine wash all types of embroidered clothing?
Not necessarily. While some embroidered clothing can withstand machine washing, others may be too delicate. Always check the care instructions on the garment's tag or label to determine the recommended washing method.
What if my embroidered clothing has sequins or beads?
Embroidered clothing with embellishments like sequins or beads may require extra care. It's best to spot-clean these areas by hand rather than subjecting them to a full wash. Gently dab the affected areas with a mild detergent and a soft brush.
Should I use bleach when washing embroidered clothing?
It's generally advisable to avoid using bleach on embroidered clothing, as it can cause discoloration or damage to the fabric and threads. Stick to gentle detergents and avoid harsh chemicals.
Can I tumble-dry embroidered clothing?
It's recommended to air-dry embroidered clothing rather than tumble dry. The high heat from the dryer can cause shrinkage, distortion, or damage to the embroidery. Lay the garment flat on a clean towel to dry, allowing it to maintain its shape.
How often should I wash embroidered clothing?
The frequency of washing depends on factors like how frequently the garment is worn and the level of dirt or sweat it accumulates. Generally, if the embroidered clothing is not visibly soiled, it's best to wash it only when necessary to minimize wear and tear.