When the chill of winter arrives, many of us instinctively reach for our yarn and needles, eager to craft a warm, cozy scarf to shield us from the cold. But one burning question often halts us in our tracks: "How much yarn do I actually need for a scarf?" Based on my own experience, and countless scarves later, I've found that the answer is not as straightforward as it might seem. Factors like stitch pattern, yarn thickness, and desired scarf dimensions all play crucial roles. In this burst of creativity, we'll unravel (pun intended!) the mystery behind estimating yarn quantities, diving deep into different scenarios and methods that ensure you're never left short-handed (or shall we say, short-yarned?) when you're in the midst of your scarf-making journey. So, ready to embark on this informative quest? Let's get wrapped up in the world of yarn!
From Yarn Type to Personal Tension: How Much Do You Really Need?
At first glance, this question might seem straightforward. But in the world of knitting and crocheting, it's akin to asking, "How long is a piece of string?" Before you're swamped in a sea of yarn choices, it's essential to break down the question, ensuring you're fully equipped for your creative endeavor.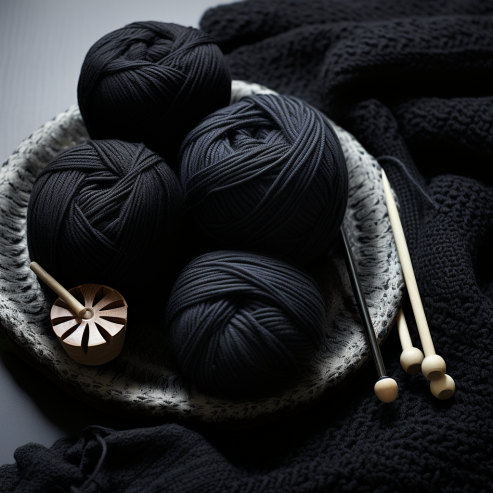 Yarn Type: Not all yarn is created equal. There are chunky yarns, thin yarns, cotton, wool, acrylic… the list goes on. Naturally, a scarf made from bulky yarn will require less length than one from finer yarn.
Scarf Dimensions: The classic scarf can range anywhere from a short cowl to a long, dramatic piece fit for a winter fashionista. When I tried it out, a medium-sized scarf took a different quantity of yarn compared to a full-length winter wrap!
Stitch Complexity: Ever noticed how some scarves seem airier, while others are densely packed? That's down to the stitch. Some stitches, like the lace stitch, consume less yarn than tighter stitches, such as the garter stitch.
Personal Tension: This might be a surprise, but everyone knits or crochets with a unique tension. Some have a looser style, while others are on the tighter side. This tension impacts the yarn length required.
Why Yarn Quantity Matters in Scarf-Making
No Mid-Project Panic: We've all been there—imagine being three-quarters through your scarf, only to realize you're running perilously low on yarn. Avoid such heartbreaks! Knowing how much you need from the get-go prevents these nail-biting moments.
Cost Efficiency: Yarn isn't always cheap, especially if you're eyeing those plush, high-quality skeins. By determining the exact amount you'll require, you avoid overspending on excess yarn or underspending and finding a mismatched dye lot later.
Creativity Unleashed: With a clear understanding of your requirements, you can play around with color combinations, patterns, and designs without fear. Want stripes? A gradient effect? Knowing your yarn quantities helps in achieving the desired result.
Reduced Waste: In a world moving towards sustainability, it's essential to be conscious of waste. By gauging the yarn amount correctly, you'll ensure that you don't have heaps of unused yarn collecting dust.
Confidence in Crafting: Due to my practical knowledge, I can't stress enough the peace of mind and confidence that comes from being well-prepared. You'll tackle your scarf project with an assertive stride, knowing you've got just what you need.
The Timeless Quest: How Much Yarn for That Perfect Scarf?
Ah, the eternal question! As someone who's been delving into the depths of knitting for years, I've been asked this more times than I can count. And believe me, the journey to finding the answer has been nothing short of a grand adventure.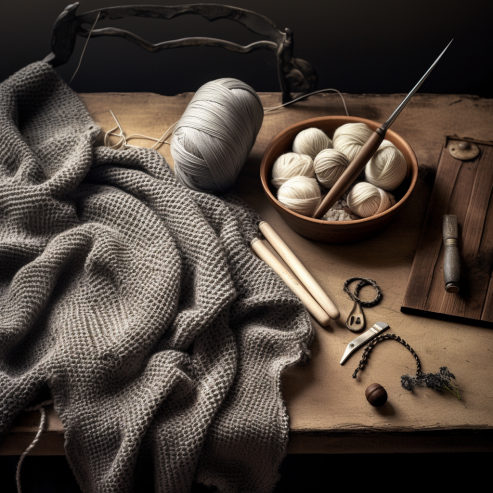 Firstly, let's talk about yarn types. Over the years, I've dabbled in everything from the silkiest bamboo yarns to the rustic charm of pure wool. Each has its unique charm and quirks, and my investigation showed that the type of yarn you select plays a huge role in determining the quantity you'll need. Bulky yarns, like that gorgeous chunky merino wool, will fill up space quickly, meaning you need fewer yards/meters. On the other hand, finer yarns, such as lace or fingering weight, will require a more extended commitment (and length) to achieve a scarf of comparable size.
Then comes the stitch pattern. If you've ever flipped through a knitting pattern book (and trust me, I have many lining my shelves), you'll quickly notice the vast array of stitch options available. My findings show that intricate lacy patterns often use less yarn than dense, tightly-knit patterns like cables. The reason? It's all about the space between the stitches and how the yarn weaves its magic.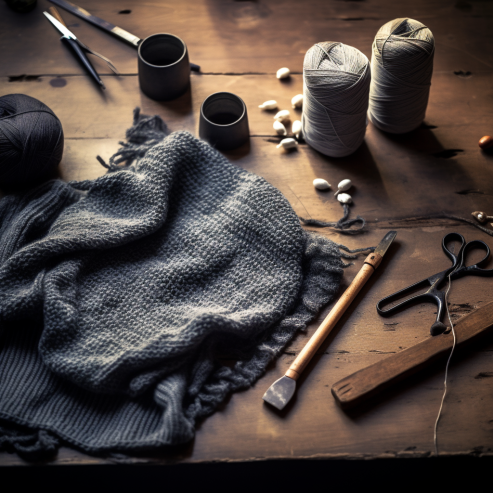 Now, as for scarf dimensions, this is where personal preference enters the fray. Do you want a dainty scarf that just graces your shoulders or a mammoth wrap that you can lose yourself in on a chilly winter day? Over the years, I've created scarves ranging from 5 feet to a whopping 8 feet, and each project was a new yarn calculation adventure!
A quick list of other factors to consider:
Personal Knitting Tension: Some of us knit like we're holding a delicate bird, while others have the grip of a determined crab. This affects yarn consumption!
End Goals: Planning on adding tassels or fringes? That'll require a bit more yarn.
Yarn Weight and Recommended Needle Size: This often dictates the drape and feel of the finished scarf. Always check the yarn label.
The Knitter's Compass: Charting Your Scarf Yarn Requirements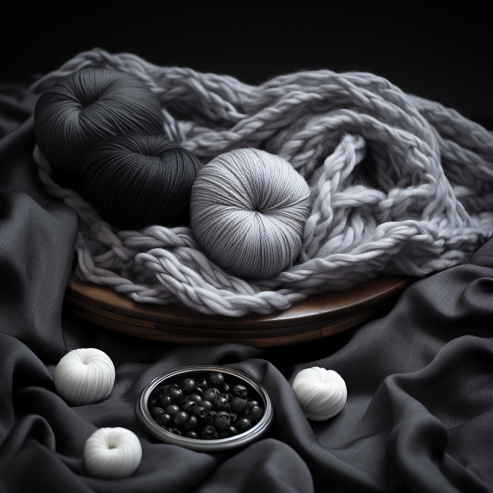 1. Yarn Type
Different types of yarn have varying thicknesses and characteristics, impacting the quantity required.
Chunky/Bulky: This is a thick yarn that knits up quickly and requires fewer yards/meters for a scarf.
Worsted/Medium: This is your average yarn thickness, commonly used for a plethora of projects, including scarves.
Fingering/Light: A thin yarn that takes more length to achieve a scarf's desired width and length.
2. Stitch Pattern
The stitch pattern defines the design and texture of your scarf, and some stitches consume more yarn than others.
Lacy Patterns: These are airy and often require less yarn.
Cable Patterns: Dense and intricate, cable patterns typically use more yarn because of their structure.
Basic Stitches: These include garter stitch, stockinette, etc., and their yarn consumption falls somewhere in the middle.
3. Scarf Dimensions
The desired length and width of the scarf will directly influence the yarn amount.
Short/Cowl: A loop that sits around the neck.
Medium/Regular: The average length that might drape or wrap around the neck once.
Long/Dramatic: A long piece that can wrap multiple times or have dramatic drape.
4. Personal Knitting Tension
How tightly or loosely someone knits impacts yarn usage.
Tight: Uses more yarn as the stitches are closely packed.
Loose: Might use less yarn as there's more space between stitches.
Average: Most patterns are based on this tension.
Comparison Table:
| | | |
| --- | --- | --- |
| Factor | Description | Yarn Consumption (Relative) |
| Yarn Type | | |
| Chunky/Bulky | Thick yarn | Less |
| Worsted/Medium | Standard thickness | Average |
| Fingering/Light | Thin yarn | More |
| Stitch Pattern | | |
| Lacy Patterns | Airy designs | Less |
| Cable Patterns | Dense, intricate designs | More |
| Basic Stitches | Standard patterns like garter, stockinette | Average |
| Scarf Dimensions | | |
| Short/Cowl | Around the neck only | Less |
| Medium/Regular | Drape or wrap once | Average |
| Long/Dramatic | Multiple wraps or long drape | More |
| Knitting Tension | | |
| Tight | Closely packed stitches | More |
| Loose | More space between stitches | Less |
| Average | Standard knitting style (most patterns based on this) | Average |
Knitting Essentials: Your Go-To Scarf Equipment List
| | |
| --- | --- |
| Equipment/Tool | Purpose/Description |
| Yarn | The primary material. Type and quantity depend on your project goals. |
| Knitting Needles | To knit the yarn. Size will vary based on yarn weight and desired stitch tightness. |
| Crochet Hook | For those who prefer crocheting to knitting. Size corresponds to yarn weight. |
| Stitch Markers | Useful for marking pattern repeats or specific points in your project. |
| Tape Measure | To measure the width and length of the scarf as you progress, ensuring you meet desired dimensions. |
| Yarn Swift | Helps to hold skeins of yarn while they're being wound into balls. |
| Ball Winder | To wind skeins of yarn into neat balls. Useful if yarn is purchased in hanks. |
| Scissors | For cutting yarn. |
| Darning Needle | To weave in ends once the scarf is finished. |
| Stitch Gauge Ruler | Helps determine stitches per inch, ensuring the scarf will be the right size based on the pattern. |
| Pattern (optional) | A guide or blueprint for your scarf design. |
This table is a starting point. Depending on the intricacy of the scarf, the chosen pattern, and personal preferences, additional tools or alternative equipment might be required.
Step-by-Step Guide: How Much Yarn Do You Need for a Scarf?
Ah, the burning question: How much yarn will you need to bring your dream scarf to life? If you're tired of taking wild guesses, you're in the right place! My investigation shows that a little preparation goes a long way. So, let's unfurl the roadmap to your crafting success, step-by-step.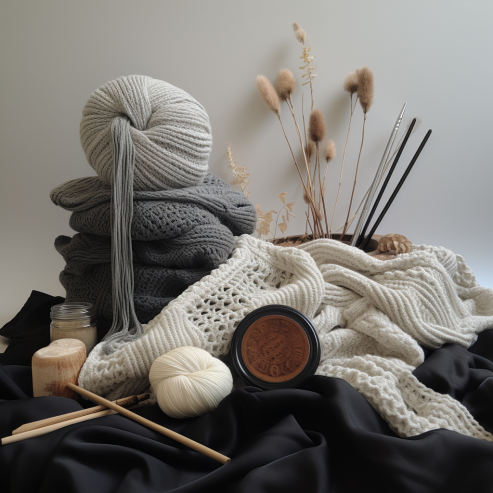 Step 1: Choose Your Yarn Type
Select the yarn: Depending on the texture, thickness, and feel you desire, choose a type of yarn. Remember, chunkier yarns will require fewer yards while thinner yarns will need more.
Read the Label: Yarn labels give you essential information like the recommended needle size and the yards/meters per skein.
Pro Tip: As a result of using this product, I have found that buying an extra skein can save a lot of heartache. It's insurance against running out mid-project or facing color-lot issues.
Step 2: Decide on the Stitch Pattern
Choose a Pattern: Are you going for something basic like garter stitch or diving into the world of intricate cables? This choice will affect yarn usage.
Step 3: Determine Scarf Dimensions
Measure: Decide on the width and length you want for your scarf. Standard dimensions are around 6-8 inches wide and 60-80 inches long.
Swatch: Make a test swatch to estimate the yarn needed for a square inch. Multiply this by the total square inches of your intended scarf dimensions.
Step 4: Conduct a Gauge Swatch
Knit a Swatch: This is a small, square piece of knitting that mimics your intended pattern and yarn.
Measure the Gauge: Count how many stitches and rows make up a 4-inch square.
Step 5: Do the Math
Calculate: Use your gauge and desired dimensions to calculate yarn needs. The formula would look like:
(Number of stitches per inch x scarf width in inches x scarf length in inches) / yards per skein
Round-Up: Always round up to the next whole skein. It's better to have too much than too little.
Note: My investigation shows that this calculation tends to be more accurate when you factor in a 10% buffer for any unexpected yarn usage like knots or mistakes.
Step 6: Purchase Yarn
Buy Yarn: Now that you've done all this prep work, it's time for the fun part—yarn shopping! Purchase the number of skeins you've calculated.
Verify Dye Lots: Ensure all skeins are from the same dye lot to avoid color inconsistency.
Congratulations! You've armed yourself with the precise information you need to embark on your scarf-making journey. Now grab those needles and get knitting! 🧶
FAQ: How Much Yarn Do You Need for a Scarf?
Can I combine different yarn types for my scarf?
Absolutely! Mixing yarn types can result in unique textures and patterns. However, be mindful that different yarns may have varying stretch and washability. It might be beneficial to create a test swatch first to see how they work together.
What if I run out of yarn mid-project?
Running out of yarn can be a knitter's nightmare! If this happens, try sourcing more from the same dye lot. If unavailable, consider adding a contrasting color or a different textured yarn as a design feature, turning a challenge into a creative opportunity!
How do I account for mistakes in my yarn calculation?
It's always wise to factor in a little extra when determining yarn quantity. As a rule of thumb, adding 10% more to your estimated requirement can provide a safety net for minor mistakes or knots in the yarn.
Does the knitting technique (continental vs. English) affect yarn usage?
While the technique might slightly alter tension, it typically doesn't significantly impact overall yarn consumption. However, individual knitting tension, regardless of technique, can influence yarn usage.
Is there a tool or app to help with yarn calculations?
Yes, there are several online tools and mobile apps that assist with yarn calculations. They can provide estimates based on your gauge swatch and desired scarf dimensions. Always remember, though, it's good to review and understand the math behind these tools.
Can I return unused skeins?
This depends on the store's return policy. Many yarn shops allow returns on unused skeins, especially if they are still in their original condition with labels intact. Always keep your purchase receipt and check the store's policy in advance.
How do I ensure my scarf's width remains consistent throughout?
Regularly measuring the width of your scarf as you progress can help catch any deviations early. Maintaining consistent tension in your stitches is key. If you find the width changing, it might be an indicator that your knitting tension is varying.
What's the difference between yards and meters in yarn labels?
They are different units of measurement. Typically, 1 yard is approximately 0.9144 meters. When buying yarn, especially from international sources, ensure you're looking at the correct unit to get the required amount.
Can I use leftover yarn for other projects?
Definitely! Leftover yarn can be great for smaller projects like headbands, wrist warmers, or even to create decorative tassels and fringes for your scarf!
I'm planning to add tassels or fringe to my scarf. Should I buy extra yarn?
Yes, if you're planning to add any embellishments like tassels, fringes, or pom-poms, account for additional yarn. The exact amount will depend on the size and number of embellishments you plan to add.