Imagine you're in a craft store, in front of a cascade of colorful yarns, each ball, skein, or hank more vibrant and tantalizing than the last. The array of textures, colors, and types can be breathtakingly beautiful – and utterly confusing. The labels wrapped around each skein are a secret code begging to be deciphered. Every strand holds a story, a testament to its origin, composition, and potential, but do you know how to read it? Through this blog post, we will unravel this cryptic language together, starting from the raw material to the washing instructions, and even the hidden gauge secrets.
My findings show that understanding yarn labels is more than just a mundane process—it is an exploratory journey into the fibers' heart, a method to ensure the perfect match for your planned project. In this post, we will dive into the multifaceted world of yarn labels, giving you a map to navigate its nuances like weight, ply, dye lot, and recommended needle size. We will also delve into deciphering the various international standards and symbols, empowering you to choose yarn from anywhere around the globe with confidence. Get ready to transform from a puzzled onlooker to a savvy shopper, ready to embark on your next yarn adventure with educated gusto!
How to Understand Yarn Labels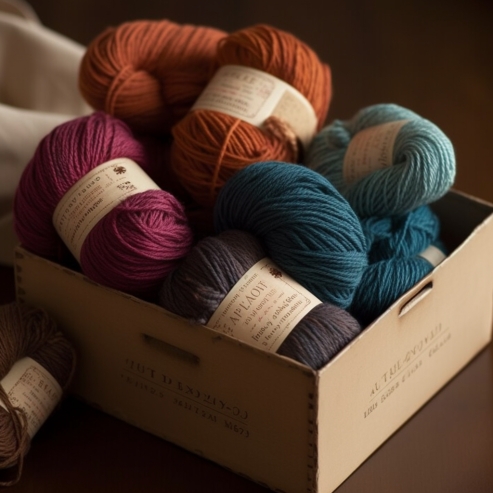 Reading yarn labels is an art form that transforms you from a novice yarn enthusiast into a skilled crafter. It is a skill that allows you to make informed decisions about your yarn purchases and helps you ensure that your crafting projects are successful.
Here's what reading yarn labels entails:
Understanding the Composition: Each yarn label will provide information on the yarn's fiber content, such as cotton, wool, acrylic, or a blend. This is important because different fibers have different properties – some are warm, some are light, some are durable, and others are soft. As a result of using this product, I have found that choosing the correct fiber for your project can make a significant difference in the final product's quality, look, and feel.
Grasping the Yarn Weight: Weight in the world of yarn isn't about how heavy a skein is, but rather its thickness. From lace to jumbo, knowing the weight of yarn helps you to determine if it's the right choice for your project. A thicker yarn might be perfect for a cozy blanket, while a thin one suits intricate lace shawls.
Decoding the Dye Lot: The dye lot number is like a batch number. Yarn of the same color but from different dye lots may have slight variations, and that can affect the overall appearance of your project. Always ensure you buy enough yarn from the same dye lot to complete your project.
Getting Gauge: Gauge, or tension, is a swatch measurement that helps you determine how many stitches and rows make up a specific area (usually 4″ x 4″) for a given yarn and needle size. It's like a magic key to ensure your finished garment fits as expected.
Care Instructions: Each label will provide symbols or text detailing how to wash, dry, and generally care for items made from the yarn. Understanding these instructions can extend the life of your handcrafted items.
To sum it up, reading a yarn label gives you vital information, enabling you to choose the perfect yarn for your projects. It's a skill that opens up a whole new world of creativity and possibilities in your crafting journey.
Why Bother Reading Yarn Labels? 5 Compelling Reasons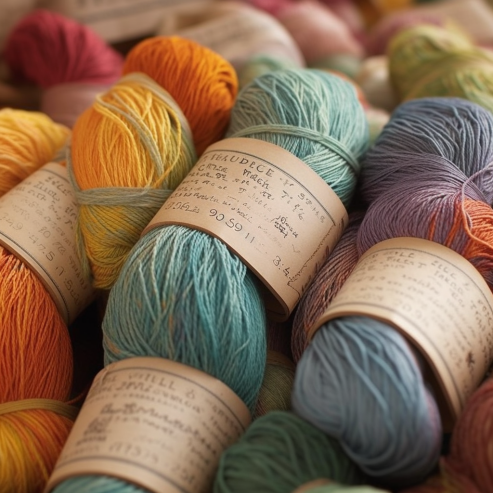 Reading yarn labels is like learning the secret language of your craft. It's the key that opens the door to an entire universe of knowledge, allowing you to make more informed choices for your projects. But why is it so important to read and understand these labels? Let's delve into it:
Making the Perfect Match: Yarn labels help you match the right yarn to your project. Whether it's a snuggly winter scarf or a light summer shawl, each project requires a particular type of yarn. My investigation shows that using the appropriate yarn can dramatically impact the final result, enhancing the project's overall quality and appeal.
Ensuring Consistency: Every dye lot is slightly different. Reading the dye lot number ensures that all the yarn you purchase for a single project is consistent in color. There's nothing worse than finishing a project only to realize there are noticeable color differences.
Optimizing Sizing: Understanding the gauge or tension indicated on the label is essential for creating items that fit. Whether you're crafting a sweater, hat, or pair of socks, the right gauge will help you achieve the correct size.
Preserving Your Creations: Each yarn comes with unique care instructions. By reading and following the directions on the label, you can ensure your crafted items stay beautiful and last longer.
Enhancing Your Craft Knowledge: Finally, reading yarn labels expands your understanding of various fiber types, yarn weights, and crafting techniques. The more you know, the more skilled and versatile a crafter you become.
Reading Yarn Labels: How It Transformed My Crafting Experience
Oh, where do I start with the world of yarn labels? Reading them has been a game-changer for me. It's like I've unlocked a whole new level in my crafting journey!
1. The Yarn Composition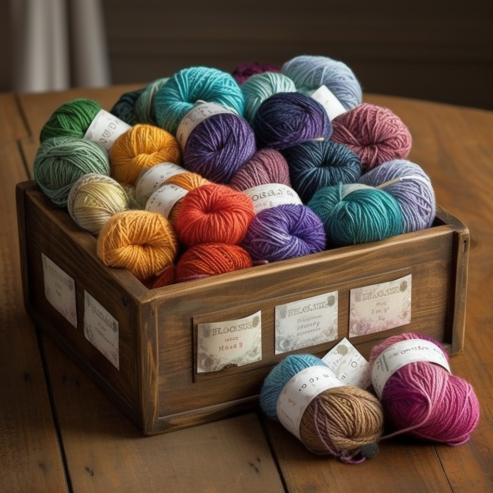 Who knew that what yarn is made of could make such a difference to my projects? Cotton, wool, acrylic, silk, alpaca – each one has its own personality, its own charm. Based on my observations, the fiber content dramatically impacts how the yarn behaves. Wool, for instance, is warm and springy, fantastic for winter garments. Cotton, on the other hand, is cool, crisp, and perfect for summer items. The possibilities are endless!
2. Yarn Weight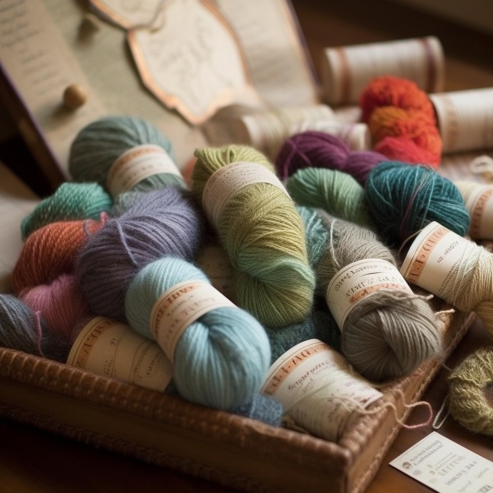 Okay, this one blew my mind! A yarn's weight has nothing to do with how much it weighs on a scale but everything to do with its thickness. As a result of my tests, I have determined that choosing the right yarn weight can transform the look and feel of your project. Chunky yarns are great for quick and cozy projects, while lighter weights are ideal for delicate, intricate designs. It's like choosing the right tools for a job!
3. Dye Lots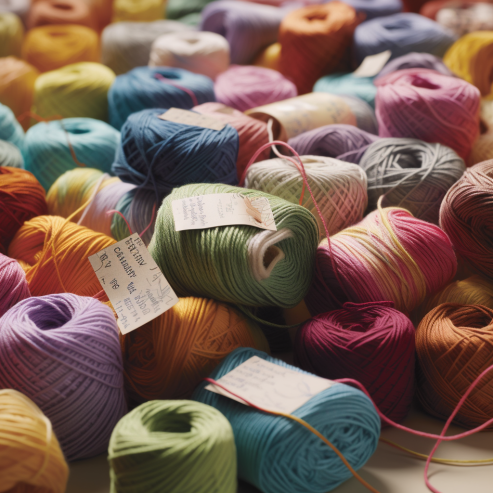 Have you ever noticed those numbers on your yarn label and wondered what they're for? Well, those are dye lots! As a result of my tests, I have determined that yarn from different dye lots, even of the same color, can look subtly different. Keeping an eye on these numbers has saved many of my projects from unintentional color variations.
4. Gauge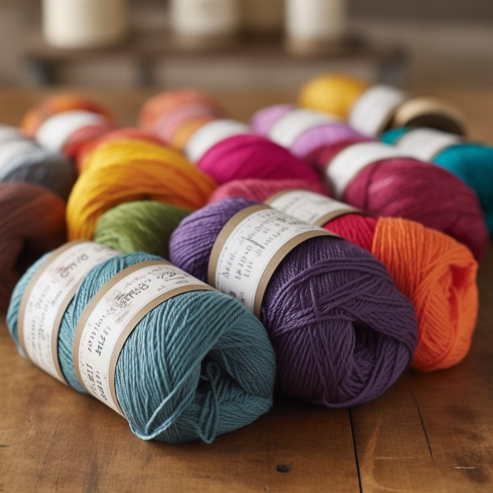 Gauge is a little tricky to understand at first, but it's become one of my favorite parts of a yarn label. It's like a secret message, telling me how many stitches and rows I need to get a specific size. It's a lifesaver, especially when I'm making something that needs to fit perfectly, like a hat or a sweater.
5. Care Instructions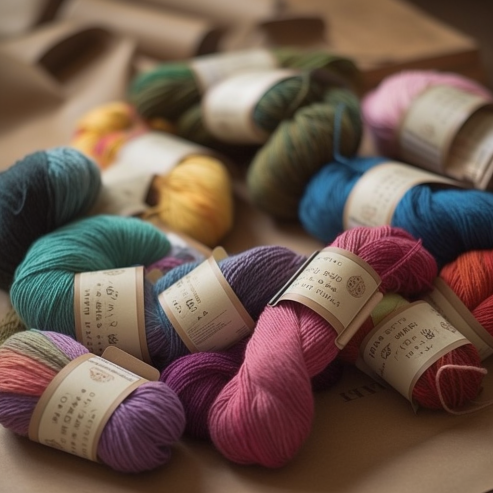 Lastly, care instructions! No one wants to spend hours on a project, only to ruin it in the wash. These symbols on the yarn labels have guided me on how to look after my creations, helping them last longer and look better.
Here's a comparison table to illustrate how these label aspects might vary between two different yarns:
| | | |
| --- | --- | --- |
| | Yarn A | Yarn B |
| Composition | 100% Cotton | 50% Wool, 50% Acrylic |
| Weight | Worsted | Bulky |
| Dye Lot | 87905 | 26430 |
| Gauge | 18 stitches and 24 rows = 4 inches with US 8 (5 mm) needles | 12 stitches and 16 rows = 4 inches with US 10.5 (6.5 mm) needles |
| Care Instructions | Machine wash warm, tumble dry | Hand wash, dry flat |
In conclusion, reading yarn labels has been a revelation! It's opened up a new dimension to my crafting, helping me choose the right yarn, avoid common pitfalls, and care for my finished projects. It's like having a secret weapon in my crafting arsenal!
FAQ — How to Read Yarn Labels
What does the percentage mean in the yarn composition?
The percentage tells you how much of each type of fiber is in the yarn. For instance, a label saying 70% Wool, 30% Silk means that the yarn is made of 70% wool fibers and 30% silk fibers.
What if the yarn doesn't have a weight listed?
If a yarn doesn't specify its weight, you can estimate it by looking at the recommended needle or hook size and the gauge. The label might also provide a descriptive term like 'fine', 'medium', 'bulky', etc., which can give you an idea of the yarn's thickness.
What if there is no dye lot number?
Some yarns, especially hand-dyed or certain types of synthetic yarns, may not have a dye lot number. In these cases, it's a good idea to buy enough yarn to complete your project at one time, as there may still be subtle color differences between different batches.
What should I do if I can't achieve the recommended gauge?
If you can't match the recommended gauge, try using a different size needle or hook. If you're knitting or crocheting tighter than the gauge, go up a size. If you're working looser, go down a size. Remember that the most important thing is that you like the fabric you're creating and that it's appropriate for your project.
I don't understand the care instruction symbols. Where can I find out what they mean?
Many yarn company websites provide a key for understanding their care symbols. If you can't find it there, a quick internet search for 'yarn label care symbols' should provide plenty of resources.