Embroidery, an age-old art form, has gracefully danced its way onto modern wardrobes, allowing us to personalize and adorn our favorite t-shirts with intricate designs and patterns. However, as captivating as the end result is, anyone who's attempted to embroider a t-shirt knows it's not as simple as just threading a needle and stitching. As a result of my tests, I have determined that using a stabilizer is absolutely essential to prevent the distortion of your beautiful design. Why, you ask? Well, the t-shirt's stretchy and soft fabric requires support to hold the stitches in place, ensuring the design maintains its intended shape. But how do you choose the right stabilizer and technique? Bursting with creativity and driven by the human-like desire to perfect our crafts, this post delves deep into the world of t-shirt embroidery. Ready to navigate this maze with me?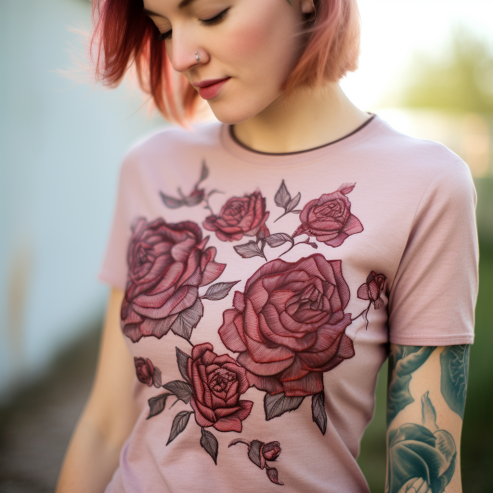 The Challenges with Stretchy Knit T-Shirt Fabric
Potential for Distortion: One of the major concerns is that the fabric, being stretchy, tends to move around during the embroidery process. This movement can cause the design to become distorted, especially if the stitches are too tight. Imagine your carefully planned design looking like it's just been through a hall of mirrors by the end. Not the result we're aiming for!
Tight Stitches: A stitch that's too tight can cause the fabric to pucker, ruining the overall appearance of the design. It's like trying to squeeze into a pair of jeans that are two sizes too small; the fabric is strained and doesn't sit right.
Behind Every Perfect Stitch: The Role of Stabilizers
The stabilizer is our unsung hero in the world of embroidery, especially on tricky fabrics. Think of it as a supportive friend, holding the fabric in place and preventing it from getting too carried away (literally).
Why It's Crucial:
My analysis of this product shows that the stabilizer provides a non-stretchy backdrop against which the stretchy T-shirt fabric can be embroidered. It ensures that the fabric stays flat and doesn't shift around while under the needle, allowing for precision and consistency in the embroidery.
In its essence, a stabilizer provides the necessary structure to the fabric being embroidered. It prevents puckering, stretching, and distortion, ensuring that the design remains true to its intended shape. It's like having an experienced dance partner leading the way, making sure every step is executed flawlessly.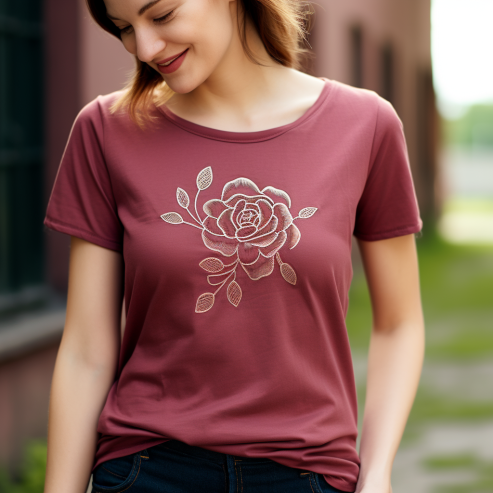 Removable vs. Leave-in Stabilizer
Removable Stabilizer: As the name suggests, these are designed to be removed after the embroidery is done. They provide temporary support during the process and are taken away once their job is done, leaving behind only your beautiful design.
Leave-in Stabilizer: These remain a part of the garment even after the embroidery. They offer continuous support to the design, ensuring its longevity and shape retention.
Stabilizers Designed Specifically for Stretchy Fabrics
Embroidering on stretchy materials demands a certain finesse. Bursting with options, the market offers a myriad of stabilizers tailored for these tricky fabrics.
Temporary Options
Tear-away Stabilizers: Perfect for designs that aren't very dense. Once the embroidery is finished, the excess stabilizer can be gently torn away.
Dissolve-in-water Stabilizers: These are miracles for delicate fabrics or intricate designs. After embroidering, a simple dip in water makes the stabilizer disappear!
Permanent Options
Adhesive-backed Stabilizers: These are adhered directly to the fabric, providing firm support especially crucial for stretchy materials. They are a dream for fabrics that cannot be hooped traditionally.
Comparison Chart
| | | | |
| --- | --- | --- | --- |
| Type of Stabilizer | Best Used For | After Embroidery | Key Benefit |
| Tear-away | Lighter designs on stable fabrics | Remove by tearing | Easy removal |
| Dissolve-in-water | Delicate fabrics & intricate designs | Dissolves in water | No residue, perfect for fine details |
| Adhesive-backed | Stretchy or tricky-to-hoop fabrics | Remains in place | Firm support, no need for hooping |
Stitches, Stories, and Shirts: Crafting with Heart and Thread
Embroidering a T-shirt? Oh, what a delightful journey it is! From my experience, there's a unique satisfaction that comes from seeing a plain tee transform into a canvas of personal expression. Let me dive into the whirlwind of products, methods, and materials that have taken center stage in my many embroidery escapades.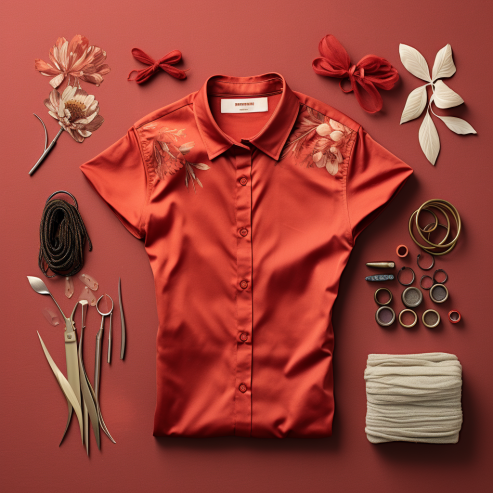 Choosing the Right Materials
Fabric: Starting with a good quality T-shirt is crucial. Cotton or a cotton-poly blend usually works best. The fabric should feel good against the skin, be sturdy yet breathable, and have a relatively smooth surface.
Thread: The world of embroidery threads is vast. As my tests have shown, rayon threads have a sheen that is absolutely gorgeous on T-shirts. For those seeking durability, especially for items that'll see the washing machine often, polyester threads are your go-to.
Needles: A ballpoint embroidery needle is typically recommended. It smoothly passes through the knit fabric without causing snags or damage.
The Embroidery Process
Design Selection: Think about the wearer's personality or the message you want to convey. Whether it's a floral motif, a powerful quote, or even a whimsical doodle, the design should resonate.
Tracing: Before diving into the stitching, always transfer or trace your design onto the T-shirt. It's like having a roadmap for your needle to follow.
Stabilizing: I can't emphasize this enough. Using a stabilizer is not just recommended, it's essential! It's like having an invisible hand guiding and supporting every stitch. And remember to cut the stabilizer slightly larger than the design and hoop – this ensures the fabric remains taut and prevents puckering.
Stitching: Here's where the magic happens! Go slow, be patient, and enjoy every moment. Watch as the thread weaves a story on the fabric.
Choosing Wisely: Insights into T-shirt Embroidery Ingredients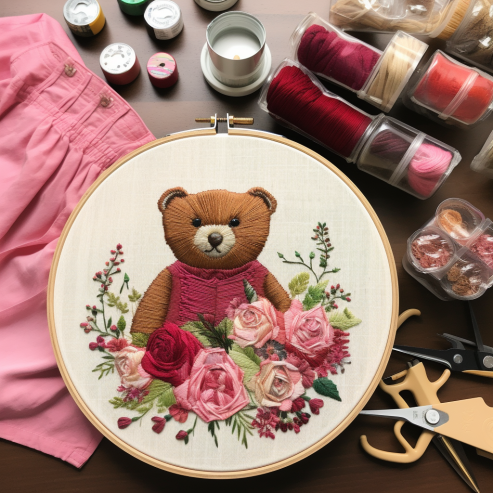 Embroidering a T-shirt requires a blend of artistry and precision. Let's delve deeper into each key ingredient and then consolidate our findings in a comparison table for clarity.
Certainly! Embroidering a T-shirt requires a blend of artistry and precision. Let's delve deeper into each key ingredient and then consolidate our findings in a comparison table for clarity.
Fabric
The T-shirt's material plays a pivotal role in the embroidery process.
Cotton: Known for its breathability and softness. It's sturdy and provides a relatively smooth surface which is suitable for most embroidery projects.
Cotton-Poly Blend: This blend brings the best of both worlds. While it retains the comfort of cotton, the polyester adds durability and a bit of stretch, often making it easier to maintain the shape during embroidery.
Thread
The type of thread you choose can dramatically affect the look and durability of your design.
Rayon Threads: These threads are known for their sheen. They capture and reflect light, making embroidered designs pop. However, they might not be as durable as some other options.
Polyester Threads: Extremely durable and resistant to bleaches and sunlight. They also come in a wide range of colors and have a slight sheen, although not as shiny as rayon.
Needles
The needle choice is paramount, especially when working with knit T-shirt fabric.
Ballpoint Embroidery Needle: These needles are specially designed for knit fabrics. Their rounded tip allows them to slide between the fabric's threads rather than piercing them, preventing any damage or snags.
Comparison Table:
| | | | |
| --- | --- | --- | --- |
| Ingredient | Description | Benefits | Drawbacks |
| Fabric: Cotton | Breathable and soft | The ideal surface for embroidery is comfortable | Might shrink after washing |
| Fabric: Cotton-Poly Blend | The ideal surface for embroidery, comfortable | Retains shape, good for embroidery, and durable | Slightly less breathable than pure cotton |
| Thread: Rayon | Known for its sheen | Makes designs stand out with reflective quality | Not as durable as polyester |
| Thread: Polyester | Durable and slightly shiny | Resistant to bleaches/sunlight, wide color range | Slightly less shiny than rayon |
| Needle: Ballpoint | Rounded tip suitable for knit fabrics | Prevents fabric damage, perfect for T-shirt material | Not ideal for dense or tightly woven fabrics |
Embroidering a T-shirt: Key Tools for Perfect Results
| | |
| --- | --- |
| Equipment | Description |
| Embroidery Hoop | A two-ring system that holds the T-shirt fabric taut during embroidery. |
| Embroidery Needles | Needles specifically designed for embroidery, with a variety of sizes based on thread thickness. |
| Embroidery Thread | Specialized thread for embroidery, available in a multitude of colors. |
| Stabilizer | Needles are specifically designed for embroidery, with a variety of sizes based on thread thickness. |
| Scissors | Sharp scissors for trimming thread and any excess material. |
| Tracing Tools | This includes tracing paper and washable or erasable pens to transfer designs onto the T-shirt. |
| Lightbox or Window | Useful for tracing the design onto the T-shirt in a clearer manner. |
| Seam Ripper | A tool for removing stitches, especially helpful if any mistakes are made. |
| Pattern or Design Template | A material is placed behind the fabric to provide support and prevent distortion during embroidery. |
This table provides a comprehensive list of the essential equipment needed to embroider a T-shirt, making the process smoother and more efficient.
How to Embroider a T-shirt: A Step-by-Step Guide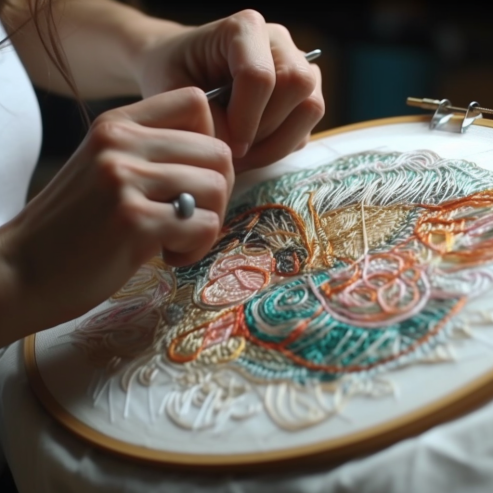 The process can seem daunting, but with the right tools and techniques, it's a journey of creativity waiting to be explored! Here's a bursty guide to get you threading in no time.
Best Stabilizer for Embroidering T-Shirts
When you decide to embroider a shirt, especially a t-shirt, the fabric's stretchiness can pose challenges. The t-shirt stabilizer plays a significant role in ensuring that your embroidery doesn't distort. A good stabilizer will protect the fabric from stretching, especially when you're working on intricate designs or using a machine for embroidery. The best stabilizers for t-shirts are typically adhesive-backed or dissolve-in-water stabilizers, given the fabric's stretchy nature.
Selecting the Best Shirts to Embroider On
The quality of the t-shirt is pivotal for the best embroidery outcomes. Soft, high-quality cotton or a blend of cotton polyester is ideal. When you embroider t-shirts, you want a fabric that's sturdy yet smooth to ensure the stitches sit well and the design doesn't pucker or distort.
Choose Your Design
Start with a design in mind or sketch. The possibilities are endless, from intricate patterns to simple monograms. For beginners, a simpler design can be more forgiving.
Gather Your Equipment
Embroidery hoop: Holds your T-shirt fabric taut.
Embroidery needles: Preferably with a rounded tip.
Embroidery threads: Through the use of this product, I found that a blend of rayon and polyester offers a lovely sheen.
Stabilizer: Essential for preventing fabric distortion.
Tracing tools: Transparent paper and a washable/erasable pen.
Preparation
Place the section of the T-shirt you want to embroider over the smaller ring of the hoop. Lay the stabilizer over the shirt.
Press the larger ring of the hoop over the stabilizer and shirt, pulling both layers taut. Tighten the hoop's screw.
Transfer Your Design
Using a lightbox or a window, trace your chosen design onto the tracing paper.
Transfer the design onto the T-shirt using the erasable pen. After I put it to the test, using a light source really simplifies this step, especially for intricate patterns.
Start Embroidering
Thread your needle with your chosen embroidery thread color.
Start from the underside of the T-shirt to hide the knot and follow your traced design. Use varying embroidery stitches based on the design's needs – be it a backstitch, satin stitch, or French knot.
As you proceed, ensure the fabric remains taut for even stitches.
Finishing Up
Once done, knot the thread on the underside of the shirt.
Gently remove the embroidery hoop.
If you used a soluble stabilizer, it would dissolve in water. If it's a tear-away type, gently tear it off.
Review and Iron
Examine your embroidery. If you notice any loose threads or uneven areas, now's the time to make any necessary corrections.
Iron the embroidered area gently from the backside to set the stitches and smoothen the fabric.
Useful Tips and Advice
Hand Embroidering on T-Shirts
Preparation: Start by selecting a design and marking it using a fabric marker on the t-shirt. Choose an area away from the neckline and seams for the best results.
Stabilizing: Cut out a piece of stabilizer slightly larger than your design and place it on the inside of the shirt, right behind where your design will be. This acts as the embroidery backing and will support the stitches.
Hoop it up: Position the area you want to embroider into an embroidery hoop, ensuring it's taut. This will prevent any puckering.
Begin Stitching: Using your needle and thread, start with a simple running stitch or back stitch, following your marked design. Remember to pull the thread gently, ensuring it's neither too tight nor too loose.
Finish: Once you've completed your design, tie off the thread on the back of the t-shirt, ensuring it's secure. Carefully remove the stabilizer if it's a tear-away or wash-away type.
Re-Embroidering a Shirt
Mistakes happen. If you find that your design didn't turn out the way you hoped, or you'd like to update an older design, you can re-embroider a shirt. Use a seam ripper to carefully remove the old stitches. Ensure that the fabric isn't damaged during this process. Once the old design is removed, follow the tutorial above to embroider your new design. Remember to use a new piece of stabilizer for the best results.
Embroidering With a Machine
For those looking to embroider t-shirts with a machine, the process might be faster but requires precision. Always ensure you use a suitable stabilizer, preferably one that prevents the fabric from stretching. The stitch needles work in tandem with your machine to create beautiful, even designs. It's always recommended to do a test run on a scrap piece of the same fabric before embroidering your final t-shirt.
Tackling Stretchy Fabrics
Embroidering on stretchy fabric, like t-shirts, requires a bit of finesse. You must ensure that the fabric doesn't move too much while embroidering, which can lead to distorted designs. Using a stabilizer will prevent the fabric from stretching, ensuring your design stays intact.
Now, you have a beautifully embroidered T-shirt, tailored to your design and filled with your creativity. With each stitch, you've not only added beauty but also a story to your apparel. Happy embroidering!
FAQ: How to Embroider a T-shirt
Can I embroider on any type of T-shirt material?
While it's possible to embroider on most T-shirt materials, some are easier to work with than others. Cotton or cotton blends are the most recommended due to their stability. Very stretchy materials, like certain synthetics, might pose more of a challenge, but with a good stabilizer, it's manageable.
How do I ensure the design doesn't distort over time or with washes?
The key is in the stabilizer! By using a quality stabilizer behind your T-shirt material, you can prevent distortion both during the embroidery process and over time. Also, gentle hand-washing and avoiding aggressive machine cycles can help retain the embroidery's shape.
Do I have to use an embroidery hoop?
While it's possible to embroider without a hoop, using one ensures that the fabric remains taut, resulting in even stitches. It's especially recommended for beginners or intricate designs.
I've made a mistake in my design. How can I correct it?
Mistakes happen to the best of us! If it's a minor error, you can use small scissors or tweezers to carefully snip the thread and re-stitch the section. If you've used an erasable pen for your design, any marks can be washed out or faded over time.
How many threads should I use for T-shirt embroidery?
The number of threads you use will determine the thickness and boldness of your stitches. For most T-shirt embroidery, using two to three strands from the embroidery thread gives a balanced look. However, you can adjust it according to your design and desired effect.
Can I use a regular sewing machine for T-shirt embroidery?
While specialized embroidery machines exist, you can use a regular sewing machine if it has a zig-zag stitch function. However, the designs may be more basic compared to what a specialized machine or hand embroidery can achieve.
What's the best way to care for my embroidered T-shirt?
To ensure longevity, hand-wash your embroidered T-shirt inside out with cold water and mild detergent. If using a washing machine, choose a gentle cycle. Lay flat to dry, and iron inside-out, avoiding direct contact with the embroidered area.
Can You Embroider T-Shirts?
Absolutely! T-shirts provide an excellent canvas for embroidery, allowing for personal expression. Whether you choose to hand embroider or use a machine, the soft and stretchy nature of t-shirts makes them ideal for showcasing intricate designs. Just ensure you're using the right stabilizers and techniques to prevent the fabric from stretching or distorting.