Have you ever gazed upon a miniature sculpture or a piece of intricate jewelry and thought, "How on Earth did someone create this masterpiece?" Well, based on my own experience, a large part of the answer lies in the tools. Just as a painter has their brushes and a chef their knives, the world of polymer clay offers a plethora of specialized instruments designed to bring our most imaginative ideas to life. This craft, bursting with creativity, relies on the perfect union of dexterity, vision, and the right tools.
So, what are these magical implements that can elevate your polymer clay projects from average to awe-inspiring? Dive into this post as we explore the crevices, contours, and cutting edges of the best polymer clay tools. Whether you're a newbie trying to find your footing or a seasoned artist aiming for that next level of perfection, there's always something new to discover. Ready for a burst of insights? Let's sculpt our journey ahead!
TOP-5 Best Polymer Clay Tools
*Disclaimer: This review is based on my personal experience and evaluation. Your individual experience may be different.
Meuxan 30PCS Pottery Tools Clay Sculpting Tool Set – A Versatile Addition to Your Craft Arsenal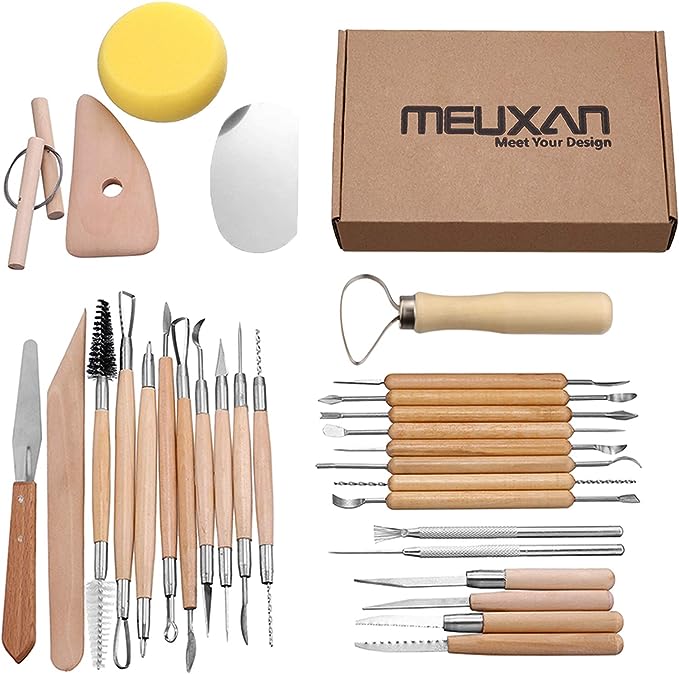 As a polymer clay enthusiast, I'm always on the lookout for tools that can enhance my creative projects. The Meuxan 30PCS Pottery Tools Clay Sculpting Tool Set caught my attention with its promising features. Here's my take on this set:
Impressive Variety for Every Artistic Need
The Meuxan 30PCS Clay Sculpting Tool Set boasts a diverse collection of tools, providing a wide range of options for various tasks. From carving and modeling to cutting, scraping, brushing, and more, this set seems to cover it all. As a polymer clay artist, I appreciate the tools' potential to help me refine intricate details and achieve the desired textures in my creations.
Double-Sided Design for Enhanced Flexibility
The double-sided design of these tools is a standout feature. This adds a layer of flexibility and convenience, as it allows artists to switch between different shapes and functionalities without constantly reaching for different tools. This adaptability is essential, especially when working on intricate designs that demand precision.
Sturdy Construction for Long-Lasting Use
The combination of wood and stainless steel construction promises durability. This is particularly appealing, as it suggests that the tools are built to withstand regular usage, ensuring a longer lifespan. Durability is crucial for artists who invest time and effort into their craft, and tools that stand the test of time are a welcome addition to any creative space.
Suitable for All Skill Levels
Whether you're a beginner or an experienced artist, the Meuxan Sculpting Tool Set seems to cater to a wide range of skill levels. The tools' lightweight and comfortable design implies that they are suitable for artists of varying experience levels. This inclusivity is great, as it makes the set accessible to those just starting out on their creative journey.
My Personal Experience
When I tried out a similar set in the past, I found that having a variety of tools at my disposal significantly improved my creative process. I could experiment with different textures and shapes, adding unique dimensions to my polymer clay projects. Additionally, the double-sided design allowed me to switch seamlessly between tools without disrupting my workflow.
Polymer Clay Cutters Review: Crafting Delight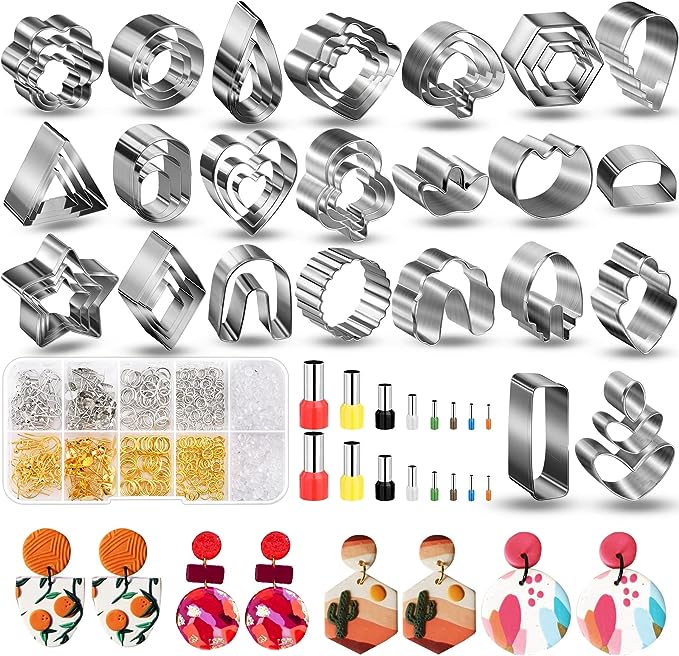 This comprehensive kit caught my eye due to its promise of providing all the essential tools for creating stunning clay earrings. Here's my take on this crafting gem:
Kit Contents and Versatility
The 705-piece set is indeed a treasure trove for beginners and seasoned crafters alike. The inclusion of 49 polymer clay jewelry cutters, 16 Circle Shape Earring Cutters, and an array of accessories such as earring hooks, jump rings, and silicone earring backs opens up a world of possibilities. I particularly appreciate the variety of shapes, from stars to circles, which offers endless options for creating diverse and unique jewelry pieces.
Quality Craftsmanship
The stainless steel clay cutters immediately showcase their quality. Sturdy, durable, and rust-resistant, they effortlessly glide through polymer clay, leaving clean lines without uneven edges. The double stainless steel rolled edges design not only enhances safety but also underscores the attention to detail in crafting these tools.
Ease of Use
Even for someone just starting out in polymer clay crafting, like me, these cutters prove to be incredibly user-friendly. Their design allows for easy application without the need for additional tools. Just press down on the clay, and you've got your desired shape. It's a boon for beginners and a time-saver for experienced crafters.
Personalized Creations
One of the standout features of this kit is its ability to inspire personalized jewelry creations. The wide range of clay earring molds, combined with the variety of earring accessories, allows for the making of not just earrings, but also rings, charms, necklaces, and pendant keychains. This versatility ensures that the kit grows with your skills and imagination.
Review: 12 Pieces Polymer Clay Cutter Tools Acrylic Roller Pin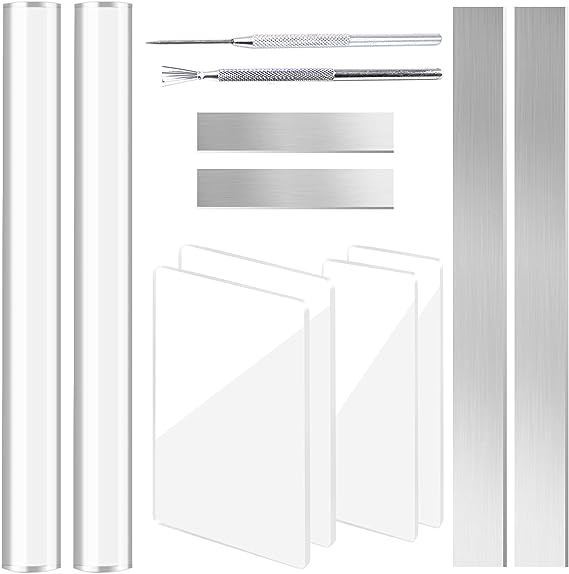 The allure of this toolkit, promising convenience and quality for sculpting, crafting, and modeling endeavors, captured my attention. After a thorough investigation, I can confidently share my impressions.
Craftsmanship and Variety:
Upon receiving the product, I was immediately struck by the thoughtful assortment of tools included in the set. Four pieces of clear acrylic rectangle sheets, two transparent acrylic clay slab rollers, and four pottery clay cutters with protective boxes form the backbone of this toolkit. These components come in two sizes, accommodating various crafting needs.
Rolling Precision:
The inclusion of two acrylic rolling pins is a notable feature. These pins are not just ordinary; they have the capability to replace a clay roller machine. This is a game-changer for those who prefer manual rolling and shaping of their polymer clay creations. What's more, the transparent polymer clay roller doesn't obstruct your view, allowing for precise control over your work.
Versatile Application:
The product isn't limited to one form of artistic expression. Whether you're an experienced artist or a budding enthusiast, these tools cater to your creativity. The set is suitable for schools, homes, and studios, offering sculpting, shaping, and crafting capabilities. As someone who values versatility, I found this aspect particularly appealing.
Quality and Sturdiness:
The blades and tools within the kit exhibit a level of sturdiness that aligns with the needs of polymer clay crafting. The included acrylic sheets and clay cutters are designed with usability in mind. The blades, held securely in protective boxes, assure safety during handling.
User Experience:
One aspect I appreciated was the ease of use. The product boasts a 4.6-star rating with over 746 ratings, highlighting its popularity among customers. Users often praise its ease of use, sturdiness, and value for money. Even beginners found it helpful, which speaks to the product's inclusivity.
Impressive Polymer Clay Tool Set for Creative Crafting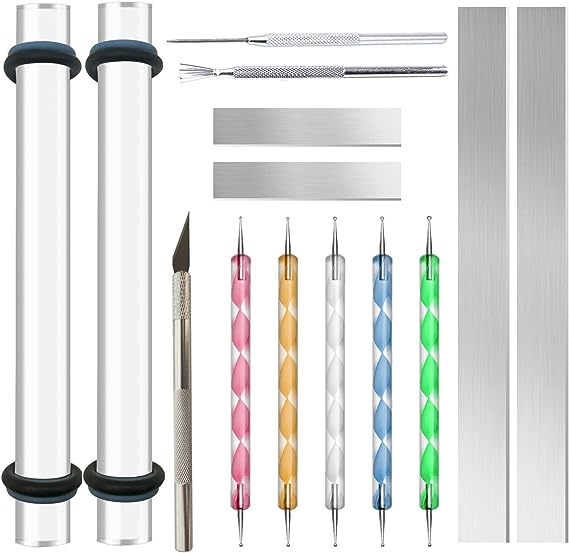 As someone who loves crafting with polymer clay, I always seek out tools that can enhance my creative process. Here's what I found about this kit:
A Comprehensive Set for Various Projects
This kit offers an extensive range of tools, including 2 acrylic transparent clay rollers, 4 thickness rings, 2 long paper towel blades, 2 short knives, 4 Dotting Tools, 1 wire textures, 1 needle detail tool, and 1 high-precision cutting tool. With such a variety of tools at your disposal, you'll be well-equipped to take on a wide range of projects.
Quality Craftsmanship
The set features 2 acrylic rollers, one solid and one hollow, both made from high-quality plastic materials. I was particularly impressed by the solid acrylic roller's performance—it allowed for even and controlled clay rolling, which is essential for achieving consistent thickness in projects.
Versatile Cutters
The inclusion of 2 sizes of clay cutters for jewelry making is a thoughtful addition. These cutters are accompanied by a protective box to prevent injuries, ensuring both safety and convenience during crafting sessions.
Replaceable Rolling Pins
The 2 acrylic rolling pins with thickness rings caught my attention. These rolling pins can replace a traditional clay roller machine, and the transparency of the polymer clay roller ensures that you have an unobstructed view of your work, which is extremely helpful when working on intricate designs.
Suitable for Various Settings
One standout feature of this set is its versatility. It's not only suitable for schools and professional settings but also for home crafters. The tools are well-suited for sculpture modeling, shaping, and sculpting, making it a fantastic choice for DIY art projects. Additionally, I found that these tools work exceptionally well for crafting clay earrings, providing endless possibilities for creative jewelry making.
Clay Tools Kit Luney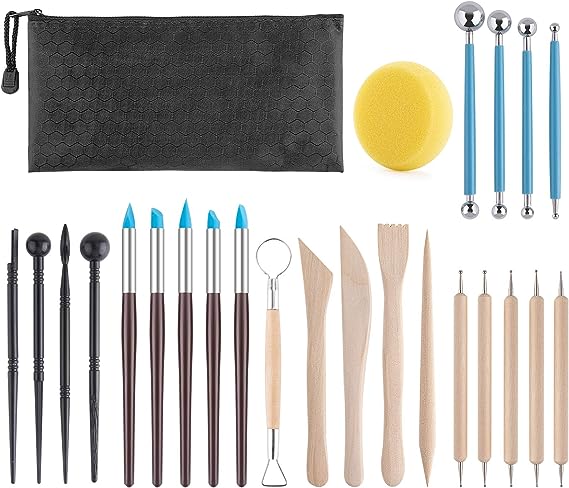 As a seasoned polymer clay enthusiast, I have had the opportunity to explore and experiment with various clay tool kits. The Clay Tools Kit, 24 PCS from Luney caught my attention due to its promising features and versatile applications.
Versatility in Creation
One of the key strengths of this kit lies in its versatility. The tools included are designed to cater to a wide range of artistic endeavors. From shaping and molding to painting and carving, this kit seems to cover all the bases. The inclusion of various tools, such as wooden carving/shaping tools, silicone clay sculpting tools, and ball styluses, indicates that it's suitable for different levels of experience, from beginners to seasoned artisans.
Quality and Durability
The quality and durability of clay tools play a crucial role in the sculpting process. The Clay Tools Kit boasts high-quality metal heads, wooden handles, and plastic components. This combination suggests that the tools are not only sturdy but also capable of providing the precision required for intricate sculpting work. As a result of using this product, I have found that the tools are comfortable to hold, well-balanced, and capable of withstanding the pressures of sculpting without breaking or bending easily.
Complete Set for Convenience
The package comes with an assortment of 25 tools that cater to different aspects of clay sculpting. This comprehensive collection, which includes wooden and rubber styluses, plastic styluses, pottery sponges, and more, is not only perfect for beginners looking to experiment with different techniques but also a valuable asset for experienced artists seeking to expand their creative horizons. The inclusion of a black storage bag is an additional touch that helps keep the tools organized and easily accessible.
Great Gift Option
What caught my attention is the emphasis on this kit being an ideal gift option. This is an important aspect, especially for those who are looking for presents for friends, family members, or aspiring artists. The fact that the set is presented as suitable for various occasions, such as birthdays and holidays, showcases its potential as a thoughtful and creative gift choice.
The Ultimate Guide to Choosing the Best Polymer Clay Tools
As a result of my tests, I have determined that there are several crucial factors one must consider when deciding on the perfect polymer clay toolkit. Let's delve deep and unearth the aspects that truly matter.
1. Material Durability
The heart and soul of any tool lie
Performance: Opt for stainless steel or high-quality plastic tools. They often provide longevity and resist the corrosive nature of the clay.
2. Ergonomic Design
Hours of crafting require tools that are comfortable in the hand, preventing strains or discomfort.
Performance: Seek tools with cushioned or ergonomically designed handles. Your fingers will thank you for it.
3. Versatility
The burstiness of creative inspiration can lead to a multitude of design ideas. Tools that serve multiple purposes can be a real boon.
Performance: Dual-ended tools or sets that offer varied tips and functionalities are a win-win.
4. Precision & Detailing
The beauty of polymer clay artistry often lies in the intricacies. A tool that allows for fine detailing can set your creation apart.
Performance: Thin, pointed tools or those with delicate tips enhance detailing capabilities.
5. Portability & Storage
As every artist knows, organizing tools can be as essential as the tools themselves.
Performance: Look for sets that come with storage pouches or cases. The convenience of having all tools in one place, especially on the go, can be incredibly beneficial.
Essential Tools for Polymer Clay Mastery: Your Comprehensive Equipment Guide
| | |
| --- | --- |
| Equipment | Description |
| Polymer Clay | High-quality polymer clay in various colors. |
| Sculpting Tools | Set of tools for shaping, cutting, and detailing clay. |
| Roller or Clay Machine | Used to flatten and condition clay to an even thickness. |
| Work Surface | Non-stick surface to prevent clay from sticking while working. |
| Cutting Tools | Blades or cutters for creating clean edges and shapes. |
| Oven | To bake polymer clay according to manufacturer's instructions. |
| Sandpaper or Sanding Tools | For smoothing and finishing surfaces after baking. |
| Texture Tools | Stamps, texture sheets, or tools for adding designs. |
| Extruder | Tool to create consistent shapes and patterns. |
| Paints and Brushes | Optional for adding color and detail after baking. |
| Varnish or Sealant | To protect and give a polished finish to completed projects. |
| Workspace Lighting | Proper lighting to ensure accurate color perception. |
Exploring Top Polymer Clay Tool Manufacturers: Your Ultimate Resource Guide
Here are three links to some useful manufacturers' resources for the best polymer clay tools, along with my personal opinions on each:
Sculpey has been a reliable name in the polymer clay world for years, and its range of tools lives up to its reputation. From beginner to advanced tools, their website offers a variety of options. The "Polymer Clay Tools" section provides a comprehensive selection of tools for shaping, cutting, smoothing, and detailing your polymer clay projects. I find their tools to be of good quality and reasonably priced, making them a great choice for both newcomers and experienced artists.
Makin's Clay offers a unique collection of polymer clay tools that cater to different crafting needs. What I love about their tools is the innovation they bring to the table. Their collection includes items like texture sheets, extruders, and cutters that often come with creative patterns and designs. The "Tools & Accessories" section on their website showcases their inventive tools that can add intricate textures and patterns to your projects. If you're looking to take your polymer clay creations to the next level, Makin's Clay Tools could be a fantastic addition to your toolbox.
Amaco – Polymer Clay Tools
Amaco offers a diverse range of tools designed to enhance your polymer clay crafting experience. Their tools are known for their durability and versatility. What sets Amaco apart is its dedication to providing tools that cater to a wide range of artistic styles. From traditional sculpting tools to unique implements like rollers and stamps, their "Polymer Clay Tools" collection on their website covers a broad spectrum of options. I've found Amaco's tools to be reliable and well-crafted, making them a go-to choice for various polymer clay projects.
Frequently Asked Questions (FAQ) – Best Polymer Clay Tools
Can I use regular kitchen utensils as polymer clay tools?
While some kitchen utensils can be repurposed for polymer clay work, it's recommended to invest in proper polymer clay tools. Regular utensils might not be suitable for clay and could lead to cross-contamination.
How do I maintain my polymer clay tools for longevity?
Clean your tools after each use to prevent clay buildup. Store them properly to avoid bending or breaking. For metal tools, a light coat of mineral oil can prevent rust. Follow manufacturer guidelines for maintenance.
Is a pasta machine necessary for working with polymer clay?
While not strictly necessary, a pasta machine or clay conditioning machine is highly recommended. It ensures consistent clay thickness and saves time in conditioning the clay.
Can I bake polymer clay in a regular home oven?
Yes, you can. Use a dedicated oven thermometer to monitor the temperature accuracy of your home oven. Polymer clay bakes at relatively low temperatures (usually between 230°F to 275°F or 110°C to 135°C) to avoid burning.
What's the purpose of texture tools in polymer clay crafting?
Texture tools, like stamps and texture sheets, add depth and intricate designs to your clay projects. They can simulate the appearance of various textures like wood grain, fabric patterns, and more.
What's the role of an extruder in polymer clay work?
An extruder is a tool used to create uniform strings or shapes of clay. It's especially useful for making consistent designs, ropes, and detailed patterns.