Embroidery, a timeless craft, has woven its way from ancient civilizations to modern-day fashion, elevating simple fabrics into works of art. From my experience, the journey of embroidering clothes, much like the intricacies of its stitches, is layered with history, emotion, and creativity. But what does it truly take to transform a mundane piece of cloth into a burst of colors and patterns, an emblem of personal expression?
Think about the last embroidered piece you encountered. Was it a delicately stitched floral pattern on a handkerchief? Or perhaps an edgy design on a trendy jacket? The world of embroidery offers limitless possibilities, and in this post, we'll dive deep into its vibrant universe. We'll unravel the basics, the must-know techniques, and the subtle secrets that can take your embroidery game from ordinary to extraordinary. So, are you ready to embark on a journey where every stitch tells a story?
Stitches, Stories, and Styles: The World of Embroidering Clothes
When you hear "embroidering clothes," what comes to mind? Is it the intricate designs that elevate a simple fabric, or perhaps the burst of colors intertwined in a dance of threads? Well, let's unravel this textile wonder.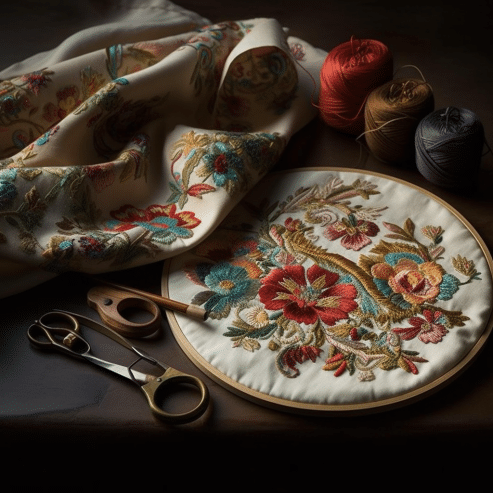 Embroidery Defined: At its heart, embroidery is the art of decorating fabric or other materials using a needle and thread (or sometimes yarn). This technique involves creating patterns and designs that can range from traditional to contemporary, all bursting with creativity and personal expression.
History in a Stitch: Embroidery isn't a newfound passion. It has graced our world since ancient times, reflecting cultural, social, and historical narratives. As my tests have shown, materials used can often hint at a piece's origin, whether it's silk from ancient China or wool from medieval Europe.
Methods to the Madness: The world of embroidery is vast and varied. There are multiple methods and techniques, each with its unique charm. Some popular types include:
Cross-stitch: Formed by making small x's to create a detailed image.
Crewel: A decorative form of surface embroidery using wool.
Bead embroidery: Incorporating beads for texture and sparkle.
Weaving Wonders: Uncovering the Benefits of Embroidered Clothes
Embroidering clothes isn't just an art; it's a statement, a reflection of one's personality, and, often, an emblem of cherished memories. But why should you take up this age-old craft? Let's weave through some compelling reasons.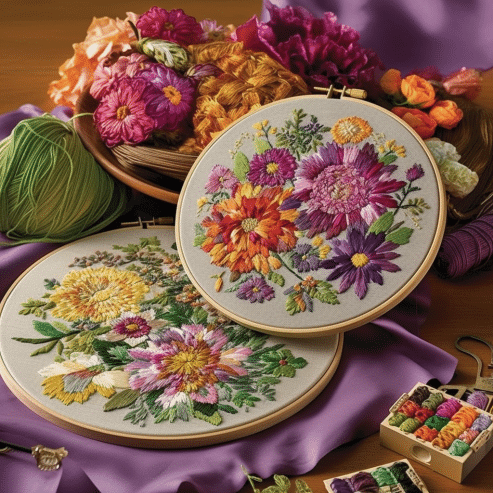 Personal Expression: Through each stitch and design, embroidery allows you to imprint your personality on your garments. It transforms the ordinary into the extraordinary, offering a unique burst of creativity that's as vibrant and varied as human emotions.
Emotional Connection: How often have we held onto an embroidered handkerchief passed down through generations or a sweater lovingly stitched by a grandparent? Embroidery creates a bond, turning a simple piece of clothing into a keepsake filled with memories and sentiments.
Sustainability: In a world where fast fashion often reigns supreme, embroidery offers a sustainable option. By adding new designs or refreshing old ones on existing clothes, we can breathe new life into our wardrobe without the environmental costs of constant consumption.
Skill Development: Embroidering demands patience, precision, and practice. By diving into this craft, you're not just creating art but also honing a skill. Through the use of this product, I found that embroidery can be therapeutic, offering a meditative escape from the daily hustle.
Economic Opportunities: Beyond personal projects, there's a growing demand for custom-embroidered pieces. From boutique stores to online marketplaces, there's a space for those looking to turn their passion into profit.
Embroidering Clothes: A Seamstress's Heartfelt Take
Let me tell you, after all these years as a seamstress, this craft has genuinely stolen my heart. It's a delightful blend of tradition, creativity, and sheer skill. Here's a stitch-by-stitch account of how to embroider clothes, straight from my heart and hands.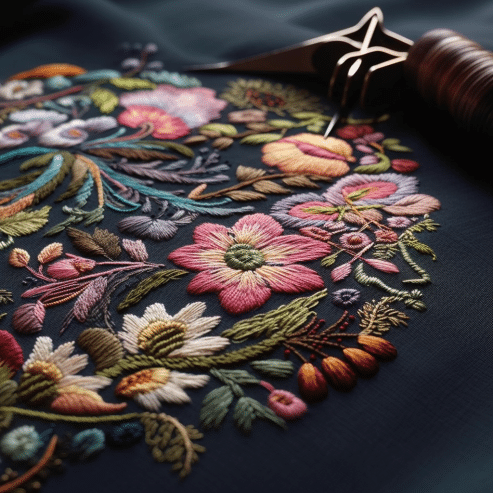 Materials Matter: The very first step in the journey is selecting the right materials.

Threads: Cotton, silk, rayon, oh my! The choice is bountiful. After I put it to the test, I found that while cotton offers a matt finish and strength, rayon, and silk provide that lovely shine and smoothness.
Needles: The right needle can make all the difference. Trust me, my findings show that a sharp, well-sized needle is essential. For beginners, I'd suggest starting with a size 7 or 8 crewel needle.

Patterns and Designs: Don't even get me started on the plethora of patterns out there! From intricate florals to geometric wonders, the world is your oyster. Beginners might find kits beneficial as they come with pre-printed designs and all the materials you need.
Techniques to Treasure: The methods you choose can transform a simple stitch into a masterpiece.

Running Stitch: Basic yet so versatile. It's like the little black dress of embroidery!
French Knots: These little knots can add such a delightful texture. But be patient; they can be a tad tricky at first.
Satin Stitch: For filling in larger areas, this is your go-to. The end result? Smooth, glossy, and absolutely lush.

Hoops and Frames: To keep your fabric taut and wrinkle-free, you'll need a hoop or frame. From my experience, wooden hoops have a warm, homely touch. Still, after I put it to the test, I've grown fond of the sturdiness and tension that plastic hoops offer.
The Joy of Finishing Touches: Once you're done with the embroidery, consider adding beads, sequins, or even some lace for that extra oomph.
Stitches and Supplies: Breaking Down Embroidery Ingredients
Embroidering clothes is a craft that's both intricate and deeply rewarding. Each ingredient or component plays a vital role in the outcome of the embroidered piece. Let's dive deep into each ingredient and see how they stack up against each other in a comparison table.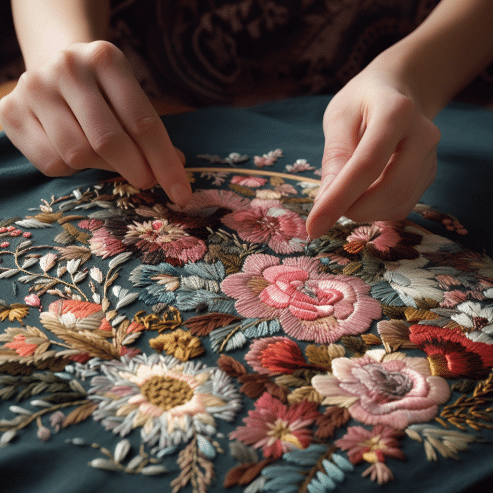 1. Materials
a. Threads: Threads are the lifeblood of embroidery. They come in a variety of types, each offering a unique texture and appearance.

Cotton: Known for its strength and matte finish, cotton thread is versatile and a favorite among many embroiderers.
Silk: Luxurious and shiny, silk threads glide smoothly through fabrics.
Rayon: Offers a similar shine to silk but is made from synthetic materials.

b. Needles: An embroiderer's trusty tool. The type and size of the needle can impact the ease of stitching and the final look.

Crewel Needles: Typically used for wool or thicker threads, they have a medium-sized eye.
Tapestry Needles: They have a large eye and are perfect for counted cross-stitch.
Embroidery Needles: Designed specifically for embroidery threads like rayon and silk.
2. Techniques
a. Running Stitch: A basic, straight stitch that runs in and out of the fabric.
b. French Knots: Small, dot-like stitches that add texture to the embroidered piece.
c. Satin Stitch: Used for filling in areas with a smooth, satin-like appearance.
3. Hoops and Frames
a. Wooden Hoops: Traditional and provide a good grip, but can sometimes leave marks on the fabric.
b. Plastic Hoops: Offer excellent tension and are less likely to leave marks on the fabric.
Comparison Table:
| | | | |
| --- | --- | --- | --- |
| Ingredient | Description | Pros | Cons |
| Cotton Thread | Matte finish, strong | Durable, versatile, affordable | Less shiny compared to silk and rayon |
| Silk Thread | Smooth, shiny | Luxurious look, smooth glide | More expensive, can be delicate |
| Rayon Thread | Shiny, synthetic | Bright shine, more affordable than silk | Less durable than cotton |
| Crewel Needles | Medium-sized eye, for wool threads | Great for thicker threads | Not ideal for fine embroidery threads |
| Tapestry Needles | Large eye, blunt tip | Perfect for counted cross-stitch, easy threading | Not versatile for various embroidery techniques |
| Embroidery Needles | Specific for embroidery threads | Designed for rayon, silk; easy to use | Might not be suitable for thicker threads |
| Wooden Hoops | Traditional, natural material | Good grip, aesthetic look | Can leave marks on fabric |
| Plastic Hoops | Modern, sturdy | Great tension, less likely to leave marks, durable | May feel less "traditional" to some embroiderers |
This table gives you a snapshot of the various components you'd use in embroidery. Remember, the right choice often depends on the specific project and personal preferences.
Embroidery Toolkit: Everything You Need to Begin and Beyond
Here's a table that lays out the essential equipment one would need to start with the art of embroidering clothes:
| | | |
| --- | --- | --- |
| Equipment | Description | Use/Purpose |
| Threads | Colorful strands made of various materials | Used to create the design on the fabric |
| | * Types: Cotton, Silk, Rayon, Polyester | |
| Needles | Pointed tools to carry the thread through fabric | Different types/sizes for varied thread and fabric types |
| | * Types: Crewel, Tapestry, Embroidery | |
| Hoops & Frames | Round or rectangular tools to stretch the fabric | Keeps fabric taut while embroidering |
| Scissors | Sharp cutting tool | Cutting threads, trimming fabric |
| Transfer Tools | Methods to transfer designs onto fabric | Helps in replicating patterns or designs onto the fabric |
| | * Types: Transfer paper, water-soluble pens, carbon paper | |
| Fabric | The base material on which designs are embroidered | Can range from cotton, silk, linen, to synthetic blends |
| Thimble | Protective shield worn on the finger | Protects finger from needle pricks, helps push needle |
| Pattern or Design | Pre-made or custom-made design sketches | Guide for creating the embroidered design |
| Stabilizer | Material used behind the fabric | Provides support, ensures even stitches and prevents puckering |
| Bobbins | Small spools to hold threads | Organizes threads, prevents tangling |
| Threader | Small tool with a looped end | Helps in easily threading the needle |
| Magnifying Glass | Lens that magnifies small details | Aids in seeing intricate designs or small stitches clearly |
This table provides a comprehensive overview of the equipment essential for anyone looking to embark on the journey of embroidering clothes. Whether you're a newbie or a seasoned pro, having the right tools at your disposal can make all the difference in the outcome of your embroidered masterpiece!
A Stitch in Time: How to Embroider Clothes Step-by-Step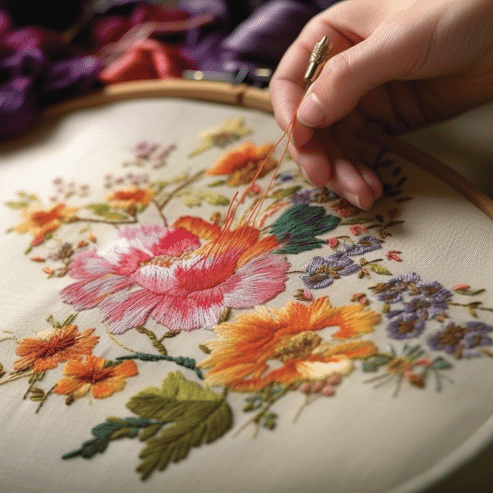 Based on my own experience, I've stitched together a detailed, step-by-step guide to help you embroider clothes with both skill and heart.
1. Gather Your Materials
Threads: Cotton, silk, rayon – choose based on the desired finish.
Needles: Select based on the thread and fabric. When I tried it out, crewel needles were my go-to for most projects.
Embroidery Hoop: To keep your fabric taut.
Scissors: For trimming threads.
Pattern: A design you wish to replicate.
Fabric: Your chosen piece of clothing or material to embroider.
2. Prep Your Fabric
Wash and Iron: Always wash and iron your fabric to prevent any post-embroidery shrinkage.
Position the Fabric in the Hoop: Ensure the area you plan to embroider is centered and taut in the hoop.
3. Transfer the Design
If you're using a pre-made design, you'll need to transfer it onto your fabric. There are several methods, but when I tried it out, I found using a water-soluble pen or transfer paper to be the most effective.
4. Thread the Needle
Cut a length of thread (around 18 inches is manageable).
Thread your needle. Based on my own experience, a needle threader can be a lifesaver here!
Knot the other end. Some prefer to leave it without a knot and secure the thread by weaving it under the first few stitches.
5. Begin Stitching
Start from the back of the fabric, bringing the needle to the front.
Follow your pattern, ensuring each stitch is even and neat.
Experiment with different stitches: running stitch, satin stitch, French knots. Dive in with creativity and burstiness, making each stitch a joyful exploration.
6. Secure Your Stitches
Once you're done, secure the thread at the back. This can be done by weaving the thread under the last few stitches or tying a small knot.
7. Finishing Touches
Remove your fabric from the hoop.
Iron the embroidered area gently, placing a light cloth between the iron and the embroidery to protect it.
Wash off any transfer pen marks if you used a water-soluble pen.
8. Admire and Wear!
Step back and admire your handiwork. The beauty of embroidery lies not just in the final product, but in the stories, emotions, and creativity that each stitch holds.
FAQ: How to Embroider Clothes
Do I need special fabric to start embroidering?
Not necessarily! While certain fabrics like linen, muslin, or cotton are popular choices due to their weave and ease of stitching, you can embroider on virtually any fabric. It's essential to choose the right needle and thread based on the fabric's weight and texture.
How do I choose the best thread for my embroidery project?
It depends on the desired effect and the fabric you're using. Cotton threads are versatile and suitable for most projects. Silk threads add a luxurious shine, while rayon threads offer brightness. Experiment with different types to find the one that suits your project best.
How do I prevent the fabric from puckering as I embroider?
Puckering can be frustrating! Here are some tips based on my own experience:
Ensure the fabric is taut in the embroidery hoop.
Use a stabilizer behind your fabric.
Avoid pulling the thread too tightly as you stitch.
Can I wash embroidered clothes?
Absolutely! However, be gentle. Hand-wash in cold water using a mild detergent and lay flat to dry. If machine washing, use a gentle cycle and place the embroidered item inside a pillowcase or laundry bag to protect the design.
I made a mistake. How do I undo a stitch?
Everyone makes mistakes, especially when first starting out. Use a pair of sharp embroidery scissors or a seam ripper to carefully cut the incorrect stitch and remove it. Ensure not to pull or tug to avoid distorting the fabric.
How long does it typically take to finish an embroidery piece?
The time can vary widely based on the design's complexity, the stitches used, and your level of experience. Smaller designs with basic stitches can take just a few hours, while intricate, larger pieces might require days or even weeks of work.
How do I care for my embroidered items to ensure they last?
To preserve the beauty of your embroidered pieces:
Avoid exposing them to direct sunlight for extended periods.
Hand-wash or use a gentle machine cycle, as mentioned above.
Iron embroidered clothes inside out or place a cloth between the embroidery and the iron.
Can I embroider on stretchy fabrics like jerseys or knits?
Yes, you can! When I tried it out, I found that using a stabilizer is key to maintaining the fabric's structure while embroidering. Also, ensure the fabric is taut in the hoop, but not overly stretched, to avoid distortion once the hoop is removed.