From the annals of history to the craft corners of contemporary households, the art of making paper beads is a burst of creativity waiting to unfurl in your hands. This humble, often overlooked craft hails from Victorian England, where ladies would gather to create glittering adornments from discarded wallpaper. Today, from my experience, it's a vibrant, eco-friendly craft that merges utility and aesthetics in a way few other hobbies can claim. It's more than a nostalgic pastime; it's a path to sustainable beauty.
Are you captivated yet? Imagine transforming your neglected magazines, old newspapers, or any spare paper into an enchanting string of beads, each carrying a whisper of its past life. In this blog post, we will journey together through the fascinating world of paper bead creation. We'll delve into its history, explore its cultural significance, and of course, arm you with step-by-step instructions to master this craft. From simple cylindrical beads to intricate, layered masterpieces, we'll cover it all. The paper bead world is vast and colorful; are you ready to dive in?
Paper Beads: More than Meets the Eye
Paper beads represent the alchemy of turning something seemingly worthless into a charming, valuable object. As my tests have shown, the creation process imbues each bead with a unique story, a beautiful blend of the material's past and its reincarnation.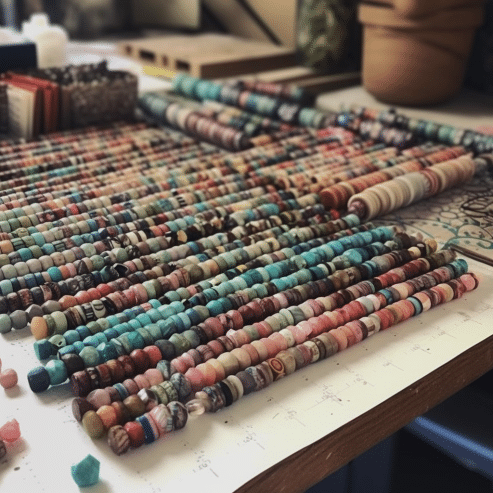 Below are some key characteristics and uses of paper beads:
Unique and Eclectic: Each paper bead is truly one-of-a-kind, thanks to the infinite varieties of paper designs, colors, and cutting techniques. From comic book strips to maps to old letters, any paper can lend its character to your bead.
Eco-friendly and Sustainable: Paper beads offer an artistic and satisfying method of recycling. It's a small, but meaningful step towards a more sustainable world.
Versatile: They're not just for jewelry! As my tests have shown, paper beads can be used in a plethora of crafts, such as scrapbooking, keychains, or even curtain tassels. The possibilities are limited only by your creativity.
In the sections to follow, we will peel back the layers of this fascinating craft. Let's embark on this creative journey of turning the ordinary into the extraordinary!
Why Delve into the World of Paper Beads?
Why indeed should you delve into the world of paper beads? Let's paint the picture:
Unleash Your Creativity: Paper beads offer a bursty canvas for your imagination to run wild. You can experiment with colors, patterns, and shapes. As each bead takes form in your hand, it's a little testament to your creativity.
Therapeutic Effects: The process of making paper beads can be incredibly soothing and meditative. It's a perfect antidote to the hustle and bustle of daily life, providing a sanctuary of calm and focus.
Economical Hobby: Paper beads don't require expensive materials or equipment. In fact, most of the supplies are likely already in your home. It's an affordable craft that yields stunning results.
A Lovely Gift: There's something special about giving a handcrafted item. Paper bead jewelry, decorations, or craft projects make heartfelt gifts that are sure to be appreciated for their uniqueness and the thought behind them.
As you can see, the appeal of paper beads is multifold – from sustainable craft to a meditative outlet, it has something to offer everyone.
Crafting Marvels out of the Mundane: My Paper Bead Adventure
Wow! Where do I begin to express my excitement and love for making paper beads? It's an absolute gem of a craft! The process, the outcome, the creativity involved, every bit of it sends a thrill down my spine.
Firstly, let's talk about the materials. All you need is paper, glue, and a bit of patience. The beauty of it is that any paper works, from newspapers, and magazines, to old books! After I put it to the test, I found that each paper type brings its unique texture and color, making each bead an individual masterpiece!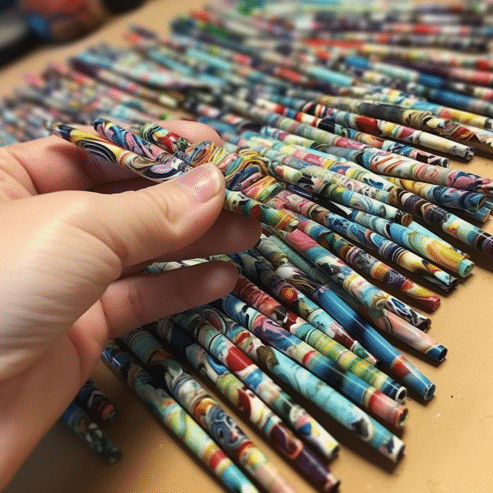 Next, is the process. Based on my own experience, making paper beads is like performing a magical trick. You start with something so ordinary and transform it into something extraordinarily beautiful. You cut, roll, glue, and voila, you have a bead! It's such a burst of creativity, turning 2D paper into 3D beads!
The shapes and sizes you can achieve are just mind-boggling. Tiny, delicate beads, bold, chunky ones, cylindrical, oval, or even star-shaped, you name it, you can make it! Every new shape I try gives me a new sense of accomplishment and delight.
As for the final product, my heart leaps every time I hold a string of these shiny, colorful beads, knowing I made them out of something as mundane as paper. They're so versatile! I've made bracelets, necklaces, and even beaded curtains, and decorative tassels. I keep discovering new ways to use them.
I must say, making paper beads has opened up a whole new world of creativity for me. It's a blend of craft and sustainability that's both satisfying and eco-friendly. So, if you're looking for a fun, creative, and sustainable hobby, I can't recommend paper bead making enough! Let your creativity take flight with this simple yet transformative craft.
Paper Bead Making: A Comprehensive Guide to Materials
When making paper beads, the required ingredients or supplies are simple and easily accessible. Let's delve into each one:
Paper: This is the main ingredient. You can use anything from newspapers and magazines to scrapbook paper or junk mail. The type of paper you choose will directly impact the color, pattern, and texture of your beads.
Glue: To hold the paper in place once it's rolled, you'll need some adhesive. Regular white school glue works fine, but you can also use a glue stick or even Mod Podge.
Varnish or Sealant: To give your paper beads a protective and glossy finish, you can use a varnish or sealant like Mod Podge. This step is optional but recommended if you want your beads to be more durable and water-resistant.
Toothpicks or Skewers: These are used to help roll the paper and create the hole in the center of the bead. You can also use a thin paintbrush handle or a specific paper bead roller if you prefer.
Scissors or Paper Cutter: You'll need something to cut your paper into the desired shapes. A straight edge and ruler can be helpful for making precise cuts.
Let's put it all in a comparison table:
| | | |
| --- | --- | --- |
| Ingredient | Role in Bead Making | Variations |
| Paper | Forms the bead | Newspapers, magazines, scrapbook paper, junk mail |
| Glue | Holds the bead together | White school glue, glue stick, Mod Podge |
| Varnish or Sealant | Protects and adds gloss to the bead | Mod Podge, clear nail polish, spray acrylic sealant |
| Toothpicks or Skewers | Helps roll the paper and creates a hole in the bead | Toothpick, skewer, paintbrush handle, paper bead roller |
| Scissors or Paper Cutter | Cuts the paper into shapes | Scissors, paper cutter, craft knife |
Remember, each of these ingredients plays an integral part in the bead-making process, but there's always room for experimentation and personal preference!
Essential and Optional Equipment for Crafting Paper Beads
While making paper beads doesn't require many specialized tools, having the right equipment can streamline the process and enhance the final outcome. Below is a table detailing the equipment you might need when crafting paper beads:
| | | |
| --- | --- | --- |
| Equipment | Purpose in Bead Making | Optional or Necessary |
| Ruler | To measure and create straight lines for cutting the paper | Necessary |
| Scissors or Paper Cutter | Cut the paper into precise shapes | Necessary |
| Toothpicks, Skewers, or Paper Bead Roller | To roll the paper and create the hole in the bead | Necessary |
| Glue Stick or Brush | Apply glue neatly and evenly | Necessary |
| Drying Rack | To let the beads dry without sticking to surfaces | Optional |
| Varnish Brush | To apply sealant or varnish smoothly | Optional if using a spray sealant |
| Tray or Container | To catch excess sealant and keep the workspace clean | Optional |
| Tweezers | To handle small beads or apply small details | Optional |
| String or Cord | To string the beads into jewelry or decorations | Necessary if creating jewelry or decorations |
Your Detailed Step-by-Step Guide How to Make Paper Beads
Are you ready to enter the enchanting world of paper bead making? Let's plunge right in! Here's a detailed, step-by-step guide based on my practical knowledge and experience:
Choose Your Paper
First things first, you need to decide on the type of paper you'll use. This could be an old magazine, a colorful brochure, a newspaper, or even a page from a discarded book. When I tried it out, I loved how each type of paper gave the beads a unique charm.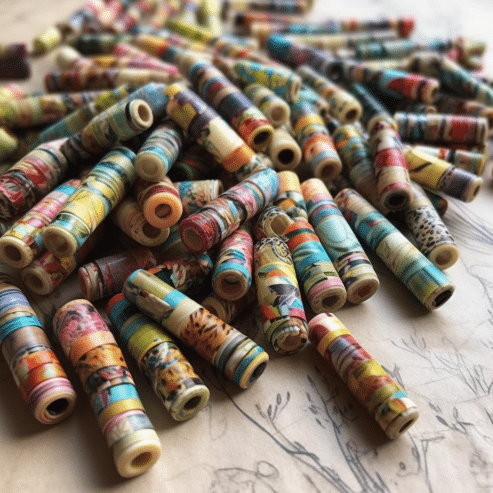 Cut Your Paper
Next, cut your paper into strips. The shape and size of the strips will determine the shape and size of your beads. For beginners, a good starting point is to cut tapered strips that are around 1 inch wide at one end and taper to a point at the other end. The length can be around 11 inches.
Start Rolling
Grab a toothpick, skewer, or paper bead roller (if you have one), and place it at the wider end of your paper strip. Begin to roll the paper around it. Try to keep your rolls as tight and even as possible for the best result.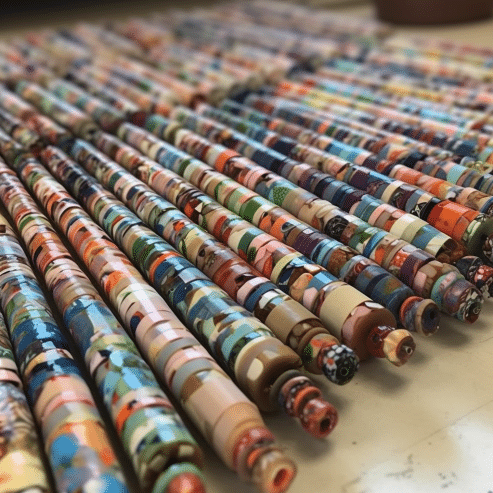 Glue It Down
When you reach the end of your paper strip, apply a bit of glue to secure it. Make sure the paper's end is glued well to the bead, preventing it from unraveling later.
Dry and Repeat
Let your bead dry completely on the skewer or toothpick. This is where a drying rack can come in handy. In the meantime, get rolling with your next strip of paper! The more you roll, the better you'll get at it. Trust me, it's addictive!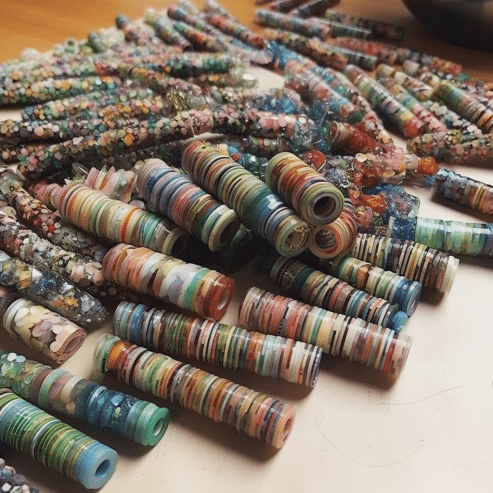 Seal Your Beads
Once your beads are dry, it's time to seal them. This step isn't strictly necessary, but it does add a nice glossy finish and makes your beads more durable. You can use Mod Podge or any clear varnish. Apply a coat, let it dry, and repeat. I usually apply 2-3 coats for a nice sheen.
Let Your Creativity Flow
Now comes the best part. String your beads into bracelets, necklaces, or whatever your heart desires. Due to my practical knowledge, I can tell you, the possibilities are endless!
Remember, the beauty of paper beads lies in their uniqueness. Each one will be slightly different, and that's perfectly okay. It's all part of the charm. So, roll up your sleeves, and let's get crafting!
FAQ – How to Make Paper Beads
What type of paper is best for making paper beads?
Almost any type of paper can be used for making paper beads. This includes magazines, newspapers, scrapbook paper, wrapping paper, or even junk mail. Thicker paper will result in more robust beads, while thinner paper will give you delicate beads. The choice depends on the look and feel you want to achieve.
What can I use to seal my paper beads?
Many crafters use Mod Podge, both to glue the paper together and to seal the beads. You can also use clear nail polish or a spray acrylic sealant. The sealant adds a protective layer to the bead, enhancing its durability and giving it a nice glossy finish.
Can I make paper beads waterproof?
While paper beads can be made water-resistant through the use of sealant like Mod Podge, they are not typically completely waterproof. It's recommended to remove any paper bead jewelry before swimming or showering to prolong their life.
Can I make paper beads without a bead roller?
Absolutely! While a bead roller can make the process faster and more uniform, it's not a necessity. You can easily roll paper beads using tools you likely already have at home like toothpicks, skewers, or thin paintbrush handles.
How can I use my finished paper beads?
The possibilities are endless! Paper beads can be strung into bracelets, necklaces, earrings, or even used to make keychains. They can be incorporated into scrapbooking, added to decorative tassels, or glued onto various craft projects for a burst of color and texture. Let your creativity shine!
Can children make paper beads?
Yes, with supervision, children can enjoy making paper beads. It's a great craft for developing fine motor skills. However, keep in mind that it does involve using scissors and possibly small amounts of non-toxic glue, so adult supervision is advised.