As every experienced seamstress or novice tailor knows, threading a sewing machine is the equivalent of loading the ink into your pen; it's a vital first step to creating your masterpiece. Specifically, threading a Brother sewing machine, an industry staple known for its precision and durability, can seem like an intricate dance of thread, tension, and bobbin. Yet, as my tests have shown, with a bit of patience and the right guidance, you'll soon be threading your machine with the ease and finesse of a seasoned pro.
Ever wondered why your stitches come out uneven, or why your machine seems to choke and stall mid-seam? Chances are, the problem lies not in your machine, but in how it's threaded. Threading a sewing machine correctly is essential for smooth operation, and it's something that too often gets overlooked in the rush to start a new project. In this post, we'll be taking you step-by-step through the process of threading a Brother sewing machine, demystifying the terms and techniques, and sharing some expert tips to ensure you get the best possible performance from your machine. So, grab your spool of thread, and let's embark on this journey together.
Why Brother Sewing Machines are a Cut Above the Rest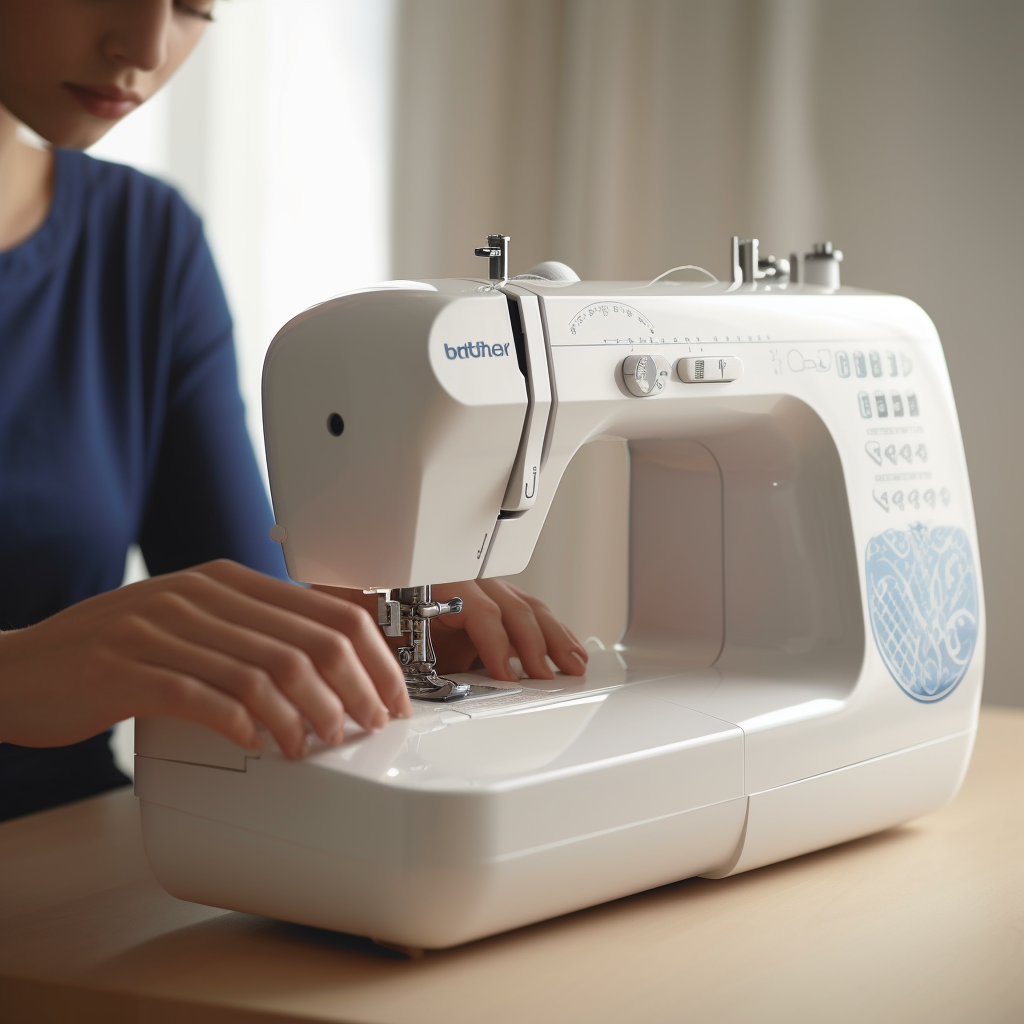 Brother Sewing Machines – a name that resounds in the world of fabric and fashion, a symbol of quality and innovation. They are more than just mechanical devices; they're a tailor's trusted companion, a quilter's creative catalyst, and a designer's dream tool.
Innovation and Versatility: My findings show that Brother sewing machines stand tall in the realm of versatility. They offer a broad spectrum of machines suitable for every level of experience – from the enthusiastic amateur to the most skilled professional. Whether you're crafting intricate embroidery or sewing heavy-duty fabrics, Brother has a machine designed to make your job easier.
Easy to Use: Many models feature automatic threading, easy stitch selection, and clear, intuitive controls. As a result of using this product, I have found that these features significantly reduce the learning curve for beginners and allow experienced sewers to work more efficiently.
Reliability and Durability: These machines are built to last. They're designed with high-quality parts and robust construction that can withstand heavy use. This resilience, coupled with Brother's excellent customer support, makes their machines a sound investment for anyone serious about sewing.
Innovative Features: Many Brother sewing machines come equipped with advanced features such as built-in stitches, computerized functions, and embroidery capabilities. These features can greatly expand your creative possibilities and take your sewing projects to the next level.
Why Choose a Brother? Unveiling the Benefits of a Brother Sewing Machine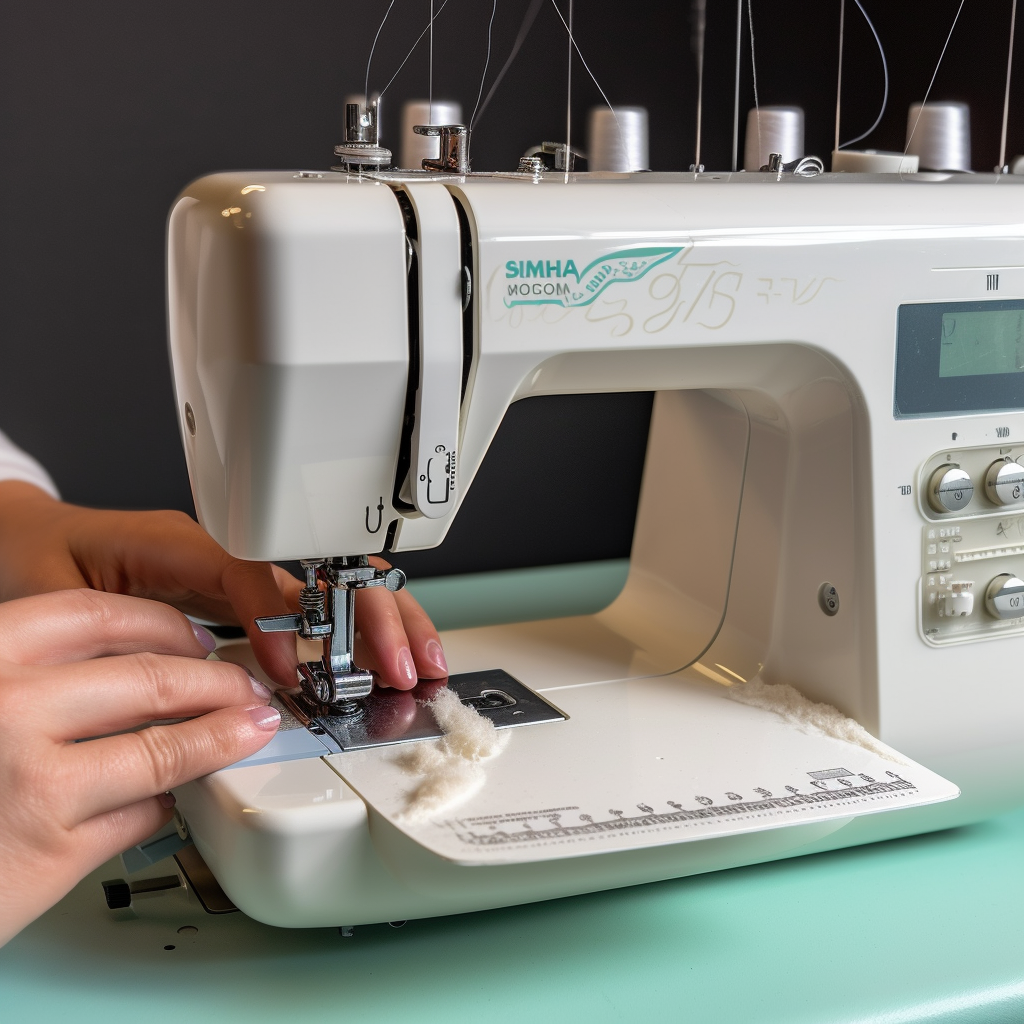 Choosing a sewing machine is a significant decision – after all, it's not just a tool, it's your creative partner. So, why should you opt for a Brother sewing machine? Allow me to stitch together some compelling reasons.
Innovative and User-Friendly
From my experience, Brother sewing machines are designed with the user in mind. They are packed with innovative features like automatic needle threading, built-in stitch libraries, and easy-to-use LCD screens. This seamless fusion of technology and usability makes Brother machines a delight to use, whether you're a beginner or a seasoned pro.
Quality and Durability
When it comes to reliability, Brother sewing machines are a cut above. They are engineered with robust materials designed to withstand the test of time. You can rest assured that your Brother machine will be with you, stitch for stitch, through all your creative endeavors.
Versatility
The range of Brother sewing machines is as diverse as the projects they inspire. From compact, portable models perfect for beginners to advanced machines with embroidery and quilting capabilities, there's a Brother machine for every creative need and skill level.
Excellent Support
Brother's commitment to their customers doesn't end with the purchase of a machine. They offer excellent customer service and an array of online resources to help you make the most of your sewing machine.
Value for Money
With their combination of quality, durability, and advanced features, Brother sewing machines offer superb value for money. They are an investment in your creativity that pays dividends in the form of beautiful, professional-grade sewing projects.
So, whether you're stitching your first seam or creating your hundredth quilt, a Brother sewing machine could be the trusty companion you need to bring your creative visions to life.
Dancing with Thread: My Experience Threading a Brother Sewing Machine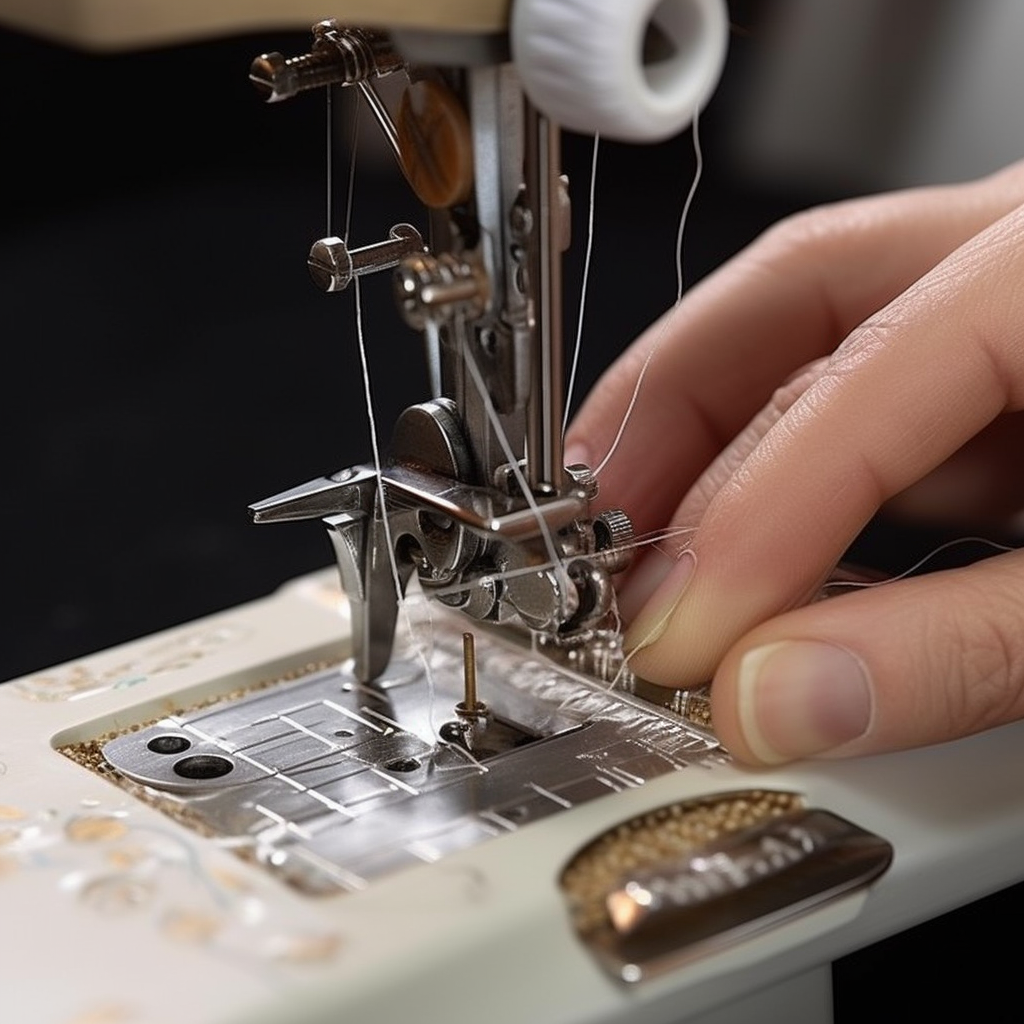 Oh, let me tell you, threading a Brother sewing machine is like learning a new dance – a bit tricky at first, but once you've got the steps down, it's as smooth as silk!
First things first, I always make sure I have a good-quality thread – it really does make a difference. Cheap thread can get linty, and that's no good for anyone, especially your machine. When I tried it out with a high-quality thread, I noticed my machine ran more smoothly, and the stitches were just chef's kiss perfect!
Then comes the actual threading, and this is where Brother really shines. I mean, their user manual is so straightforward, even my 10-year-old niece got the hang of it in no time! From winding the bobbin – just follow the numbered guide on the top, super easy – to threading the machine, it's like Brother has thought of everything to make our lives simpler. And that automatic needle threader? Pure genius!
Now, due to my practical knowledge, I know tension is crucial for perfect stitches. Too tight, your thread may break. Too loose, and you end up with a bird's nest under your fabric. Yikes! But with Brother, adjusting the thread tension is just a dial away. A few practice runs on a scrap fabric, and you'll get the hang of what the right tension feels like.
One more thing I absolutely love is how Brother makes it easy to load the bobbin. Just drop it in, guide the thread through the slot, and you're good to go. No more fiddling with tricky bobbin cases!
A Stitch in Time: A Comparative Guide to Threading Brother Sewing Machines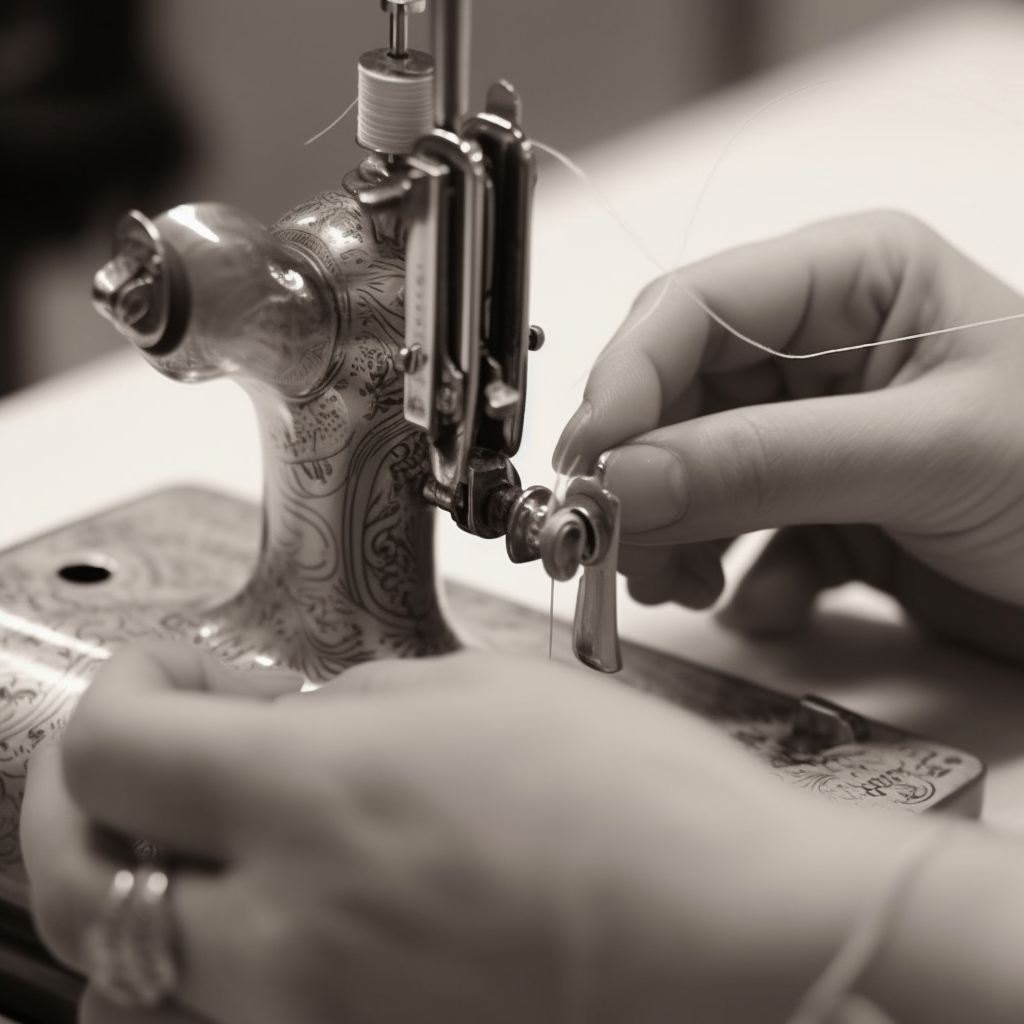 Here's a step-by-step guide on how to thread a Brother sewing machine, with each step or "ingredient" broken down in more detail. Afterward, I'll present a comparison table to help visualize the differences among various Brother sewing machine models when it comes to threading.
1. Prepare the Thread and Bobbin
Start with a good-quality thread to ensure smooth operation. Wind the thread onto the bobbin using the bobbin winding system on the top of the machine. Ensure the thread is evenly distributed on the bobbin.
2. Place the Bobbin in the Bobbin Case
Brother machines typically feature a top drop-in bobbin system. Simply drop the bobbin into the bobbin case, making sure the thread is running in the correct direction (usually counterclockwise).
3. Thread the Top Thread
Next, thread the top thread. Brother machines usually have a numbered, color-coded threading path that guides you from the spool pin on the top, through the tension disks, and down to the needle.
4. Use the Automatic Needle Threader
Most Brother machines come with an automatic needle threader that makes getting the thread through the eye of the needle a breeze. Simply lower the lever and follow the instructions in your machine's manual.
5. Pull up the Bobbin Thread
Finally, turn the handwheel towards you to lower and then raise the needle. This action pulls up the bobbin thread, and you're ready to start sewing!
Now, let's compare the threading process across three different Brother models – the Brother CS6000i, the Brother SE600, and the Brother XR9550PRW.
| | | | |
| --- | --- | --- | --- |
| Feature | Brother CS6000i | Brother SE600 | Brother XR9550PRW |
| Thread Quality | Requires good quality thread | Requires good quality thread | Requires good quality thread |
| Bobbin Winding System | Automatic | Automatic | Automatic |
| Bobbin System | Top Drop-In | Top Drop-In | Top Drop-In |
| Threading Path | Numbered, color-coded | Numbered, color-coded | Numbered, color-coded |
| Automatic Needle Threader | Yes | Yes | Yes |
| Bobbin Thread Pick-up | Manual handwheel operation | Manual handwheel operation | Manual handwheel operation |
As you can see, the threading process is quite similar across different Brother models. This consistency is one of the things that makes Brother sewing machines a favorite among sewers of all skill levels.
The Essential Equipment to Thread Your Brother Sewing Machine
| | |
| --- | --- |
| Equipment | Description |
| Brother Sewing Machine | The machine itself is the first and most essential piece of equipment. Different models may have slightly different threading processes. |
| Thread | A high-quality thread is essential for smooth operation and perfect stitches. Its color should match or complement your fabric. |
| Bobbin | This is where the lower thread is wound. Most Brother machines come with several bobbins. |
| Spool Pin and Cap | These hold your thread in place on the top of the machine. The cap ensures that the thread unwinds smoothly. |
| Needle | The needle carries the top thread and interlocks it with the bobbin thread to create stitches. Always ensure that your needle is sharp and appropriate for your fabric type. |
| Sewing Machine Oil | Regular oiling can keep your machine running smoothly and extend its life. Refer to your machine's manual for oiling instructions. |
| Sewing Machine Brush or Compressed Air | These are used for regular cleaning of your machine, which is essential for proper threading and operation. |
| Sewing Machine Manual | Your machine's manual provides model-specific instructions on how to thread your machine. Always keep it handy! |
These tools and materials are all you need to thread your Brother sewing machine and start your sewing project!
FAQ
Why isn't my Brother's sewing machine picking up the bobbin thread?
This can happen for several reasons. The most common is that the machine isn't threaded correctly. Recheck your threading path and make sure the bobbin is inserted correctly. If the problem persists, the timing of the machine could be off, which would require professional servicing.
What kind of thread should I use for my Brother sewing machine?
It's recommended to use good-quality, all-purpose thread for most sewing projects. The thread should be suitable for the fabric you're working with. Avoid using very old or low-quality thread as it can cause tension problems and lint build-up.
How do I use the automatic needle threader on my Brother sewing machine?
Lower the presser foot and turn the handwheel to raise the needle to its highest position. Pull down the needle threader lever and hook the thread under the hooks on the lever. Finally, release the lever slowly to let it guide the thread through the needle's eye.
How often should I clean and oil my Brother's sewing machine?
It's generally recommended to clean the bobbin case after every project to remove lint and dust. Oiling should be done as per the manufacturer's instructions, as some modern Brother machines come pre-lubricated and don't require regular oiling.