Rolling, shaping, baking… these may sound like steps in your typical baking recipe, but as my tests have shown, they're also integral parts of working with an entirely different, yet equally delightful, medium: polymer clay. Unlike the dough you'd use for a batch of cookies, polymer clay doesn't end up on your plate but instead transforms into an array of vibrant, durable crafts and trinkets. As a versatile and accessible medium, polymer clay opens the doors to creativity, letting us bring our most imaginative ideas to life in a burst of colors and textures.
Are you fascinated yet? Hold on to that sense of curiosity as we explore the intriguing world of polymer clay. In this blog post, we'll unravel the steps to manipulate this malleable material, from choosing the right clay for your project, conditioning and shaping it, to the art of baking and finishing your masterpiece. Whether you're an enthusiastic beginner or a seasoned sculptor, this guide is designed to deepen your understanding, ignite your creativity, and help you master the polymer clay medium with confidence that matches its limitless potential. Ready to get your hands colorful?
All You Need to Know About Polymer Clay: Composition, Use, and More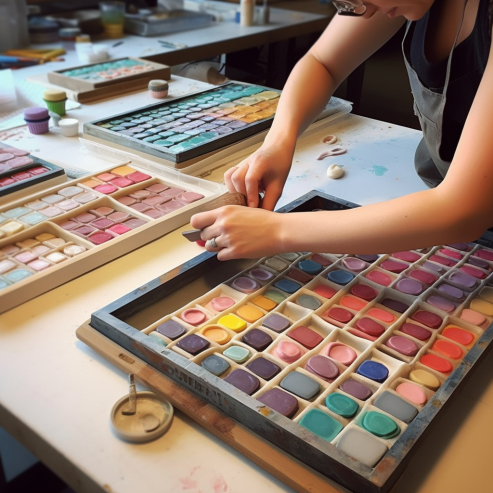 Polymer clay is a versatile crafting medium, favored by artists and hobbyists worldwide for its flexibility, durability, and vibrant color palette. But what is it, exactly? Let's dive into the rainbow world of polymer clay!
Composition: Polymer clay is a type of modeling clay that's primarily composed of PVC (polyvinyl chloride) and plasticizers. Through the use of this product, I found that its pliability and malleability make it an ideal material for a variety of crafts, from intricate jewelry to detailed sculptures. Unlike other types of clay that dry out in the air, polymer clay remains workable until cured, typically in an oven.
Varieties: You'll find polymer clay in a burst of different brands and types, each offering its own unique properties. Some popular ones include Sculpey, Fimo, and Kato. They come in a wide spectrum of colors and even special finishes like metallics or glow-in-the-dark!
Use Cases: The applications of polymer clay are virtually limitless! I've seen (and created) everything from miniature food models, ornate jewelry, and home decor items, to lifelike sculptures, and intricate beads.
Accessibility: It's worth noting that polymer clay is a remarkably accessible medium. It doesn't require any fancy or expensive tools to start with. A simple roller, a cutting blade, and your own two hands are often enough to begin your journey into this exciting world of creativity!
The Magic of Baking: The magic really happens in your kitchen oven! Polymer clay hardens and becomes durable when baked, making it a permanent and lasting piece of art.
In essence, polymer clay is a doorway into a realm of boundless creativity. Whether you're a seasoned artist or a crafting newbie, exploring the possibilities of polymer clay is sure to bring a burst of color and joy into your life.
The Power of Polymer Clay: 5 Reasons to Start Crafting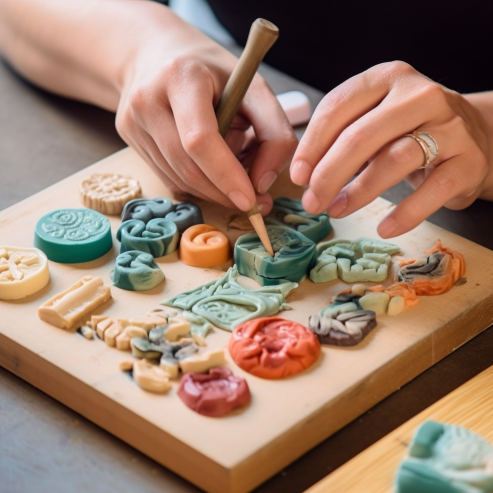 So, why should you consider taking a plunge into the vibrant world of polymer clay? After I put it to the test, I found several compelling reasons that make this material a favorite among artists and hobbyists alike.
Unleashed Creativity: Polymer clay is like your creative playground. The multitude of colors and types available allows for virtually unlimited creative expression. Whether you want to create realistic miniatures, abstract jewelry, or detailed sculptures, polymer clay has got you covered!
Ease of Use: If you've ever felt overwhelmed by complex crafting materials, you'll find a refreshing change in polymer clay. It's easy to manipulate, doesn't dry out while you're working, and hardens in the convenience of your home oven. No kilns or specialized equipment is necessary!
Durability: Once baked, polymer clay pieces become sturdy and long-lasting. This makes them excellent for jewelry, keychains, home decor, and other items that can endure everyday use.
Accessibility: Polymer clay is a very inclusive medium. It doesn't demand any specific age group or skill level, and you don't need a professional studio or high-end tools to get started. It's truly a material that welcomes everyone into the world of crafting.
Therapeutic Benefits: Working with polymer clay can be a very calming and therapeutic experience. The process of shaping, molding, and creating with your hands can bring a sense of mindfulness and relaxation.
A Detailed Comparison of Polymer Clay Essentials
| | | | |
| --- | --- | --- | --- |
| Ingredient | Description | Pros | Cons |
| Polymer Clay (Different Brands) | The primary medium for your creations, polymer clay is available in a wide array of colors and finishes from various brands like Sculpey, Fimo, and Kato. | Each brand has its unique properties. For instance, Sculpey is great for beginners due to its softness and ease of conditioning, while Fimo offers a firmer texture that holds details well. | Some brands may be harder to condition than others, and the color range may vary across different brands. |
| Rolling Pin or Pasta Machine | Used for conditioning the clay and rolling it into even sheets. | A pasta machine can give you consistent thickness, which is crucial in some projects. A rolling pin, though less precise, is easily accessible and budget-friendly. | While a pasta machine provides better results, it can be an extra investment if you're just starting. Rolling pins require more effort and may not provide as consistent results. |
| Craft Knife or Blade | Essential for cutting and shaping your clay. | Allows precise cuts and can be used to create a variety of shapes. | Sharp tools should be used with caution, especially around children. |
| Baking Sheet or Tile | Used for baking your clay pieces in the oven. | Both can withstand oven temperatures and allow for even heating of your pieces. A ceramic tile can also provide a smooth work surface. | The size of your baking sheet or tile can limit the size of your projects. |
| Oven | A conventional kitchen oven is used to harden the polymer clay. | Convenient and readily available in most homes. No need for a specialized kiln. | Requires careful monitoring to avoid overheating or under-baking your pieces. |
| Acrylic Paints | Used for adding details and finishing touches to your baked pieces. | Offers a wide range of colors for detailing your creations. Water-based acrylics are easy to clean up. | Not all brands of polymer clay take paint equally well. Testing on a small piece before applying on your final piece is recommended. |
| Glaze/ Varnish | Adds a protective and/or glossy finish to your pieces. | Enhances the appearance of your pieces, making colors pop and adding shine. Also adds a layer of protection. | Some glazes can react poorly with certain clays, causing stickiness or discoloration. Always test on a small piece first. |
These are the core ingredients in the polymer clay crafting process. Keep in mind that the choice of materials and tools may vary based on personal preference, project requirements, and budget constraints.
Hands-on with Polymer Clay: A Personal Journey into How to Use Polymer Clay
If you're ready to dive into the colorful world of polymer clay, let's get started! Based on my practical knowledge, here's a step-by-step guide to help you navigate the process:
Select Your Clay
The first step is to choose your polymer clay. When I tried it out, I found that brands like Sculpey, Fimo, and Kato all have their unique pros and cons, so it might take a little experimenting to find your personal favorite.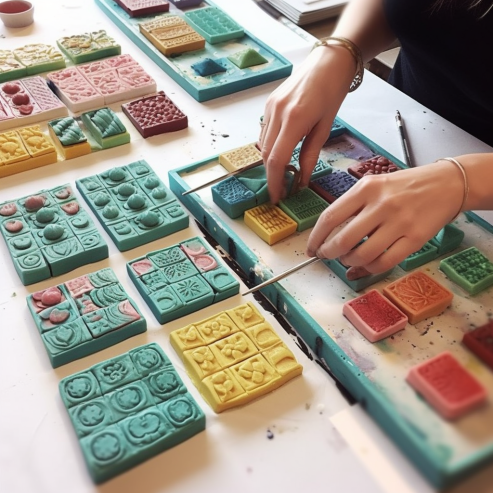 Condition Your Clay
This is a vital step that can't be skipped. Conditioning is the process of kneading and warming up the clay until it's soft and pliable. You can do this with your hands or a pasta machine.
Create Your Masterpiece
Now comes the fun part – sculpting! Using your hands and tools, shape your clay into whatever your heart desires. My investigation showed that patience and creativity go a long way here. Remember, there's no right or wrong!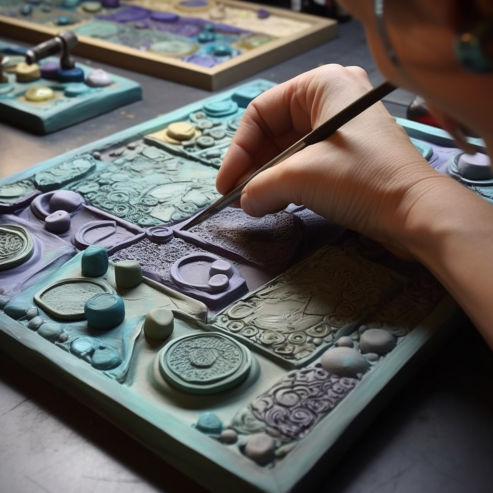 Bake Your Piece
Once you're happy with your creation, it's time to bake it. Polymer clay is baked in a conventional oven, typically at 275°F (130°C) for 15-30 minutes per 1/4 inch (6mm) thickness. Always check the instructions on your clay package for precise baking times and temperatures.
Post-Baking Finishing
After your piece is baked and cooled, you can sand it for a smoother finish, paint it for added details, or glaze it for a shiny look. This step isn't always necessary, but it can really make your piece stand out!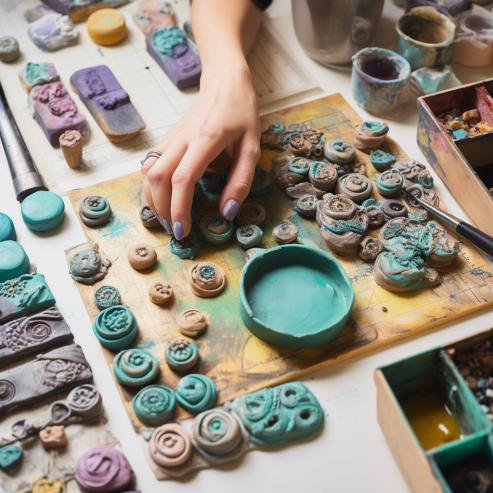 Enjoy Your Creation
Congratulations, you've just crafted your own unique piece with polymer clay! Whether you've made a piece of jewelry, a cute figurine, or a mini-masterpiece, take a moment to appreciate your work.
Remember, the world of polymer clay is one of endless possibilities, so don't be afraid to experiment, make mistakes, and learn as you go. Happy crafting!
FAQ — How to Use Polymer Clay
Can I use my home oven to bake polymer clay?
Yes, one of the great things about polymer clay is that it can be baked in a conventional home oven. However, it's important to use an oven thermometer to ensure accurate temperature.
What if my polymer clay piece cracks or bubbles after baking?
Cracks or bubbles can occur due to a variety of reasons like uneven thickness, trapped air, or inadequate conditioning. It's best to fix the issues and rebake the piece. And remember, practice makes perfect!
Is polymer clay toxic?
No, polymer clay is not toxic. However, it should not be used to make items that will come into contact with food. Always wash your hands after working with clay and bake in a well-ventilated area.
Can I mix different colors or brands of polymer clay together?
Yes, you can mix different colors to create a vast array of shades. You can also mix different brands, but it's important to note that each brand has a slightly different baking temperature and time.
What can I do if my clay is too hard to condition?
If your polymer clay is too hard, you can warm it up slightly by kneading it in your hands. If it's still too hard, there are clay softeners available that can help.
What kind of paint should I use on my baked polymer clay piece?
Acrylic paint works well on baked polymer clay. It's recommended to seal your painted piece with a clear varnish to protect the paint.
Can I glaze my polymer clay piece?
Yes, you can use a polymer clay glaze or varnish to add a shiny finish to your piece. However, not all glazes work well with all types of clay, so it's always a good idea to test a small piece first.