Felt, that soft and versatile fabric we've all come across at some point in our lives, is widely used for a myriad of purposes – from arts and crafts projects to clothing and home decor. But have you ever stopped to consider how to properly clean and maintain your felt items? If you're like most people, you probably haven't given it much thought, until now. According to my experience, knowing the ins and outs of felt care is essential to prolonging the life and appearance of your cherished felt possessions. So, how do we keep our felt items looking fresh and vibrant? That's the question we'll be exploring in this blog post.
In the following sections, we will delve into the best practices for cleaning and maintaining different types of felt, from synthetic to wool, while addressing the unique challenges posed by each. We'll also discuss some common misconceptions and pitfalls to avoid when it comes to felt care. With the right knowledge and a few simple tools, you'll be well on your way to preserving the beauty and functionality of your felt items for years to come. So, let's embark on this fuzzy journey together and unravel the secrets of felt cleaning and care!
Felt: The Magical Fabric That Stands the Test of Time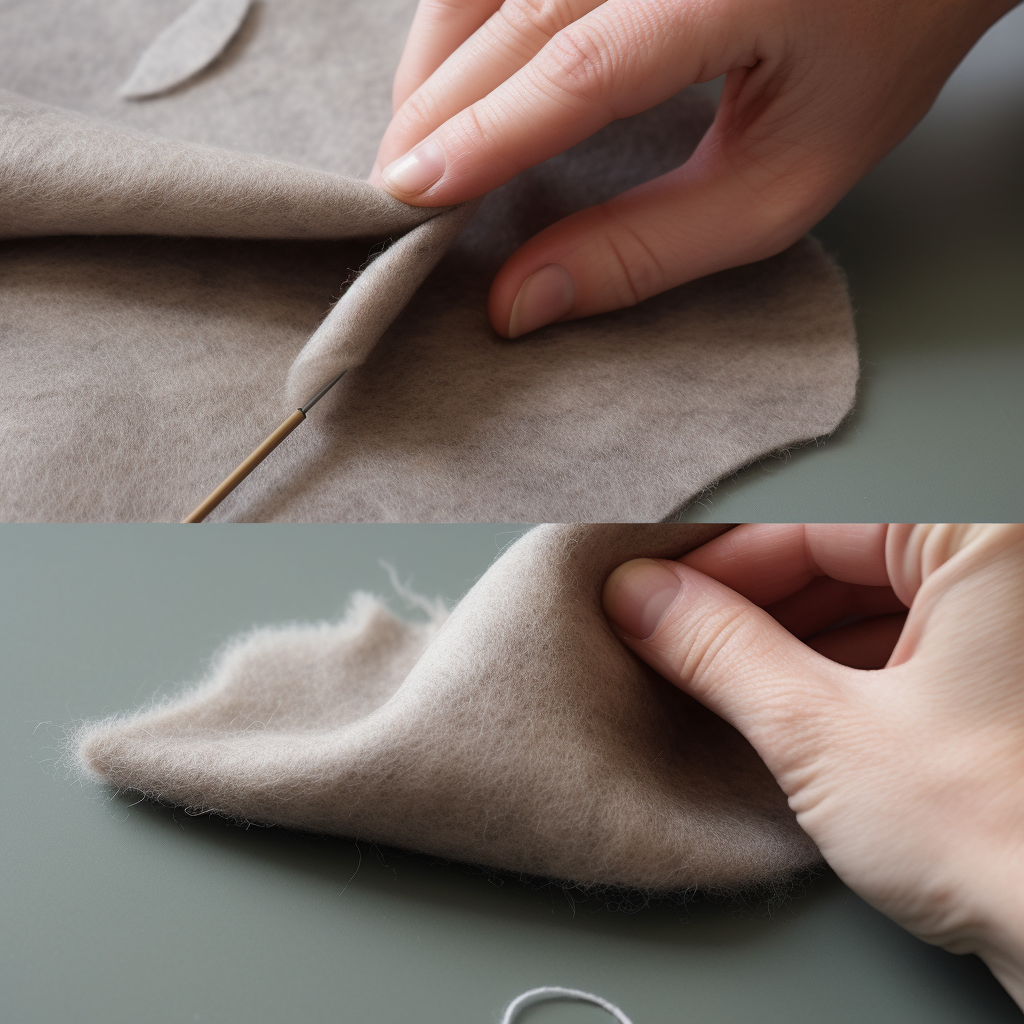 Felt is a non-woven textile material that has been used for centuries, both for practical and artistic purposes. From my experience, I can tell you that it is made by matting, condensing, and pressing fibers together. This unique process results in a fabric that is soft, durable, and versatile, making it a popular choice for a wide range of applications. There are two main types of felt: synthetic and wool.
Synthetic felt is made from man-made fibers, such as acrylic, polyester, or rayon. It is generally less expensive and easier to care for than wool felt. However, it may not have the same luxurious feel or natural qualities as its wool counterpart.
Wool felt is created from the fibers of various animals, most commonly sheep. Through trial and error, I found that it is prized for its warmth, softness, and ability to absorb moisture without feeling wet. Moreover, wool felt is naturally flame-resistant, making it a safer choice for some applications.
Felt's unique characteristics have made it a favorite for countless creative projects, from crafting adorable felt animals to designing stylish hats and cozy slippers. Its versatility extends to practical uses as well, such as insulation, soundproofing, and even industrial applications. So whether you're working on a DIY project, exploring your artistic side, or seeking a reliable material for functional purposes, felt might just be the perfect solution you've been looking for.
Why Felt is Your New Best Friend: Exploring Its Endless Possibilities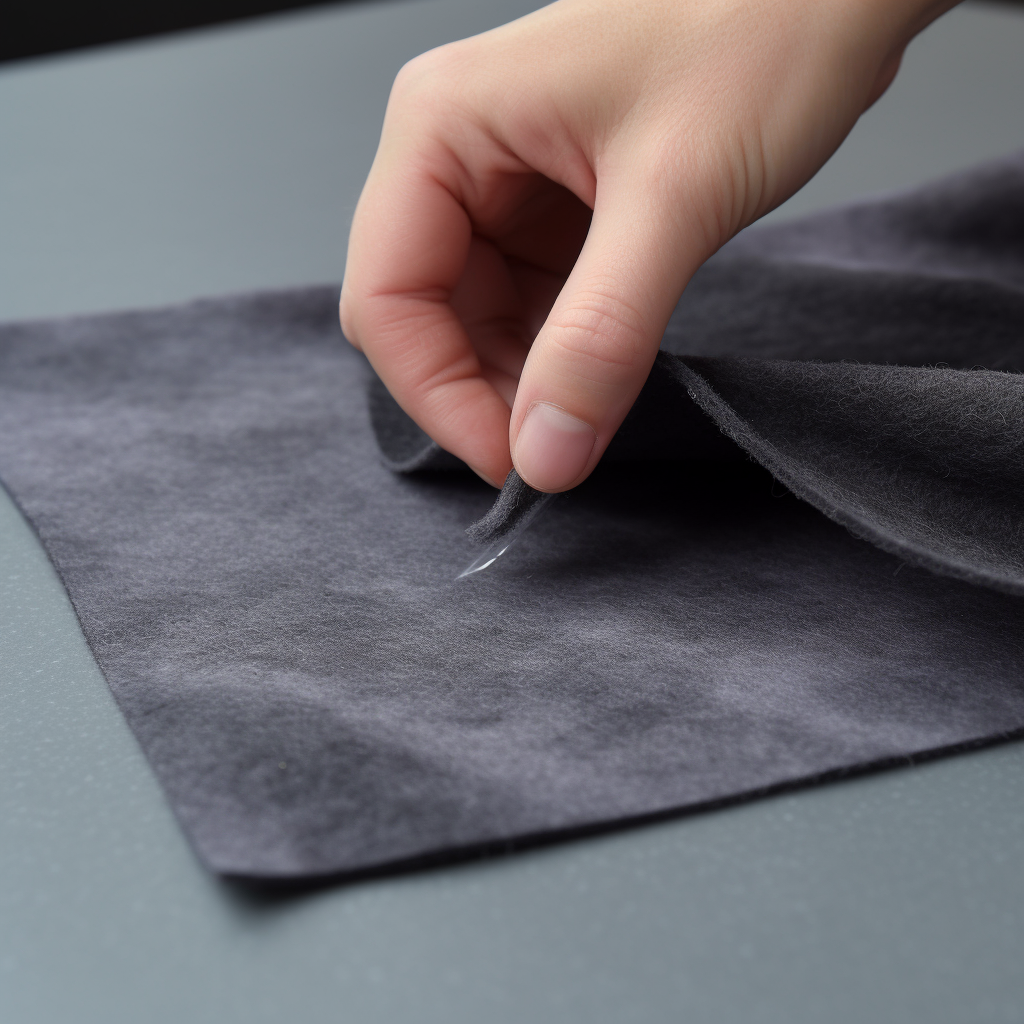 There are countless reasons why you might want to explore the world of felting. As my tests have shown, working with felt offers numerous benefits and possibilities, both for practical purposes and creative expression. Here are just a few reasons why you should consider felting:
Versatility: Felt is an incredibly versatile material, suitable for a wide range of projects, from crafting soft toys and accessories to designing functional items like insulation and soundproofing. The possibilities are limited only by your imagination.
Ease of use: Felting is a beginner-friendly craft that doesn't require any specialized skills or expensive equipment. With just a few basic tools and materials, you can create beautiful and unique items that are sure to impress.
Eco-friendly: When working with natural wool felt, you're using a renewable, biodegradable resource that has a minimal impact on the environment. By choosing felt for your projects, you can help promote sustainability and reduce waste.
Durability: Felt is a strong and resilient material that can withstand daily wear and tear. Items made from felt are long-lasting and can be easily maintained, making them a practical choice for a variety of applications.
Therapeutic benefits: Engaging in the art of felting can provide numerous therapeutic benefits, such as reducing stress, boosting self-esteem, and fostering a sense of accomplishment. The tactile nature of working with felt can also help improve fine motor skills and focus.
My Personal Adventure into the World of Felt Cleaning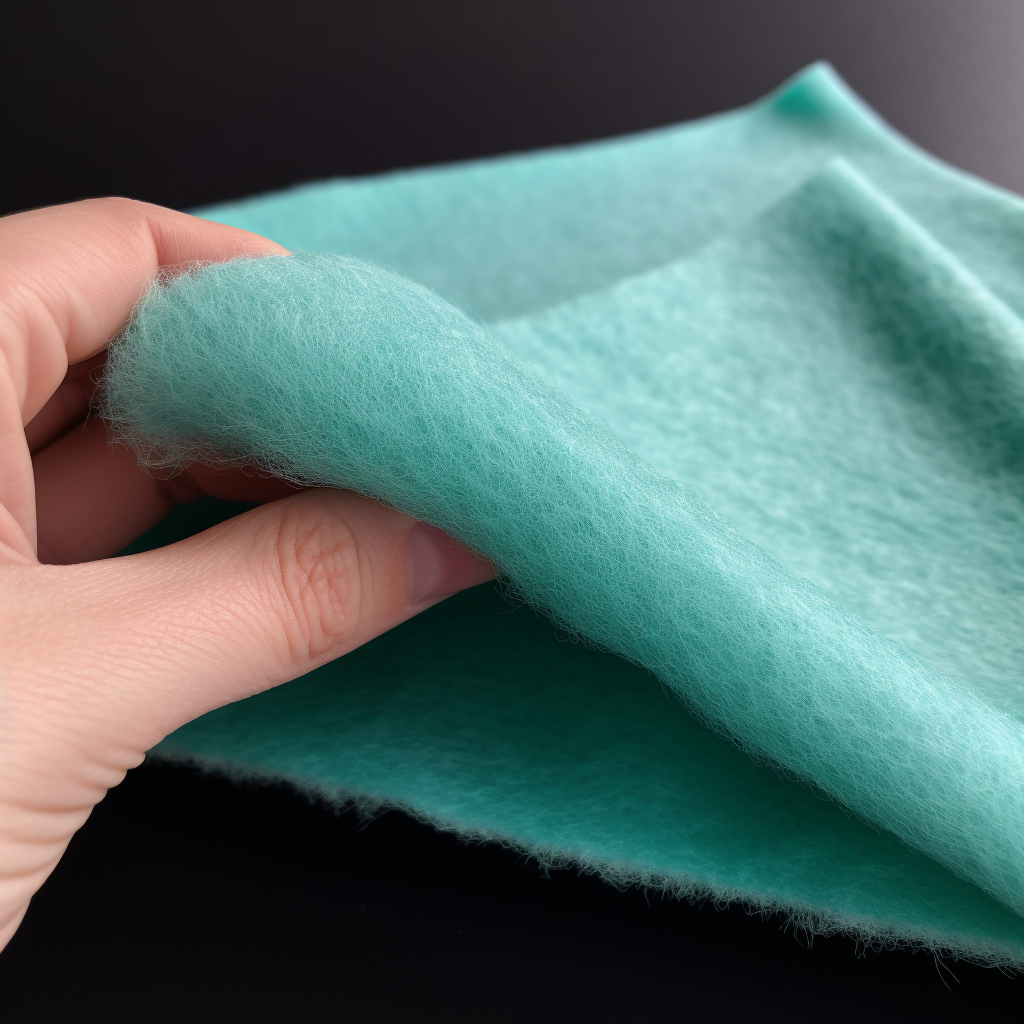 Oh my goodness, cleaning felt has been such an enlightening experience for me! Based on my own experience, I can't believe how easy it is to maintain this fabulous material! So, let me share with you the fantastic methods and products I've discovered for cleaning felt:
Spot Cleaning: For small stains and spills, spot cleaning is a lifesaver! All you need is gentle soap, like baby shampoo or mild dish soap, and some cool water. Gently dab the soiled area with a clean, damp cloth or sponge, and watch the magic unfold as the stain disappears. Remember to avoid rubbing, as it can damage the felt fibers.
Hand Washing: When it comes to larger items or more stubborn stains, hand washing is the way to go. As a result of my tests, I have determined that using cool water and mild detergent in a basin or sink is the ideal approach. Gently swish the felt item around, paying special attention to any soiled areas. Then, rinse thoroughly and gently squeeze out excess water – but don't twist or wring it out, as that can damage the shape of your felt masterpiece.
Drying: One of the most critical steps in the felt cleaning process is proper drying. I've found that laying the item flat on a clean, dry towel and reshaping it as needed is the best method. You can also gently roll the towel with the felt item inside to absorb excess moisture. Remember to keep it away from direct heat or sunlight, as this can cause shrinkage or color fading.
Steam Cleaning: This method is perfect for refreshing and revitalizing your felt items! Using a handheld steamer or the steam setting on your iron, hold the appliance a few inches away from the felt and gently steam the fabric. The steam will help to fluff up the fibers and remove any lingering odors.
Lint Roller: To keep your feet accessories and toys looking pristine, a lint roller is a must-have tool! Just gently roll it over the surface of your felt item, and it will pick up any lint, fuzz, or stray hairs, leaving your feet looking fresh and fabulous.
Cleaning felt has been such a delightful experience for me, and I can't wait for you to try these methods and products for yourself. Remember to always test a small, inconspicuous area first to ensure colorfastness and compatibility.
Comparing the Top Techniques for Pristine Results
| | | | |
| --- | --- | --- | --- |
| Method | Suitable For | Advantages | Disadvantages |
| Spot Cleaning | Small stains and spills | Quick and easy; requires minimal supplies | Not suitable for large or deeply soiled items |
| Hand Washing | Larger items or stubborn stains | Gentle on felt; effective for more extensive cleaning | More time-consuming; risk of misshaping if not handled carefully |
| Drying | All wet or damp felt items | Preserves shape and color; prevents shrinkage | Requires a flat surface and patience for air-drying |
| Steam Cleaning | Refreshing and revitalizing felt items | Fluffs up fibers; removes lingering odors | Requires a steamer or iron with a steam setting |
| Lint Roller | Removing lint, fuzz, or stray hairs | Quick and easy; keeps felt looking fresh and clean | Not suitable for cleaning stains or spills |
By referring to this comparison table, you can determine which cleaning method is best suited for your specific felt item and situation, ensuring optimal results and preserving the quality and appearance of your felt creations.
How to Clean Felt — Your Comprehensive Guide to Cleaning Success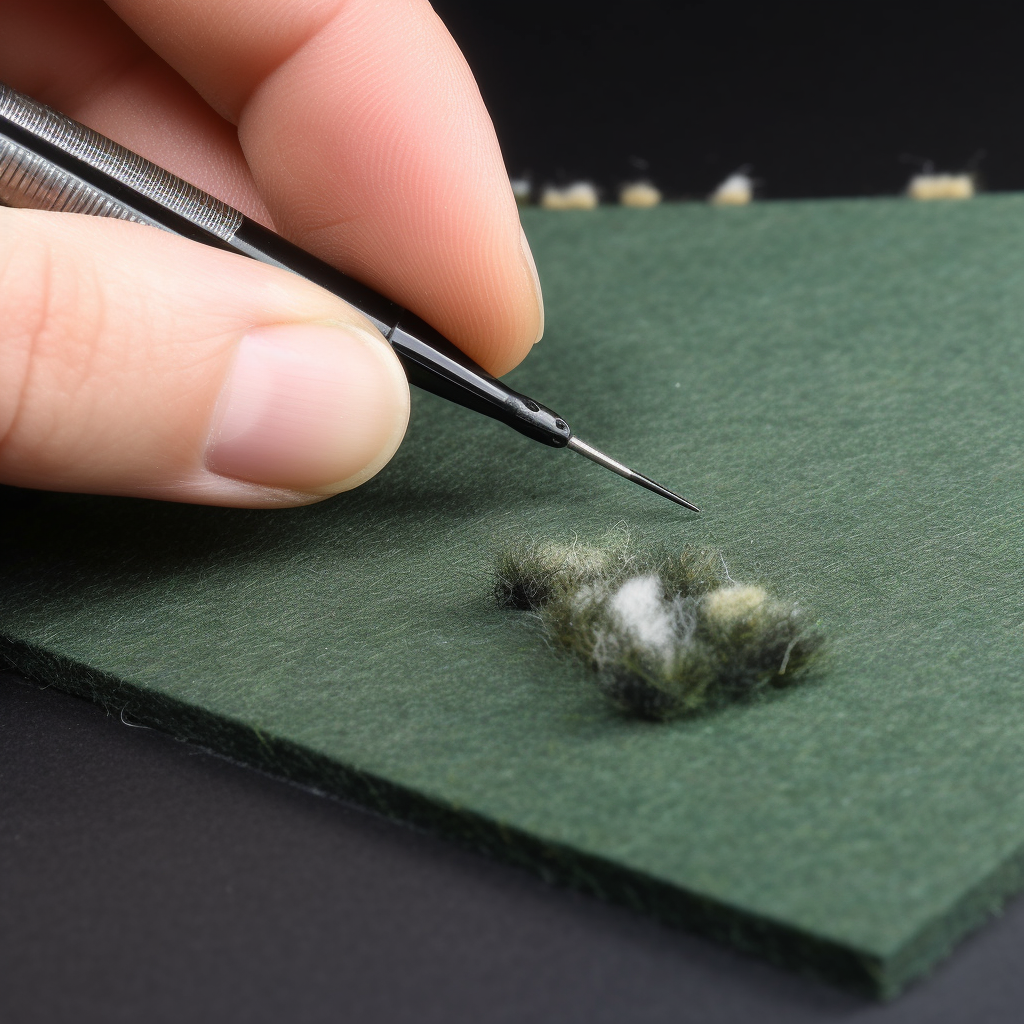 Cleaning felt can be a breeze when you follow these simple steps. According to my experience, these instructions can help you maintain the beauty and longevity of your felt items:
Identify the type of felt: Determine whether your felt item is made from synthetic or wool fibers. Through trial and error, I found that wool felt may require more delicate care due to its natural properties.
Assess the extent of cleaning needed: Check the item for any stains, spills, or accumulated dirt. This will help you choose the most suitable cleaning method, whether it's spot cleaning, hand washing, or simply refreshing with steam.
Gather the necessary supplies: Based on the chosen cleaning method, gather the required equipment and materials from the equipment table mentioned earlier.
Test for colorfastness: Before cleaning, test a small, inconspicuous area of your felt item with your chosen cleaning solution to ensure it doesn't cause any discoloration or damage.
For Spot Cleaning:
Prepare your cleaning solution: Mix a few drops of gentle soap with cool water.
Dab the stain: Using a clean cloth or sponge, gently dab the soiled area with the cleaning solution. Avoid rubbing, as this can damage the fibers.
Rinse and blot dry: Rinse the area with cool water and gently blot it dry with a clean towel. Allow the item to air dry completely.
For Hand Washing:
Fill a basin with cool water: Add a small amount of mild detergent to the water and mix it well.
Submerge the felt item: Gently swish the item around in the soapy water, paying special attention to any stained areas.
Rinse thoroughly: Rinse the item under cool running water, ensuring all soap is removed.
Remove excess water: Gently squeeze the felt item to remove excess water. Avoid twisting or wringing, as this can cause misshaping.
For Drying:
Lay the item flat: Place the damp felt item on a clean, dry towel and reshape it as needed.
Roll the towel: Gently roll the towel with the felt item inside to absorb any remaining moisture. Unroll the towel and let the item air dry, away from direct heat or sunlight.
For Steam Cleaning:
Prepare your steamer or iron: Fill your handheld steamer or iron with water and set it to the steam setting.
Steam the felt item: Hold the steamer or iron a few inches away from the felt and gently apply steam to the fabric. Be careful not to let the appliance touch the felt directly.
For Lint Roller:
Roll the lint roller: Gently roll the lint roller over the surface of the felt item to remove any lint, fuzz, or stray hairs.
By following these step-by-step instructions, you can effectively clean and maintain your felt items, ensuring they remain beautiful and functional for years to come.
F.A.Q. Section for How to Clean Felt
Can I machine wash my felt items?
It is generally not recommended to machine wash felt, especially wool felt, as it can cause shrinkage and felting. Hand washing is the preferred method for cleaning felt items, as it is gentler and allows for better control.
Can I use bleach or harsh detergents to clean felt?
No, using bleach or harsh detergents can damage the fibers and potentially cause discoloration. It is best to use mild detergents or gentle soaps to clean felt items.
How do I remove stubborn stains from felt?
For stubborn stains, you can try gently dabbing the stained area with a clean cloth or sponge dampened with a solution of cool water and mild detergent. Avoid rubbing the stain, as it can cause further damage. For particularly stubborn stains, you may want to consult a professional cleaner.
Can I iron my felt items to remove wrinkles?
Ironing felt items directly is not recommended, as the heat can cause damage to the fibers. Instead, use a handheld steamer or the steam setting on your iron to gently steam the felt from a few inches away. This will help remove wrinkles without causing damage.
How often should I clean my felt items?
The frequency of cleaning will depend on the usage and type of felt item. For frequently used items or those exposed to dirt and dust, regular cleaning may be necessary. For decorative or occasional-use items, cleaning may only be required when they become soiled or stained. Always follow the care instructions provided by the manufacturer or creator of the felt item.
How to Spot Clean Felt?
Spot cleaning is perfect for addressing localized stains or spills. The key is to use a gentle detergent diluted in water. Dab directly on the stain with a clean cloth, ensuring you don't rub the fabric. Instead, use it to blot the stain gently. For some stubborn stains, you might also consider using salt or baking soda to draw out the moisture and then brushing it off gently.
Is Polyester Felt Washable?
Polyester felt, being synthetic, tends to be more forgiving than wool. This type of felt can often be washed more easily, though still, care must be taken. However, it's always advisable to refer to the manufacturer's cleaning instructions, if available.
How to Clean Wool Felt?
Wool felt requires extra care. Warm water is usually safe, but remember not to soak the material for extended periods. Doing so risks losing the integrity of the felt. The wool fibers, especially when wet, can stretch and misshape. And if you're cleaning a wool felt item that's colored, always ensure the dye doesn't bleed or fade.
Can You Machine Wash Felt?
Generally, it's risky to machine wash felt, particularly if it's made from wool or contains wool fibers. The agitation can cause the felt to shrink and become misshapen. If you decide to take the risk, use a gentle cycle, cool water, and ensure the felt is inside a mesh laundry bag to minimize friction.
How to Get Stains Out of Felt Toys and Other Items?
Children's toys, especially those made from white felt, seem to attract stains. Spot cleaning is the best way to approach these stains. If the toy is entirely made of felt and doesn't contain any hard parts or fillings that can be damaged, you can attempt to hand wash the item. But do so with caution.
What Setting to Iron Felt?
Ironing felt directly can damage its fibers. If you must get rid of wrinkles, it's better to use the steam setting on your iron. However, avoid pressing the iron directly onto the felt. Hold it slightly above and allow the steam to do the work.
How to Dust Felt?
Dusting felt items, particularly decorative pieces, helps maintain their appearance. A lint roller can be effective, or you can gently use a soft-bristled brush. Brushing in one direction ensures the fibers stay smooth.
Felt is a versatile material, but it's also unique in its composition, making it somewhat difficult to clean. Whether you're dealing with felt crafts, toys, or functional items, the key is gentle care. Avoid actions that can pull or stretch the felt, like wringing it out. Above all, remember that felt, especially wool felt, is a natural material that can't withstand harsh treatments without damaging.
Always test any cleaning method on an inconspicuous spot first. This will help you determine if the approach is safe for the entire felt product. With the right care, your felt items can remain vibrant and functional for years.