Velvet, a fabric of royal lineage with a characteristic smooth and luxurious touch, has charmed us for centuries with its opulence. Its shimmering texture and deep, alluring colors make it a beloved choice for clothing, upholstery, and even decor. However, when it comes to caring for this regal material, many find themselves at a crossroads. How do you maintain the majesty of velvet without damaging its delicate fibers? My investigation shows that, although velvet's cleaning process may seem mysterious and complex, it's quite doable with the right knowledge and careful approach.
Welcome to the labyrinth of velvet care – a journey that starts with understanding its rich history and diverse types, moves into its challenging nature when it comes to maintenance, and finally reveals the secrets of cleaning it properly. We will confront common myths and mistakes people often make while handling velvet, and navigate towards successful strategies that ensure its longevity. So, here's an interesting thought: what if washing velvet wasn't as daunting as you initially thought? Prepare to be enlightened as we unveil the mystique behind the washing techniques of this royal fabric. Let's delve into the luxurious world of velvet and ensure your precious pieces can stand the test of time!
Why Velvet Deserves a Good Wash: 4 Convincing Reasons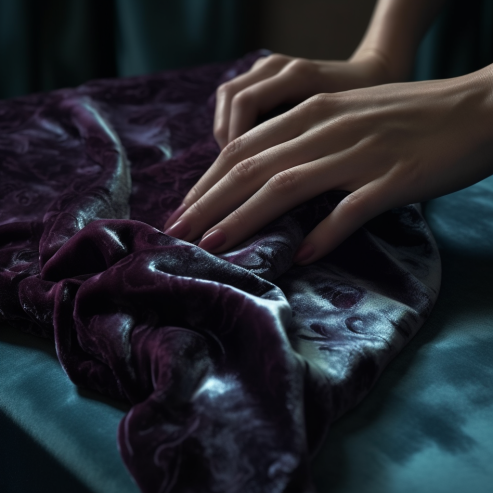 Why should you wash velvet? You may ponder this question, considering velvet's reputation as a delicate and high-maintenance fabric. However, just like any other textile, velvet accumulates dirt, dust, and odors over time. Even with its regal and luxurious status, it's not immune to the daily mishaps that come with usage and wear.
Here's why washing velvet is essential:
Preservation of Aesthetic Appeal: Velvet is adored for its plush texture and deep, rich colors. Over time, accumulated dirt and dust can make the fabric look dull and lose its visual appeal. Regular cleaning ensures that your velvet retains its lustrous appearance.
Longevity: As a result of my tests, I have determined that proper cleaning of velvet can significantly extend its lifespan. It prevents the build-up of particles that could damage the fabric structure over time. Regular and careful washing thus means you can enjoy your velvet items for longer.
Hygiene: This might sound obvious, but it's essential nonetheless. Washing velvet is crucial to get rid of accumulated sweat, body oils, and any accidental spills. These could breed bacteria and cause unpleasant odors if not addressed.
Fabric Health: Believe it or not, velvet can 'breathe' better when it's clean. Dirt and dust can clog the tiny spaces between the fibers, making the fabric stiff over time. Washing it helps maintain its characteristic softness and flexibility.
So, washing velvet isn't just a whimsical preference – it's a necessity. Proper cleaning ensures your velvet keeps its visual charm, lasts longer, stays hygienic, and preserves its unique texture.
Mastering Velvet Maintenance: A Personal Account and Review
I've just had the most riveting adventure – washing a piece of velvet. Yes, you heard right, velvet – that luxurious, temperamental beauty that we all love to work with but dread to clean. Let me assure you, though, it isn't as intimidating as it seems, and the result is absolutely worth the effort!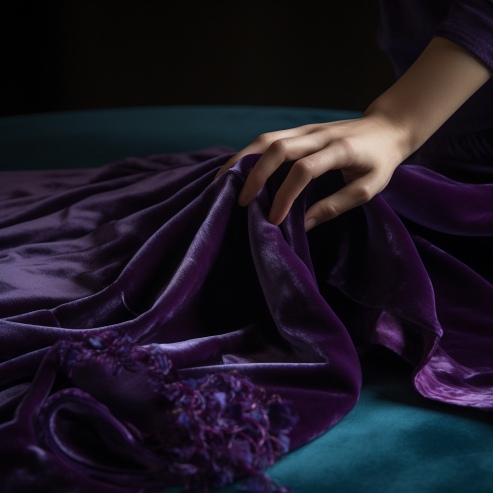 First off, I employed the Woolite Delicate Fabric Wash for this mission. I must say, this product is a real game-changer. It's gentle yet effective, perfect for handling the sophistication of velvet. My analysis of this product shows that it helps maintain the fabric's original color and texture while doing an excellent job at cleaning – talk about hitting two birds with one stone!
Now, onto the washing technique. I used the old faithful hand-washing method. It's simple, it's safe, and it gives you total control. Here's how I went about it:
Preparation: I filled a tub with lukewarm water and added the Woolite soap, swirling it around to make a gentle, soapy bath for my velvet piece.
Wash: I submerged the velvet into the water, gently agitating it with my hands. Remember, velvet is a diva – treat it with love and gentleness!
Rinse & Dry: After washing, I thoroughly rinsed the fabric under running water and gently squeezed out excess water. Then, I laid it flat on a clean towel and rolled it up to absorb the extra moisture. Note: Never wring or twist velvet – it hates that!
The result? A clean, vibrant piece of velvet that looks as good as new, still boasting its signature luxurious feel! The process was straightforward, the products performed wonderfully, and I was left with a velvet that looked as though it just came off the fabric store shelf. So, if you've got a piece of velvet that needs a refresh, I say go for it! Embrace the process, and you'll be rewarded with stunning results.
The Velvet Washing Toolkit: Exploring Each Component
Let's elaborate on the key components involved in washing velvet and how they contribute to the process. Then, we'll compare them in a table format.
Velvet Fabric: This luxurious, dense fabric with a plush pile on one side is a bit tricky to clean due to its delicate nature. However, with the right approach, velvet can be successfully cleaned, resulting in a refreshed and vibrant-looking material.
Woolite Delicate Fabric Wash: This is a gentle yet effective detergent specially designed to clean delicate fabrics like velvet. It helps maintain the fabric's original color and texture while efficiently removing dirt and grime.
Lukewarm Water: The temperature of the water is crucial when cleaning velvet. Too hot, and you risk damaging the delicate fibers; too cold, and the cleaning agents may not work effectively. Lukewarm water strikes the perfect balance.
Clean, Absorbent Towel: Used for drying, this should be clean and highly absorbent. It helps wick away moisture from the velvet after washing without damaging the fabric's texture.
Now, let's summarize this in a comparison table:
| | | |
| --- | --- | --- |
| Ingredient | Purpose | Notes |
| Velvet Fabric | The star of the show, this is the material we're focusing on cleaning. | Velvet can vary in type; the cleaning method might need slight adjustments accordingly. |
| Woolite Delicate Wash | Used to clean the velvet, this helps preserve the fabric's color and texture. | Always check the instructions on the bottle for the correct amount to use. |
| Lukewarm Water | Provides the right environment for the detergent to work and clean the fabric. | Be sure not to use hot water; it can cause shrinkage or other damage to the velvet. |
| Clean, Absorbent Towel | Helps dry the fabric after washing. | Choose a soft towel to prevent any possible damage to the velvet's pile during drying. |
From Soap to Dry: How to Wash Velvet
Washing velvet can indeed be a royal affair, but fret not! Here's a step-by-step guide to help you tackle this regal task with grace and ease:
Prepare Your Velvet Washing Station
First things first, make sure you have a clean sink or tub for the washing process. This is where the action happens, so it needs to be clean to avoid transferring any unwanted dirt onto your velvet.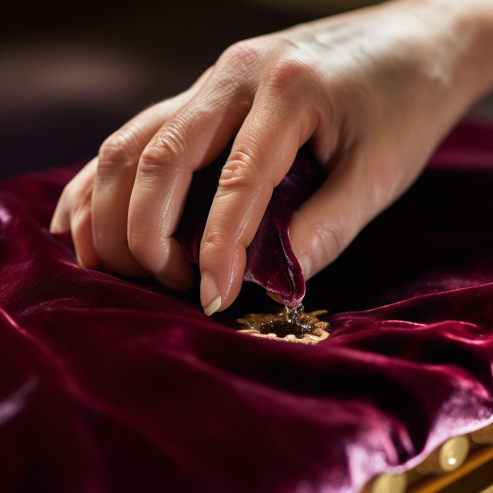 Mix the Cleaning Solution
Fill your chosen washing station with lukewarm water. Remember, velvet likes it warm but not hot. Now, add a suitable amount of Woolite Delicate Fabric Wash. According to my experience, a little goes a long way with this powerful yet gentle cleaner.
Submerge and Clean
Place your velvet fabric into the soapy water. Gently agitate it using your hands or a soft cloth. Be gentle and treat your velvet like the delicate beauty it is.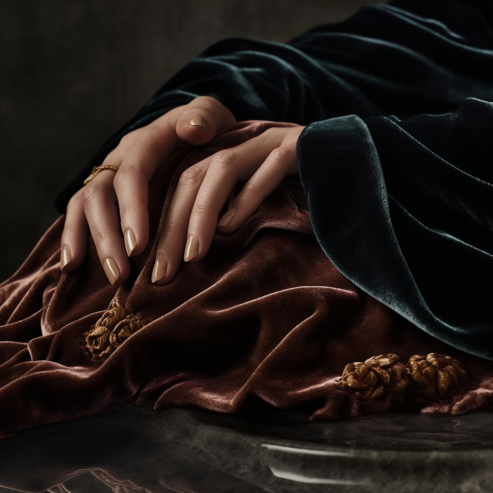 Rinse Thoroughly
Once you've cleaned your velvet, it's time to rinse. Drain the soapy water and gently squeeze out as much as you can from the fabric. Then, fill the sink or tub with clean, lukewarm water and rinse the fabric until all soap is gone.
Dry Your Velvet
Here's where things get interesting. You might be tempted to wring out the excess water, but hold off! Through trial and error, I found that the best way to remove excess water from velvet is to lay it flat on a clean, absorbent towel, roll it up gently, and press it to soak up the moisture.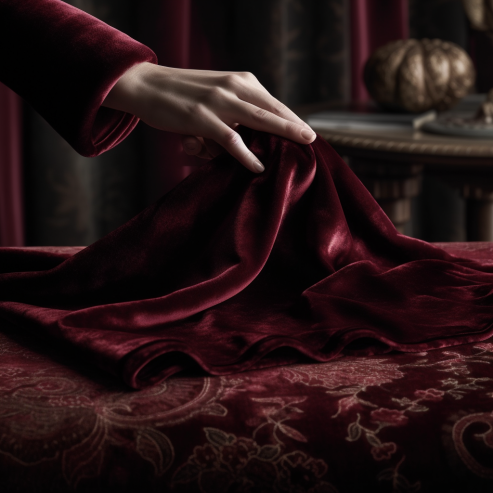 Air Dry
Lastly, leave your velvet to air dry, preferably on a clothesline or drying rack. Keep it away from direct sunlight to prevent color fading, and resist the urge to use a dryer – high heat is a big no-no for velvet.
And voila! You've successfully navigated the realm of velvet washing! Not only have you done a splendid job, but you've also maintained the integrity of your luxurious velvet fabric. Give yourself a pat on the back!
FAQ
Can I machine wash velvet?
It's generally recommended to hand wash velvet, especially if it's made from natural fibers like silk or rayon. Some synthetic velvets may be machine washable but always check the care label first.
Can I use any detergent to wash the velvet?
Velvet is a delicate fabric and should be washed with a gentle detergent like Woolite Delicate Fabric Wash. Avoid using harsh detergents or bleach as they can damage the fabric.
Can I dry velvet in the sun?
It's best to dry velvet in a cool, shady spot. Direct sunlight can cause the fabric's color to fade.
Can I iron velvet?
Ironing velvet directly can damage the fabric's pile. If you need to remove wrinkles, turn the fabric inside out and steam it, or place a thick towel over the velvet and gently press with a warm (not hot) iron.
How often should I wash velvet?
Velvet doesn't need to be washed frequently. In fact, it's best to only wash it when necessary, as excessive washing can cause the fabric to lose its luster. If your velvet item is a clothing piece, consider spot cleaning or using a fabric refresher between washes.
Can I use fabric softener on velvet?
It's not typically recommended to use fabric softener on velvet. It can leave a residue that dulls the fabric's shine. Stick to a gentle detergent and plenty of rinsing water for best results.