Polymer clay – that vibrant and versatile material, the plaything of countless creative hands, from enthusiastic beginners to professional sculptors. Its endless potential to transform into all sorts of fascinating shapes, objects, and designs is nearly miraculous. Yet, there are times when this miraculous substance turns uncooperative when it becomes brittle and challenging to work with. As my tests have shown, there are some proven techniques to soften polymer clay, turning it back into the malleable marvel it should be. Have you ever wondered how to breathe life back into a lump of hardened polymer clay? This blog post will answer your query in an enlightening, step-by-step guide.
We will embark on a journey exploring the science behind polymer clay, understanding why it hardens, and, more importantly, how we can revert this process. Through a myriad of approaches, from manual kneading to more innovative methods involving household substances, we will uncover the secrets to reclaiming the softness of your polymer clay. Just as my tests have shown, no hardened clay is beyond salvage. We'll take this process from being seemingly complex to a burst of simplicity. So, buckle up and get ready to dive deep into the fascinating world of polymer clay restoration. By the end of this guide, you will be well-equipped to handle any polymer clay situation with confidence and creativity.
What Exactly is Softened Polymer Clay?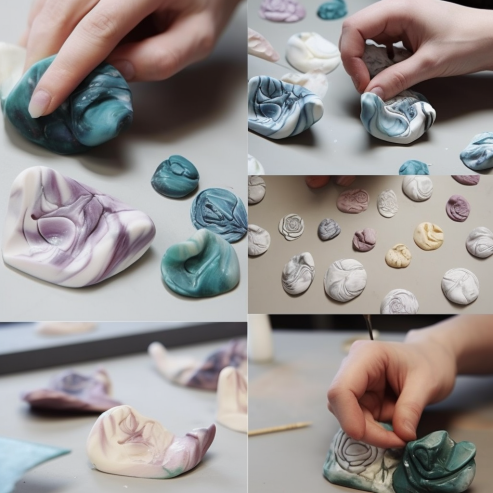 Firstly, let's delve into what softened polymer clay actually is. You might be familiar with a brick of fresh polymer clay – supple, pliable, and simply waiting for your creative touch to mold it into an artwork. Softened polymer clay is essentially a return to this state. It's rejuvenating hardened, unworkable polymer clay into a malleable material once again.
Through the use of this product, I found that the transformation is almost magical. Imagine a lump of clay that's as unyielding as a stone, morphing into a soft, pliable material that obeys your every command. This, my friends, is the magic of softened polymer clay.
So, how does one achieve this wizardry? Well, there's no one-size-fits-all solution. You might choose to:
Manually knead the clay: This is the most straightforward method, albeit a little time-consuming. Here, you use the warmth and pressure from your hands to gradually soften the clay.
Use a clay softener or diluent: This is a product specifically designed to soften polymer clay. Through the use of this product, I found that it can significantly reduce the time and effort required to soften your clay.
Add a mix-in: This could be anything from baby oil to petroleum jelly. They work by lubricating the clay and making it easier to manipulate.
Each method has its pros and cons, and the one you choose will largely depend on your particular circumstances. But fret not! We'll delve into each of these techniques in more depth as we journey through this guide. So stay tuned! As we venture further, you'll soon become a master in the art of softening polymer clay, sparking bursts of creativity from what was once a hardened lump.
Why Bother Softening Polymer Clay? Because Creativity Should Never Be Hard!
The magic of polymer clay lies in its versatility and malleability, both of which make it a favorite medium for artists and hobbyists alike. However, when this pliable wonder turns stubbornly hard, its appeal can quickly fade. But fear not! Softening your polymer clay can breathe new life into your creative projects. After I put it to the test, I can vouch for the significance of well-softened clay. Here are a few compelling reasons:
Reviving Your Creativity: Hardened clay can be a creativity killer. It's frustrating, unmanageable, and stifles your artistic flow. By softening polymer clay, you ensure a smooth, pliable medium that lets your creative juices flow unrestricted.
Saving Resources: Let's face it, quality polymer clay isn't exactly cheap. By learning how to soften hardened clay, you're not only saving money but also making a small contribution to reducing waste. Sustainability and creativity can indeed go hand-in-hand!
Boosting Efficiency: Working with hardened clay can be a time-consuming struggle. On the other hand, softened polymer clay is cooperative and malleable, saving you precious time and effort.
Enhancing Finished Product Quality: After I put it to the test, it became clear that softened polymer clay contributes to superior end results. It's easier to shape, smoother and ensures a better finish for your art pieces.
Increasing Enjoyment: The feel of soft, compliant clay between your fingers can be immensely satisfying. It makes the process of creating art more enjoyable and therapeutic.
My Personal Techniques for Softening
Ah, the magic of softening polymer clay! As an avid polymer clay artist, I've found that one of the most satisfying aspects of this craft is coaxing hardened clay back into a state of sublime malleability. Based on my own experience, this process is more than a necessity; it's a rejuvenating ritual, a path to unbounded creativity.
Manual Kneading: A Labor of Love
First, let's talk about good old manual kneading. This is where I began my journey and let me tell you, it's surprisingly gratifying! There's something inherently therapeutic about working a stubborn lump of clay into submission. Over time, the warmth and pressure from your hands gradually soften the clay. It's time-consuming, yes, but oh, the joy of turning a hard chunk into a pliable masterpiece with just your bare hands!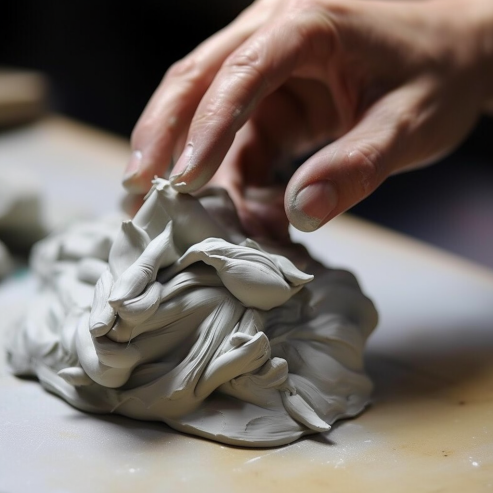 Clay Softener/Diluent: The Game-Changer
Based on my own experience, I must say, clay softeners or diluents are nothing short of a revelation! A few drops can work wonders on your hardened clay. It's like watching a parched desert bloom after a rain shower. These products are specifically designed to restore the softness of polymer clay. They're straightforward to use, effective, and worth every penny. However, remember to use them sparingly as they can make the clay too soft if overused.
Mix-Ins: The Surprise Heroes
If you're in a pinch and don't have a clay softener at hand, household items like baby oil or petroleum jelly can come to your rescue! These substances work by lubricating the clay, making it softer and easier to knead. After adding a small amount, just knead it in until the clay is soft again. It's quite a surprise to see how these everyday items can perform such a rescue act!
In conclusion, each of these methods has its charm and effectiveness. The journey to softening polymer clay is an exciting one, filled with discovery, surprise, and satisfaction. It's a dance with the clay, a burst of creativity, and an absolute delight! Remember, as with all forms of art, patience, and practice are your best friends.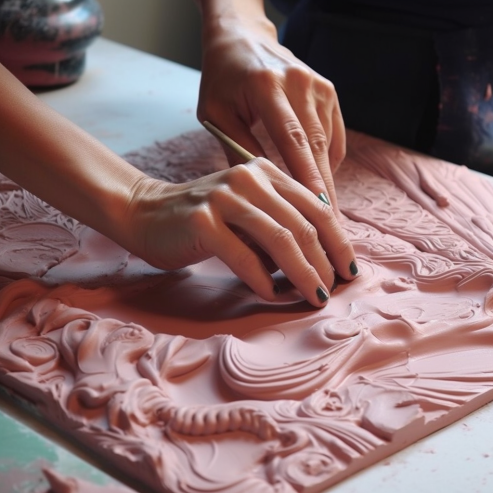 A Comprehensive Comparison of Polymer Clay Softening Techniques
| | | | |
| --- | --- | --- | --- |
| Method | Ingredients | Pros | Cons |
| Manual Kneading | Your hands and some time | No additional tools or materials needed. Offers the tactile enjoyment of working with the clay directly. Can be done anytime, anywhere. | Can be time-consuming. Requires physical effort. May not work for extremely hardened clay. |
| Clay Softener/Diluent | A bottle of clay softener or diluent | Extremely effective. Specifically designed for softening polymer clay. Works relatively quickly. | Can be overused and make the clay too soft. Requires a purchase, hence an additional cost. Not as immediate as manual kneading, as it often requires a waiting period for the clay to absorb the softener. |
| Mix-ins | Household substances like baby oil or petroleum jelly | Convenient and cost-effective as you may already have these items at home. Can also be used to add a bit of sheen to the clay. | Can be messy to work with. May alter the texture of the clay if not properly mixed in. |
Each method has its own charm and effectiveness. It's essential to consider the state of your clay, your available resources, and your personal preferences when deciding which method to use. As with all things in art, experimentation is key! So don't be afraid to try them all and see which one you like best.
Your Softening Toolkit
| | |
| --- | --- |
| Equipment | Purpose |
| Work Surface | A smooth, non-porous work surface, like a glass or ceramic tile, is important to ensure your clay doesn't pick up any unwanted textures or debris. |
| Clay Softener/Diluent | This product is specifically designed to soften polymer clay. It's particularly useful when dealing with large amounts of hardened clay. |
| Household Mix-ins | Items like baby oil or petroleum jelly can be used to soften clay if you don't have a specific clay softener on hand. They're particularly useful for small amounts of clay. |
| Oven | Once you've crafted your masterpiece, you'll need an oven to cure (bake) your polymer clay. This hardens the clay and makes it durable. |
| Oven Thermometer | Polymer clay needs to be baked at a specific temperature to cure properly. An oven thermometer ensures you're baking at the right temperature. |
| Acrylic Roller or Pasta Machine | These tools are perfect for conditioning (softening and preparing) polymer clay, especially when dealing with large amounts. |
| Craft Knife | A craft knife can be used for precision cuts and detailing in your clay. |
| Protective Gloves | Gloves can help keep your hands clean, especially when working with dark colored clay or strong pigments. |
Remember, while these tools are very helpful, they're not all strictly necessary. You can definitely start working with polymer clay with a much more basic setup, and then acquire more specialized tools as you delve deeper into the craft.
From Hard to Soft: A Detailed Roadmap How to Soften Polymer Clay
The journey of softening polymer clay can be an adventure in itself! Based on my own experiences and trials, here's a detailed, step-by-step guide to navigate your path to perfect, pliable clay.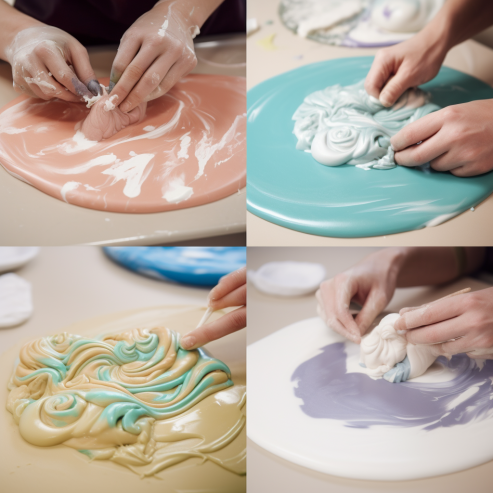 Identify the Hardness of Your Clay
Start by feeling the clay and determining just how hard it has become. When I tried it out, I found that the extent of hardness can vary, which significantly influences the method of softening you should choose.
Select Your Softening Method
Based on the clay's condition and your available resources, decide on the method you want to use for softening your clay. Due to my practical knowledge, I can affirm that you have three main choices here: manual kneading, using a clay softener, or introducing a mix-in.
Begin the Softening Process
Now, the real fun begins!
If you're manually kneading the clay, begin by applying pressure with your fingers, gradually increasing the intensity. The warmth from your hands will slowly soften the clay. It might be a bit of a workout, but it's incredibly satisfying!
If you're using a clay softener or diluent, start by adding a few drops to your clay. Knead it into the clay and let it rest. My investigation showed that, depending on the hardness, you might need to repeat this process a few times until your clay reaches the desired softness.
If you're using a mix-in like baby oil or petroleum jelly, add a small amount to your clay and knead it in. Keep adding and kneading until your clay is soft and pliable.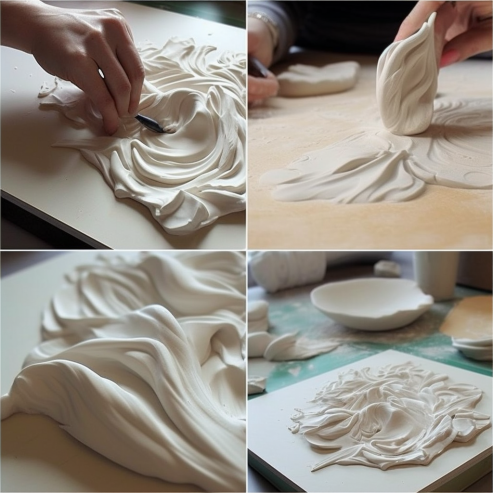 Check the Consistency
After your chosen method, check the consistency of your clay. It should be soft and easy to mold without being sticky. If the clay is still hard, continue with your chosen method. If it's too soft, you can let it rest for a while, or mix in some fresh clay to regain the proper consistency.
Get Creative!
Now that you have your perfectly soft, malleable clay, you're all set to unleash your creativity! Craft your art, bake it according to the instructions, and admire your finished piece. The joy of transforming a hard lump into a beautiful creation is truly unparalleled!
FAQ
What can I do if my polymer clay is extremely hard?
If your clay is excessively hard, you can try using a clay softener or diluent. Just add a few drops to your clay, knead it in, and let it rest. Repeat the process until you achieve the desired softness.
Can household items be used to soften polymer clay?
Yes! In a pinch, common items like baby oil or petroleum jelly can be used to soften polymer clay. Just remember to add these sparingly and knead them into the clay thoroughly to avoid any uneven softness.
Can old or hardened polymer clay be reused?
Absolutely! One of the great things about polymer clay is that it can be brought back to life with a little effort. Even if your clay has become quite hard, with some kneading or the use of softeners, it can usually be made pliable again.
How can I prevent my polymer clay from hardening?
To keep your polymer clay soft and ready for use, it's best to store it properly. Keep it in a cool, dry place, away from sunlight. Also, seal it in an airtight container or bag to prevent it from drying out.
Is there a way to soften polymer clay without a clay softener?
Yes, you can soften polymer clay without a clay softener. Manual kneading, although a bit time-consuming, can effectively soften your clay. Additionally, household items like baby oil or petroleum jelly can also be used as a substitute for a clay softener.
Will add too much clay softener or diluent ruin my clay?
Adding excessive amounts of clay softener or diluent can make your clay too soft or even sticky, which might make it difficult to work with. It's always best to add these softeners sparingly and gradually, checking the consistency of the clay as you go.